Scuba Diving Indonesia
Diving Raja Ampat, Komodo, Wakatobi, North Sulawesi, Irian Jaya, Bali and much more ...
Diving Indonesia: Consider traveling to Indonesia for your next dive trip. This is a vast and diverse country containing more than 17,000 islands. Indonesia claims the better part of three of the world's largest islands (New Guinea, Borneo and Sumatra). Some 6,000 of Indonesia's islands are named and inhabited, but only 992 are permanently settled. Witness for yourself the towering mountains and primitive cultures of Irian Jaya.
Note the sharp contrast with the terraced hills and highly sophisticated societies of Bali and Java or the wildlife and culture of Sulawesi. No two places are alike in unspoiled beauty and that applies to underwater as well. Noted for World-Class diving Indonesia has quickly become one of our most popular dive destinations. Indonesia offers dive resorts, liveaboard dive boats and all classes of hotels equipped for your Indonesia dive vacation.
Straddling the equator, Indonesia is a tropical island paradise. Boasting sunshine all year round, through both its wet (Nov.-Mar. or Apr.) and hot (May-Oct.) seasons, this country's doors are always open to welcome its visitors.
The following pages contain a sample of our most popular island diving destinations in Indonesia, such as Raja Ampat, Komodo, Wakatobi, Bali, North Sulawesi, Manado, Derawan, Alor and Irian Jaya. Although with the hands of time we will be forever exploring and adding new options to both our live aboard and land based diving Indonesia destinations list.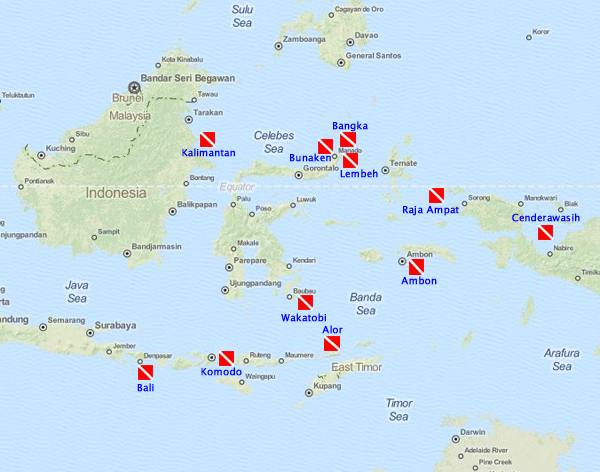 Click here to see a large map
Go to: BIRD'S HEAD SEASCAPE
for more information about Raja Ampat - Triton Bay - Cenderawasih Bay
Be sure to contact us for any and all information in regards to this astoundingly diverse and exotic destination, including our current rates and schedules.
We often conduct group dive tours to Indonesia, since we love to go there ourselves.
Check for our current group dive trips on our Dive Discovery website!