Diving in Madagascar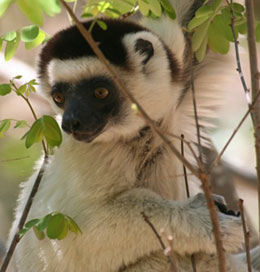 Madagascar is an island nation in the Indian Ocean, off the eastern coast of Africa. Madagascar is the 4th largest island in the world. It is the home of five percent of the world's plant and animal species, 80 per cent of them unique to Madagascar. Most famous among those are the lemurs.
Its teeming fertile forests and geographical isolation have served to preserve and propagate 'nature's design laboratory' in a mix found nowhere else on earth. Madagascar's forests are a shimmering, seething mass of a trillion stems and dripping leaves.
Nosy Be
Nosy-Be is the most popular island of Madagascar. On its north there is the Archipelago of the Mitsio and to its south the Archipelago of the Radama. In its immediate surroundings: Nosy Sakatia, Nosy Tanikely, Nosy Iranja and Nosy Fanihi, offer excellent diving.
Also known as "The perfume" Island, Nosy Be offers a large variety of local marine life: soft and hard corals, turtles, mantas, whale sharks, barracuda, etc.
Typically, the best season for diving is from April to January, with extra preference for October to December as whale-sharks are more likely to be encountered during that time period.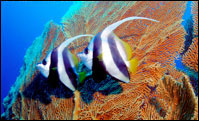 Nosy Be: Dive & Nature Discovery
An 8-Day Package incorporating Scuba Diving & the Nature of Nosy Be
Highlights: Nosy Be, Scuba Diving, Sakatia Island Excursion, Mont Passot and Domaine De Florette Nature Walk
Itinerary
Day 1: Arrival at Nosy Be - Madagascar
On arrival to Nosy Be airport, you will be met and transferred by car (45 minutes) to the Ravintsara Wellness Hotel. Located on the northwest of Nosy Be in a four hectare parkland of endemic plants and trees, Ravintsara combines luxury and peacefulness. If you feel like relaxing, the hotel offers a wonderful spa and wellness area. Enjoy your first tropical dinner on the island listening to the calls of the exotic bush.

Days 2 - 5: Ravintsara Wellness Hotel - Nosy Be
Eight dives have been included in your package, allowing for 2 dives per day. Your non-diving hours will be spent at your leisure, enjoying the island, taking walks, snorkelling, and for the more adventurous there are a number of optional activities available. Included in your tour is a half-day excursion to the Island of Sakatia, a short 10 minute boat ride from Nosy Be. After a delicious lunch you may spend the afternoon relaxing on the pristine white beach or snorkelling in the warm waters before you are transferred back to your hotel.
Days 6 - 7: Domaine De Florette - Nosy Be
After your underwater experiences have come to an end you will be collected and transferred to the Domaine De Florette in the heart of the nature of Nosy Be. This guest house is run by a Franco-Malagasy couple and located in the middle of the island in a 30 hectare secondary forest. A guide will be at your disposal for the discovery of this generous and wild landscape. During your nature walk your guide will teach you of the medicinal values of the plants as well as search for the variety of spiders, chameleons, beetles and bugs hidden away in this tropical paradise. The tour also includes visits to the Ylang Ylang distillery and the Sakalav museum teaching you about the history of the island and its cultures.

Day 8: Nosy Be - Antananarivo - Home destination
After breakfast you will be transferred from Domaine De Florette to Nosy Be airport for your flight to Antananarivo, where you will connect to your flight departing for your home destination.
For more information
Contact:
Dive Discovery
@
1 800 886-7321
(415) 444-5100
or
Request Info