Home > Diving South Africa > South Africa Dive Tours
Sardine Run 2020
Port St John's, Wild Coast, Transkei, South Africa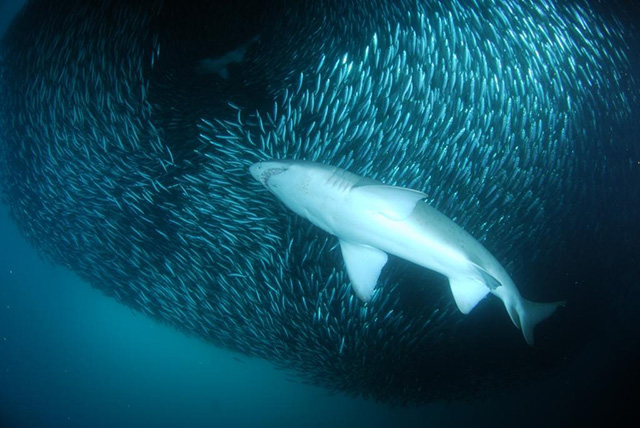 Port St Johns, South Africa ~ Sardine Run!

It was awesome. Truly amazing experience which makes my top ten ever in travel.

On my last day we had a static bait ball with action for 20-30 minutes. So many dive bombing birds - my favorite. The only sad part is that my gopro got water logged right before this bait ball so I wasn't able to capture any of it and no others had cameras.

thanks!
Phil
~Please note, this is an Ocean Safari, not a dive trip per say. Most of the action happens quickly, you must be ready to jump in on snorkel asap before the bait ball's dissipate! Scuba happens when the Bait Balls are in tact, large and there is time to get back on the boat and don tanks!~
WE are the only operator that is able to offer a "home base knowledge" package for the Sardine Run as we are based in Port St John's all year round and are ideally located to offer you a superb, fun filled trip, coupled with highly experienced sardine run specialist teams of skippers and dive guides.
We offer a boat based adventure for everyone, whether a diver or non diver. All nature lovers, bird watchers, photography enthusiasts, dolphin and whale enthusiasts, snorkellers and scuba divers will thoroughly enjoy this incredible event of nature, which has been likened to the land based "Wildebeest migration of the Serengeti" and the marine equivalent of this has since been called "The Greatest shoal on earth".
Please take a look at our sardine run trip info and join us for an experience of a lifetime in the most beautiful and scenic place of Port St John's, Wild Coast, Transkei, the gateway to the sardine run.
Sardine Run Trip Information [pdf]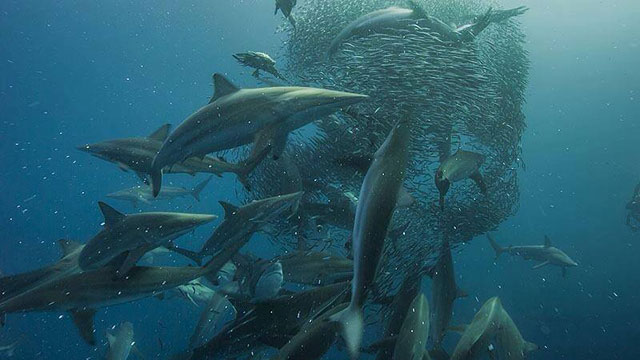 "The Greatest shoal on earth"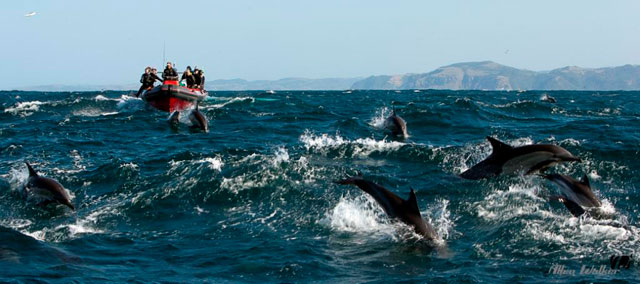 DATES:
Sardine Run start date is 10th June 2020 through 30th July 2020.
We highly recommend at least a 6 nights / 5 days Ocean Safari to offer the best possible chance to see quality action with the predators! Remember nature does what nature does!
SARDINE RUN 2020 PACKAGES:
Port St John's River Lodge, 3*** rated
Dinner + Bed + Breakfast
7 Nights / 6 Days Sardine Run Diving Package
USD 2,770 twin share
USD 2,945 single
6 Nights / 5 Days Sardine Run Diving Package
USD 2,400 twin share
USD 2,475 single
*** Rate subject to change, based on current rate of exchange.
*** Family room and twin bed rooms are available.
Inclusion:
***** night accommodation. Port St John's River Lodge dinner, bed & breakfast basis.
***** ocean days (weather permitting)
Cylinder / air
Weights / belt
Packed boat refreshments
Diver permit to dive within Pondoland marine protected area
Full and exclusive to Offshore Africa aerial support (spotting) with our aircraft & pilot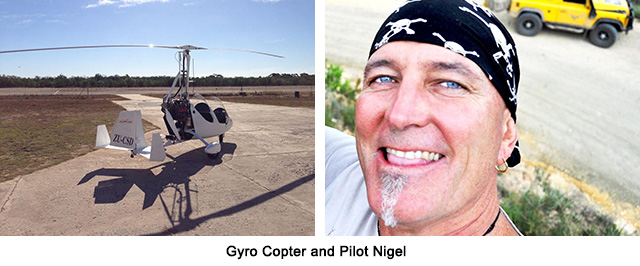 Exclusion:
Drinks / items of a personal nature
Meals - where specified above
Transfers - can be arranged at an additional charge. Mthatha airport to Port St Johns - one- way transfer = R 1250.00 (4-seat vehicle). R 1670.00 (15- seat vehicle). R 150.00 trailer.
Dive gear rental - MUST be pre booked. R 70.00 per item, per day OR R 350.00 full rental per day
Additional chargeable land- based activities i.e. guided hikes / cultural tours / afternoon flights
Diver / travel insurance
Air fares / taxes
Passports / visas
Gratuities for staff - at your own discretion
Notes:
Whilst we offer a shorter stay, clients must remember that we are dealing with Nature and it is winter season, which means that we do encounter cold fronts and some days could be shorter than others due to adverse weather/ocean conditions. We cannot offer any guarantee of any kind
Transfers can be arranged from King Shaka international airport (Durban). 6- hour drive to Port St Johns by road.
We highly recommend flying into Mthatha airport ex Johannesburg airport due to shorter drive travel time (1.5 hours) to Port St Johns. Domestic airline is SA Airlink (airline code UTT)
Dive gear rental MUST be pre-booked as we carry limited stock
Divers MUST produce their dive cards or log book prior to the 1st day of ocean launching
NO refund will be offered due to weather/sea-sickness/days not done/a client making a decision to have a day off during their trip
Port St Johns River Lodge offer double, twin bed, single & 3-4 people sharing options
Trip Report: Sardine Run SOUTH AFRICA ~ June 21-30 2007
Please note:
We are happy to organize any tailor made package for you, whether you are simply unable to fit into our set package trip dates or if you wish to extend your sardine run experience with a longer stay.
We are also in a position to offer you a daily boat rate in the event that you are seeking more flexibility, or if you would prefer to organize your own accommodation. Kindly contact us for further information.
4 Night Sardine Run Add On, June-July 2020
Sabi Sand Game Reserve
Excellent game-viewing and home-grown hospitality.
We highly recommend a visit to the renowned Sabi Sand Game reserve at Kruger National Park after (or before) your adrenaline pumping Sardine Run ocean safari in South Africa! Our guests rave about Inyati Private game reserve!
COST: $4,099 per person sharing
Single supplement $935
Rate based on current rate of exchange, subject to change at final payment.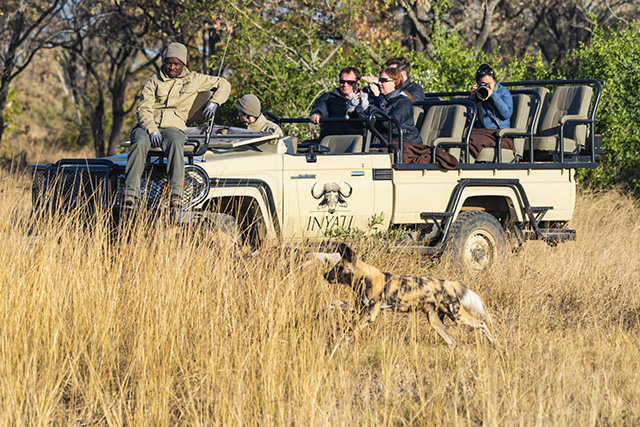 For more information
Contact:
Dive Discovery
@
1 800 886-7321
(415) 444-5100
or
Request Info