Home > Diving South Africa > South Africa Dive Tours
Great White Shark Cage Diving
Gansbaai, South Africa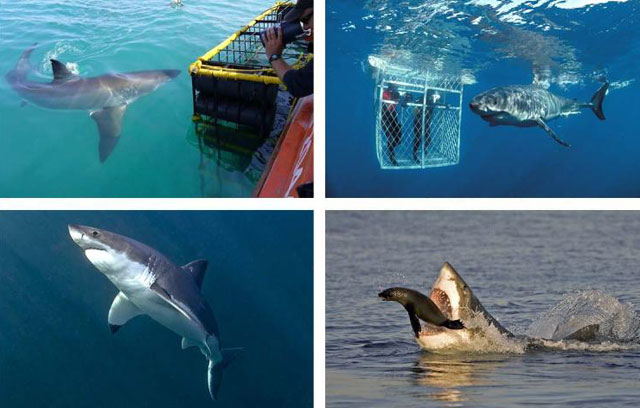 From Cindi:
The current situation for visitors to South Africa- False Bay, breaching Great White Sharks: "We are not seeing reliable great white sharks for a couple years now since the Orca's came in. We are hoping soon this situation will change and they will come back to Seal Rock where they breach so tourists can once again enjoy these amazing encounters!"
Shark cage diving takes place here throughout the year. In summer months (November - March), the boats anchor closer to shore and in winter around Dyer Island. Water visibility is worse in summer and it can be a longer wait for sharks to approach the boat, but sightings are pretty regular year round.
Transfer time to Gansbaai from Cape Town is 2.5 - 3 hours. Pick up times from Cape Town vary according to the tides and weather conditions and are only confirmed the day prior. Morning pick up times are generally between 5:00 am and 5:30 am. The programme is loosely as follows:
By 08h00: arrival at Gansbaai for breakfast and conservation and safety briefing
9h00: launch and out on the water anything from 2-6hours (depending on the sightings and the weather conditions)
12h00: back on land for de-briefing and soup and drinks
13h00: Depart back to Cape Town
15h30: Arrive in Cape Town
Note: The above is based on shared transfers from and back to Cape Town. In December, which is hugely busy, pick up times can be as early as 03h30 in order to collect clients from all the Cape Town locations. We strongly recommend booking a private transfer at extra cost to circumvent this.
Advantages of a Gansbaai Great White Shark experience:
Guaranteed year round sightings
Well priced
A number of reputable operators offering good availability
From June - November, whale sightings are also common
Disadvantages of a Gansbaai Great White Shark experience:
Early pick up times and longer transfers from Cape Town (watch out for December pick up times!)
Larger numbers on the boats and in the cage (up to 10 at a time in the cage)
Snorkels only, so time under water is determined by how long clients can hold their breath
Shark breaching rare
Pretty much a full day excursion so difficult to combine with anything else.
A more commercialised experience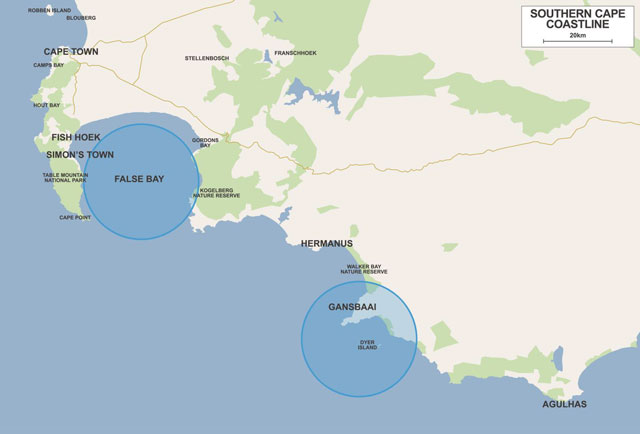 GREAT WHITE SHARK CAGE DIVING - ITINERARY
| | |
| --- | --- |
| Duration | 8 hours |
| Availability | Daily |
| Pick-up Time | 06h30 - time confirmed the night before |
Pick up is at 06:30 from your hotel for your transfer to the little town of Kleinbaai, close to Hermanus and Gansbaai. After a safety briefing, you board your shark-chaser, the Predator II for the 5-mile voyage to Dyer Island. The island, together with Geyser Rock nearby, is home to 40 000 Cape Fur Seals, the Great White Shark's favourite prey, and the channel which runs between the two is known as Shark Alley. This is where you will anchor - using a specially mixed chum to attract the sharks, you will soon have an opportunity to see them feeding at the surface, alongside the boat. The cage is then lowered and you will be able to witness these incredible hunters of the deep in your wetsuit, protected by galvanised steel mesh.
All diving equipment is supplied and only snorkelling experience is required if you want to go down in the cage. A light lunch is served on the boat as well as refreshments and you will have the chance to see seals and whales in season as well as the sharks. Return to land at around 15:00 for your transfer back to your hotel.
For more information
Contact:
Dive Discovery
@
1 800 886-7321
(415) 444-5100
or
Request Info