Scuba Diving Mexico
Isla de Guadalupe: Great white shark diving; Baja: Whale Watching; Sea of Cortez: Breeding grounds for whales, dolphins, sea lions and whale sharks...
SEASONS:
January - March: Gray whale calving season; Humpback whale migration, Pacific
End of April - July: Mobula manta breeding season, Sea of Cortez
July - November: Great white shark diving, Isla de Guadalupe
September - December: Magdalena Bay, Striped Marline sardine run, Pacific
October - April: LaPaz whaleshark season, Sea of Cortez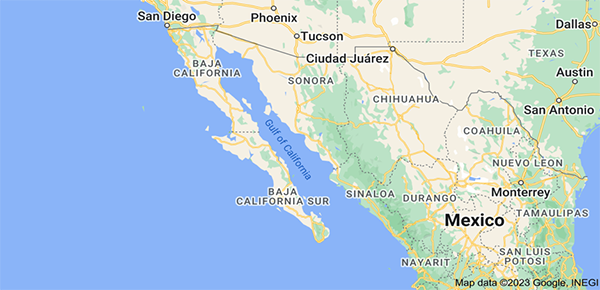 SCUBA DIVING AND SNORKELING DESTINATIONS:
Cabo Pulmo:
UNESCO World heritage site. Year-round diving. Best vis August through December and warmest temperatures.
Cabo Pulmo National Marine Park, part of the Islands and Protected Areas of the Gulf of California (Mexico) World Heritage site.
What's special about Cabo Pulmo is that the waters are incredibly rich in sea life. So rich, in fact, that Jacques Cousteau described the Cabo Pulmo marine park as "the aquarium of the world."
Bull sharks are a huge favorite among divers and can be seen on several dive sites.
On some sites thousands and thousands of Big Eye Trevally Jacks surround you and create a tornado if you are lucky to witness that!
Other sites such as El Vencedor the wreck offer exquisite marine life:
Common encounters: Bull Sharks, Groupers, Snappers, Turtles, Sting Rays, Garden, Panamic Green Moray, Schools of Yellowtail Snappers, Schools of Grunts, Schools of Sardines

Seasonal encounters: Large numbers of Bull Sharks

Possible encounters: Tiger Sharks
This area is by far one of my favorite places to dive in the world!!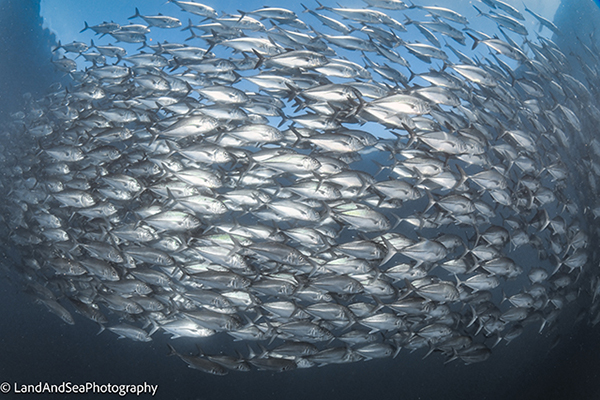 Cabo Pulmo, Sea of Cortez ~ September 13 2022 Trip Report
La Paz:
A wonderful jumping off point for so many marine excursions different times of the year.
Scuba diving conditions are best from July through October, when visibility is excellent and the water is warm. (Winter water is cold, sometimes down to 20°C/68°F or colder, and changing temperatures can mean poor visibility in spring.) Certified divers will get the most out of La Paz's amazing dive sites, including the sea lion colony at Los Islotes, distant Cerralvo Island, the sunken ship Salvatierra, an 18m (59-ft.) wall dive, and several sea mounts (underwater mountains) and reefs; a little farther afield, you can see hammerhead sharks and manta rays.
Whales Sharks are there, if you go in season. The juveniles come in October and November. Big adults show up in the spring.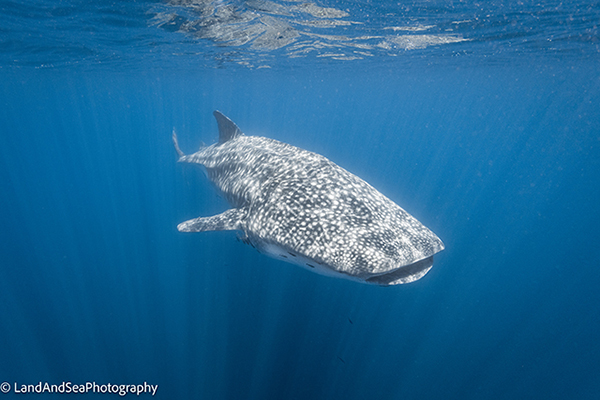 Loreto: Blue Whale Watching
I love this town, picturesque with a vibrant Malecon. Quaint accommodation and tasty restaurants.
From around January through March, many whales make the journey to the Sea of Cortez including: Humpback, Finback, Minke, Sei, Orcas, Pilot and Blue Whales.
Loreto is known for their blue whales. Loreto blue whale sighting are most popular in February and March. The Blue whales are usually patrolling off in the deep waters from Chile to California during the other months. The whales come to Loreto to feed, clave and mate.
The blue whale can reach lengths of 100 feet and is the largest animal that has ever existed. that is right, the blue whale is larger than even the largest dinosaur and you can get close to them in a panga in Loreto.
Magdalena Bay: Sardine Run & Striped Marlin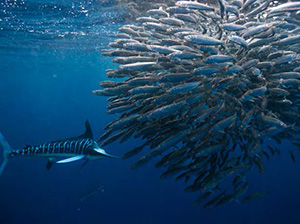 Every fall, the waters outside of Magdalena Bay are home to a deep ocean upwelling which combine with warm waters to create perfect conditions for massive schools of sardine in the cobalt blue shallow ocean water. The surrounding waters teem with life with bait balls and predators from seabirds to blue and mako sharks, sea lions, whales, dolphin and the oceans fastest fish, the striped marlin (Kajikia audax). Marlin can swim as fast as 50 mph (80 kmh) and it's the thrill of lifetime to be in the water next to a bait ball with marlin whizzing past you, dorsal fins full erect. Extra bonus is the hundred or more turtles often seen on the surface.
Photo and information courtesy of Nautilus Dive Adventures
Isla de Guadalupe : Great White Shark Diving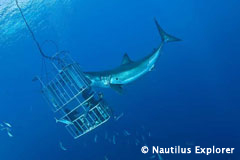 Isla de Guadalupe is rapidly becoming the World's Best Destination to dive with Great White Sharks. It hosts one of the most prolific populations of White Sharks on the planet. What makes Isla de Guadalupe the greatest White Shark diving destination is not only the abundance of White Sharks, but the water you will find them in! The temperature averages 65 to 70 ° F. It is simply Shark Diver Heaven!
The island lies some 160 miles off the coast off Baja California and over 200 miles southwest of San Diego in open ocean water that has over 100 feet of visibility.
The Guadalupe season is from July through November.
Be sure to contact us for any and all information in regards to this astoundingly diverse and exotic destination, including our current rates and schedules.