Scuba Diving Mexico
Isla de Guadalupe: Great white shark diving; Baja: Whale Watching; Sea of Cortez: Breeding grounds for whales, dolphins, sea lions and whale sharks...
Great White Shark Diving: Isla de Guadalupe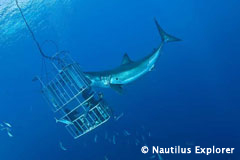 Isla de Guadalupe is rapidly becoming the World's Best Destination to dive with Great White Sharks. It hosts one of the most prolific populations of White Sharks on the planet. What makes Isla de Guadalupe the greatest White Shark diving destination is not only the abundance of White Sharks, but the water you will find them in! The temperature averages 65 to 70 ° F. It is simply Shark Diver Heaven!
The island lies some 160 miles off the coast off Baja California and over 200 miles southwest of San Diego in open ocean water that has over 100 feet of visibility.
Whale Watching: Baja, Mexico
There is no experience in the world like looking a wild whale in the eye, then reaching out and gently rubbing her face while she lays on her side with her pressed against the side of our small launch. You can count the hairs that sparsely dot her face like whiskers on an adolescent teenager.
Whale watching brings people and whales together and promotes awareness of the dangers that the different whale species face today.
Whale Watching Programs in Baja, Mexico


Grey Whale Watching
by Paul Statham
Diving Sea of Cortez!
In the spring the plankton rich water in the Sea of Cortez near La Paz, Mexico provide excellent feeding and breeding grounds for a variety of marine animals including whales, dolphins, sea lions and whale sharks. While all these species are in the area of diving in the Sea of Cortez, some dive boats will focus on encounters with whale sharks, the largest fish in all the oceans.
Dive sites in the Sea of Cortez include:
Isla Los Islotes - a sea lion rookery just to the north of Isla Espiritu Santo. The east end of the island drops off into deep water and is known for big fish.
El Bajo seamount - A group of pinnacles some 60 ft below the surface of the water. Moray eels occupy every crevice and curtains of fish abound. It is well known as the location for filming the schooling hammerhead sharks, mantas, whale sharks and other pelagics.
Salvatierra - An old ferryboat that sank in 1975. With a 300 ft. hull, largely intact, including the props, it has been taken over by reef fish and large groupers. It lies on the sand at a 60 ft. depth.
Isla Las Animas - One of the most exciting and colorful dive spots in the Sea of Cortez. The schooling jacks that number in the hundreds if not thousands are an amazing site to behold. There are intriguing underwater caves for the adventurous plus opportunities for viewing hammerheads and other pelagic species.
Further south lies and extensive reef system on the southeast coast of the Baja peninsula called Cabo Pulmo. Known for its bounteous fish population and gorgeous coral gardens, the only coral found on this side of North America.
Gorda Banks - a deep water seamount at the outer island where anything can happen.
Be sure to contact us for any and all information in regards to this astoundingly diverse and exotic destination, including our current rates and schedules.