Home > Diving Mexico > Mexico Dive Tours
Great White Shark Cage Diving
Isla de Guadalupe, Mexico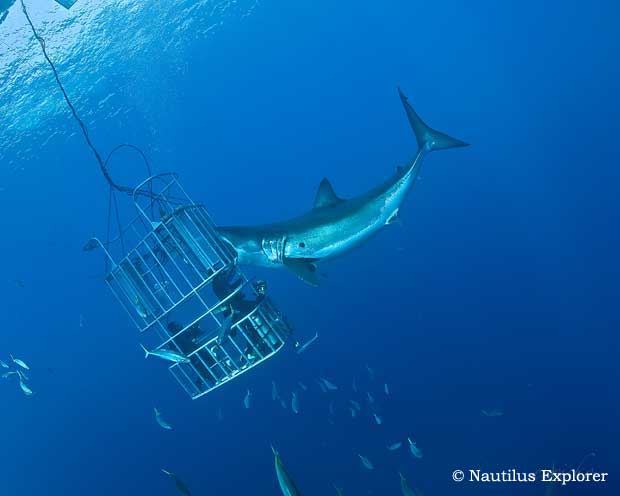 From Cindi:
The current situation for visitors to Guadalupe Mexico, for Great White Sharks: "The parks board have sadly closed the park stating they are evaluating the shark's behavior with tourist boats. They are only allowing scientists entry. This is being fiercely fought in the courts by all the liveaboard dive boats that operate there. The benefit of the boats in the park from July through October is to keep away illegal fishing, the sharks need our help to stay safe. We are monitoring this closely and will update as the story progresses".
Great White Shark Cage Diving: How it Started
Cage diving with a Great white shark at Guadalupe Island, Mexico is an opportunity for everyone, divers and non-divers alike, to get extremely close to these magnificent apex predators. Our first great white shark expedition was in September, 2005 when Doc Anes of San Diego Shark Diving chartered the Nautilus Explorer to voyage down to Guadalupe Island. The Nautilus was custom built for just this sort of adventure and we had a very comfortable ride on the way down.
The experience with great white shark cage diving was incredible and vastly exceeded our expectations. We anticipated that the shark wranglers would make long slicks of blood and chum and that a white shark might show up every couple of hours to bash against the cages before taking off again. Instead, a steady stream of animals showed up each day and very little chum was required to bait these magnficent animals into the Nautilus Explorer. While the great white sharks didn't bash the cages other than the occasional accidental "tail hit", these really, REALLY big animals often examined our divers from extremely close up which was definitely a heart pounding, adrenalin rush experience! The photo opportunities were amazing.
Great White Shark Cage Diving: The Experience
Guadalupe Island (Mexico) is the top destination for great white shark encounters. This small volcanic island located in the Pacific 240 kilometers (150 miles) off the west coast of Mexico's Baja California peninsula outperforms both South Africa and Australia with shark-seeing consistency and watching conditions. Only Guadalupe Island can boast shark viewing in beautiful clear blue water with 125 - 150 foot visibility. We recently counted 108 great white sharks in the bay where we stage our submersible cage diving operations which guarantees unforgettable encounters. The Nautilus Explorer offers convenient evening departures, virtually unlimited diving, the opportunity to watch the great whites out in the open in 40 feet of clear blue water from the top deck of our double-decker submersible cages and all the services of a luxury liveaboard - from gear rental to attentive hostesses and sparkling-clear hot tub.
How To Get There
The boat is stationed in Ensenada (Mexico) and we offer complete round-trip transfers from San Diego (California, USA) or Tijuana (Mexico). The Nautilus Explorer departs in the evening for a 20-hour voyage to Isla Guadalupe, generally arriving the next day at dinner time allowing for a nice restful night's sleep before the action begins the next morning.
The Trip
Voyages are typically 5 nights/6 days. Number of shark-dives on the trip is virtually unlimited. On the first morning upon arrival we do warm-up dives and afterwards the pool is always open. Current record is 31.5 hours of cage time over 3 dive days. Cages close at 5 p.m. on the last dive day to get ready for the steam home.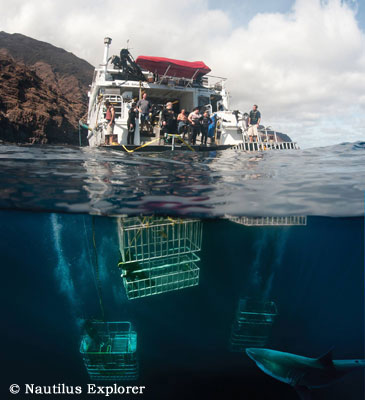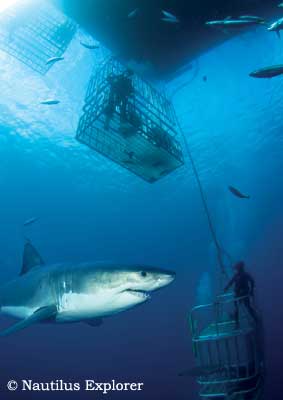 What We Say
On this trip, we offer a rich and natural experience of shark encounters by using submersible cages to descend down into the shark's world where they prefer to spend their time. We don't need to use chum at depth; the sharks are already there. We have seen up to six great whites at once circling the cage and even bumping up against it in a gentle way. Without chum around they are more relaxed, exhibit MUCH more curiosity, and come in MUCH closer to the cages. Best of all, our cages are "double-deckers," which means you can venture onto the upper deck and outside the bars to truly go face-to-face with great white sharks out in the open. It is an unforgettable rush when a great white looks at you from 50 feet away and then swims over for a very close look!
Diving is done via surface supplied "hookah" with backup dive gear in each cage. Our submersible cages go up and down every 30 minutes. The great whites often follow the submersible cages up to the surface and will hang around providing great viewing from our stationary 3-meter long surface cages tethered off the stern of the Nautilus Explorer.
View Nautilus's Liveaboards: Trips & Dates
For more information
Contact:
Dive Discovery
@
1 800 886-7321
(415) 444-5100
or
Request Info