Home > Diving Mexico > Mexico Liveaboards
Solmar V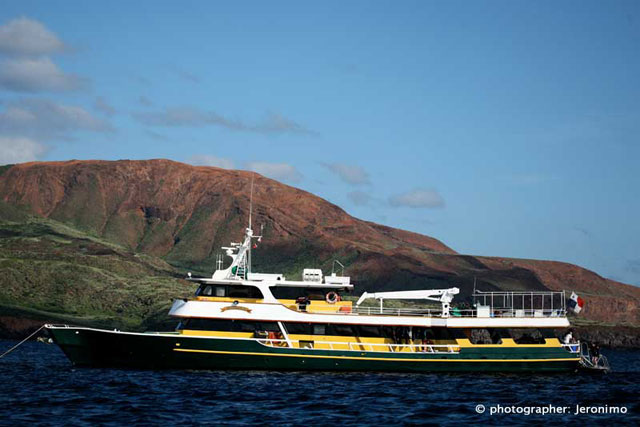 The Solmar V is a true four-season live-aboard that takes advantage of weather patterns to provide optimal diving year-round.
We journey 250 miles south of Los Cabos into the eastern Pacific Ocean to the Revillagigedos Islands - more commonly known as the Socorro Islands - to dance with the Giant Pacific manta ray, cavort with dolphins, dodge seven different species of sharks and thrill to an occasional lucky interaction with the migrating humpback whale population. This is remote, adventure diving at its finest.
The Sea of Cortez is one of the youngest and most fertile seas on earth, containing over 850 species of reef fish, as well as the famous flying mobulas and an assortment of schooling pelagics and tropicals. We've been diving the Sea of Cortez for over 25 years, and we call it home.
In August and September we are based in Ensenada, Mexico and follow the ultimate apex predator to Guadalupe Island, 180 miles offshore. This is rapidly becoming the world's best location to dive in custom-built cages with great white sharks. Because we use hookah instead of scuba tanks on these trips, you do not need to be a certified scuba diver to enjoy the rush of going eyeball to eyeball with a 16' great white shark.
Special Note on Shark Diving at Guadalupe Island:
We have 2 surface cages and 1 submersible cage that is lowered into the water via a crane to about 20 - 30 ft. under the water. Air is supplied by a hookah line for all cages.
With regard to diving outside the cage with the Great White sharks at Guadalupe Island, "out of the cage" trips are strictly prohibited by the Mexican government (scientifically or recreationally). Even though the danger for this activity might be minimal, it is still there because when dealing with wild animals unexpected behavior can happen for unknown reasons that might have nothing to do with the immediate situation. Should anyone get hurt while diving outside the cage with the Great Whites, the Mexican government would immediately stop all shark viewing activity until a detailed investigation was done and this would create a financial burden from which most boats would not recover. Therefore, no diving outside the cage is allowed by anyone and no one can secure legal permits for this activity.


Sharks and Cage Topside
Submersible Cage
Divers in Cage
Solmar V accommodates 22 guests in 12 private staterooms (10 doubles + 2 singles) each with air-conditioning, private bathroom, shower and TV/DVD player. All indoor areas are air-conditioned with a well appointed salon and spacious working deck area. Solmar V enjoys a superb reputation in the scuba industry for professionalism, service and reliability plus has been operating as an eco-scuba passenger vessel for many years.
| | |
| --- | --- |
| Length: | 112 ft |
| Beam: | 25 ft |
| Draft: | 6 ft |
| Gross Tons: | 140 |
| Material: | Steel |
| Power: | 2 Detroit 12V71 Twin Turbo Engines with 500 HP each |
| Gensets: | 2 Detroit 6-71 with Delco AC 75KW |
| Speed: | 10 knots |
| Range: | 1600 miles |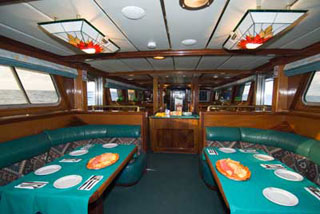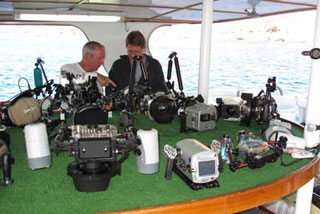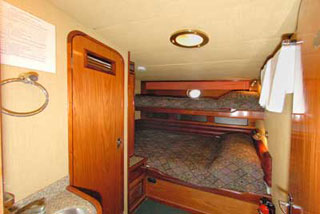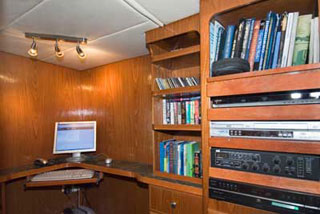 Other Equipment
2 watermakers capable of making 1600 gallons of fresh water per day.
2 Achilles 22 ft inflatables with 65 HP mercury outboard motors.
2 Spare outboard motors.
Nitrox Technologies Titanium Membrane Nitrox System.
2 Ingersall Rand 17 cfm scuba compressors.
1 Spare Ingersall Rand 17 cfm compressor.
4 ton boom - Important for securing film charters when heavy equipment such as Imax cameras or submersibles need to be put in and out of the water.
Seawave Communications System for boat & passenger e-mails & sat phone use.
Main Electronics
| | | |
| --- | --- | --- |
| INSTRUMENT | MAKE | MODEL |
| Single Side Band (SSB) | ICOM | IC-M700 PRO |
| Single Side Band | Stephens Engineering | SEA-222 |
| Video Sounder | ECHOTEC | CV 980 |
| UW Sounder/180 Sonar | FURUNO | CH - 24 Ser#8350-0486 |
| Radar | FURUNO | 1940 Ser#2320-5574 |
| Radar | FURUNO | 1932 Ser#3379-0892 |
| Radio VHF | Motorola | GM 300 |
| Radio VHF | Standard Horizon | GX 1260 S |
| Auto Direction Finder (ADF) VHF | SIMRAD TAIYO | TD-L1550 |
| GPS | Standard Horizon | GPS Chart 150 |
| GPS | CETREK | 930 Cestar |
| Auto Pilot | SIMRAD | Robertson AP 20 |
| Auto Antenna Coupler (for SSB) | ICOM | AT - 130 |
| Weather Fax | FURUNO | D-Fax 207 |
| Vessel Computer | Sony VAIO | NAV / Sat Weather |
Plus obvious standard equipment such as boat compass, tachometers, multiple handheld radios, etc.
Safety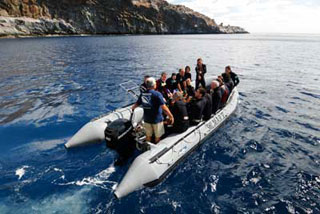 The Solmar V is a Panamanian flagged vessel and meets U.S. Coast Guard safety standards. The vessel counts on all safety and pollution certificates expected of a passenger vessel and also have all SCT permits to operate tourist oriented tours in Mexican waters. In addition, all CONANP and SEMARNAT permits for operating in protected areas have been obtained.
Our captain and engineer are graduates from the 4 year merchant marine academy in Mazatlan and regular emergency procedures are practiced with all crew.
The Solmar V spends one month in dry dock every year to keep her in tip top shape and keep all our certificates in order. Safety equipment onboard are as follows:
40 life jackets w/strobes.
18 fire extinguishers.
2 fire hoses.
8 life rings with tethers and floats.
Redundant systems alarm.
CO2 engine room fire fighting system.
1 fire fighting suit with mask.
2 - 20 man certified lifeboats with fast deploy auto inflate, shade and provisions for two weeks (these are certified coast guard standards on a yearly basis).
All necessary communications as listed under electronics above.
Registered U.S. Coast Guard auto detection beacon.