Home > Diving Mexico > Mexico Liveaboards
Nautilus Belle Amie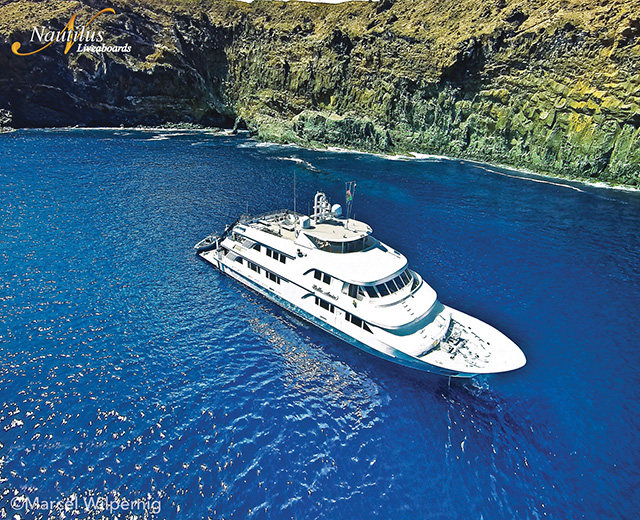 Luxurious, Stable and Safe Ship
When it comes to your safety and comfort, there is simply no comparison between our beautiful Belle Amie and older, narrow, unstabilized, noisy smaller dive boats. The Belle Amie is very wide in the beam (which is a good thing when it comes to boats!), stabilized with deep draft and a bulbous bow to give you the most comfortable ride possible. Our ships are heavily sound proofed to allow you to have a good nights sleep and equipped with over-size watermakers allowing you to shower as often and as often as you like. The full width superstructure on all 4 decks gives an outstanding amount of space - our over-sized superior and premium suites even have full-size king beds!!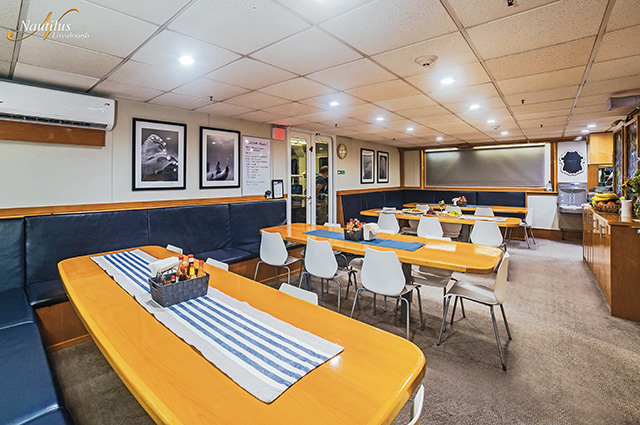 Most important of all, our ships are unique in the dive boat fleet in being built to meet SOLAS safety standards. Our certified ISM Safety Management System is audited annually by BV Bureau Veritas and provides the ultimate in dive boat safety. These are the same standards used by the largest cruise ships in the world. The Belle Amie has accommodations that suit all preferences ranging from a luxurious VIP double premium suite to superior suites, shared or quad staterooms. There is lots of seating for everyone in the lounge, on the partially shaded sundeck and in the dining room. The only bunk beds on the boat are in the quad occupancy stateroom. All other accommodation features side-by-side hotel style beds. Our mission is to cater to your every comfort from super high tech communication, email and internet at sea to stocking a wide selection of beer, wine and single malt scotches in the ship's bar.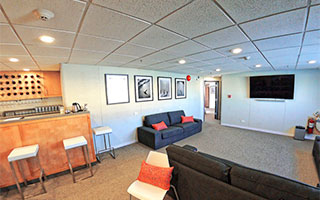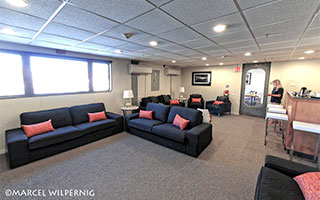 About the Nautilus Belle Amie
Wi-Fi available onboard
140' x 33' ocean-going dive boat
Built in 2005 by Bollinger Shipyards, USA
Steel hull and superstructure, Stabilized, 11 knot maximum service speed
ISM audited by Bureau Veritas
Water capacity: Unlimited with high capacity watermakers
Compressors: 3 x Bauer with banks + nitrox membrane system
Rebreather friendly
Dive skiffs: 3 x high speed twin engine 28' rigid hull inflatables
Passengers: 28-30 guests open boat / up to 36 guests on private charters
Crew: 11 - 12
Spacious, comfortable and stable
Satphone, email & internet access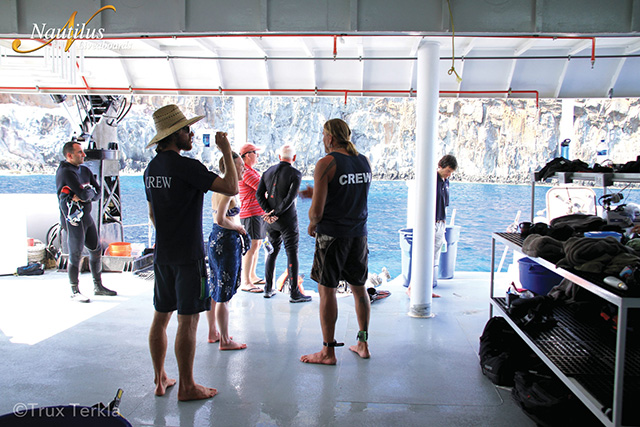 Accommodation
Premium Suites
Two spacious premium suites are available on the main deck. Ensuite bathrooms with double sinks and showers. Large windows, plenty of sunlight, large storage area and personal flat screen TV. Available in single or double occupancy.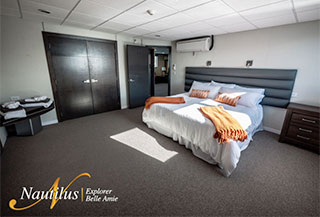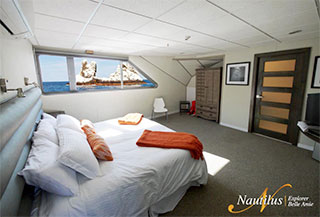 Superior Suites
The Nautilus Belle Amie has 5 superior suites on the upper deck. Superior rooms have large double windows. Photo shown is double occupancy, single also available.
Staterooms
The lower deck has 8 comfy staterooms with various bed configurations (single and double occupancy). An affordable quad occupancy stateroom is also available.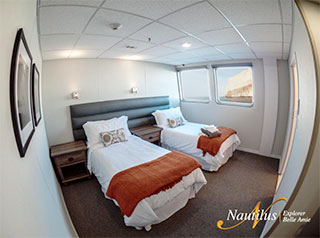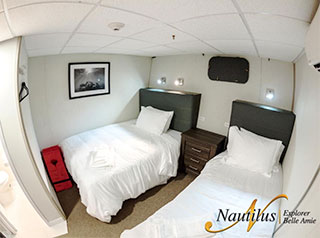 DIVING GUADALUPE ISLAND WITH the Nautilus Belle Amie
We are divers. There are loads of great white sharks in the crystal clear waters of Guadalupe Island, Mexico. We believe that the best way to see these magnificent creatures is to descend into their world and interact with them on their own terms, in a natural way from our double-decker submersible cages. Conditions permitting, you can get out from behind the bars on the upper deck of these cages with only a single handrail between you and these amazing apex predators. To go face-to-face with a great white shark in the wild is something you will never forget. Our experienced Dive Masters will be alongside you in the submersible cages to both 'critter point' and for your safety.
NOTE: Great White Sharks are dangerous!! Use of the upper decks of the submersible cages is at the Captain's sole discretion based on our experienced interpretation of what the sharks are doing. You can kneel, sit and crouch on the top of the cages, but a recent amendment to park regulations does currently prohibit standing on top of the cages. View our Guadalupe Itinerary [pdf]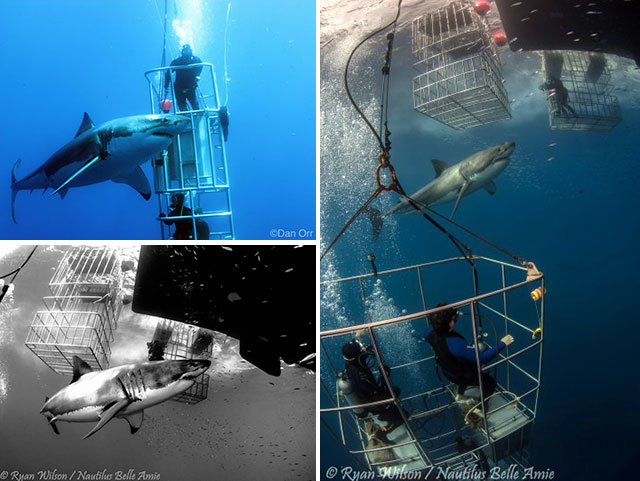 View Our Trips & Dates