Home > Diving Mexico > Mexico Dive Tours
4/5/6/8 Day Fly in Gray Whale Watching at Laguna Ojo de Liebre, Mexico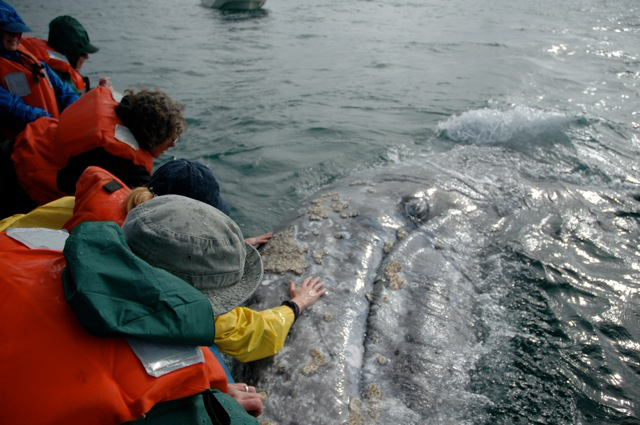 Fly in gray whale trips beginning in San Diego to Laguna Ojo de Liebre
Once again offering 4, 5, 6 & 8 day gray whale trips, flying to Guerrero Negro. Flight time is only a couple hours. So smooth! Departures & end dates can be arranged any Monday, Wednesday or Friday.
Whale Watching Experience
We offer the best gray whale watching safari camp experience in our Baja trip, in the very best location for gray whale watching in Baja, Mexico, and maybe anywhere. We camp right on the shore of Laguna Ojo de Liebre (Scammon's Lagoon for those of you who have explored the history of this area) and embark on boat trips within view of whale watching camp. You can enjoy the walk along the beach or we'll drive you up to the dock to board the boats in our Baja whale watching camp. This lagoon is a favorite place for gray whales to have their babies and teach them to get their swimming rhythm. This already may sound too good to be true if you've tried gray whale watching where the whales are just swimming by.
A fact that makes this trip great, the gray whales gather here (you might think of this as their winter vacation spot). Our guests have enjoyed the experience of watching baby gray whales, just after being born, learning to surface and take breaths. We watch gray whale babies come right up to our boats (as you can see in the images below), sometimes against the desires of their mothers; not to worry, when the mother is ready to move on, she guides the little one away, once she's had the chance to look around and meet inquisitive people above. The adults are often just as interested in the faces peering over the side of the boats and love the interactions as well.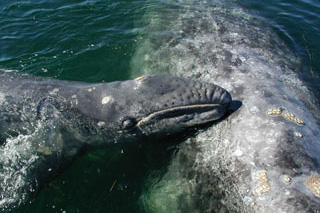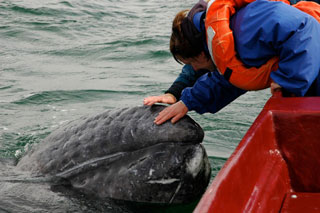 This tour will take you by airplane from San Diego to Guerreo Negro and our seaside camp at Laguna Ojo de Liebre. Here you can watch whales right from camp, but that is just the start. You boat trips will take you out for your up close whale watching experience. All of this will create a trip to remember.
Brief Trip Description
Details below relate to our fly in option. Go to the bottom of this long brochure to read about the alternative ground transport option. There you can read about the advantages and disadvantages of each type of transportation to our camp.
Your adventure begins when our driver meets you at the Holiday Inn - Bayside and transports you about 70 miles to the Ensenada Airport. Upon arrival in Guerrero Negro our driver meets you at the Guerrero Negro Airport and transports you approximately 45 minutes to our shore side camp.
On arrival we get you situated in your cabin. Then a brief orientation so you understand how things work around our camp. Dinner is usually 6:30 pm. It is normal for people to gather in our dining tent earlier to talk, relax, play a game, drink a margarita before dinner.
Your second day in camp begins the actual whale watching trips. We plan to do two trips each day, usually early in the day just depending on weather and other conditions. Typically whale watching finishes around 2:00 to 3:00 pm. This leaves some free time to relax, go for a hike, do some bird watching or check for messages using the wifi available down at the dock about 1 mile from camp.
On your last day, breakfast is served early so you can get to the airport and check in on time. We transport you to the airport and wait to see your plane off. In Ensenada our driver will be waiting to get you back to the San Diego start point, usually between 3:00 and 6:00 pm.
Accommodations
The best whale watching camp is even better!
Heated wood cabins on the shore.
Gas heated hot water showers.
Flush toilets.
Real beds with comforters & warm bedding.
Rugs on the floors.
Robes and slippers.
WIFI nearby.
No single supplement ever!
En-suite toilets & hot water showers optional.
See whales jump from your cabin window.
Hear whales breathing in the quiet of the night.
Lowest priced all inclusive shoreside camp.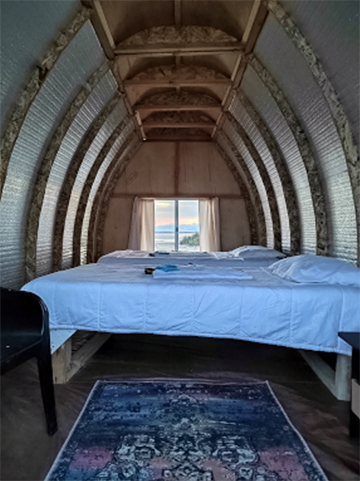 Double cabin tent. Insulated walls, rug on floor, mattresses and pillows, comforters and fleece blankets.
Large window easy to watch whales from your cabin. Single same, but one bed.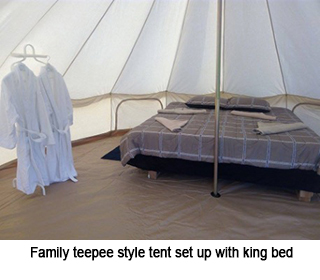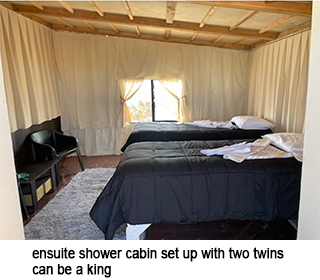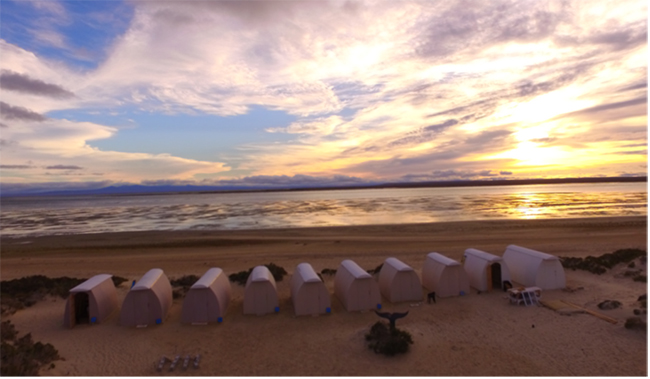 Itineraries:
Download detailed itineraries
2024 DATES & COSTS: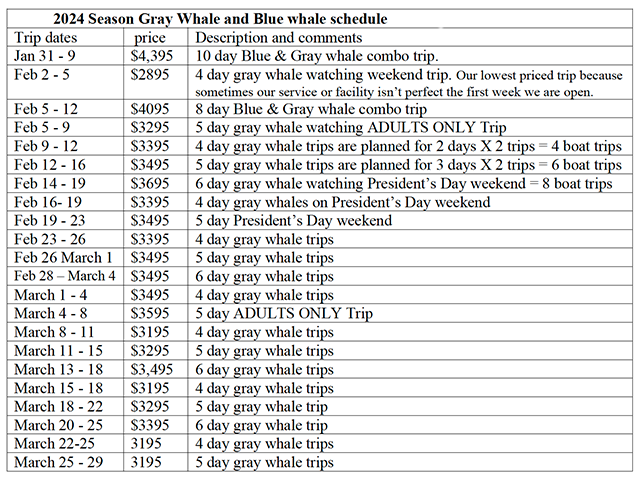 For more information
Contact:
Dive Discovery
@
1 800 886-7321
(415) 444-5100
or
Request Info