Great White Shark Diving Guadalupe
Mexico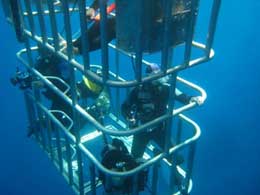 Isla de Guadalupe is rapidly becoming the World's Best Destination to dive with Great White Sharks. It hosts one of the most prolific populations of White Sharks on the planet. What makes Isla de Guadalupe the greatest White Shark diving destination is not only the abundance of White Sharks, but the water you will find them in! The temperature averages 65 to 70 ° F. It is simply Shark Diver Heaven!
The island lies some 160 miles off the coast off Baja California and over 200 miles southwest of San Diego in open ocean water that has over 100 feet of visibility.
The Guadalupe season is from July through November.
Guadalupe Island Closure Puts Big Sharks At Risk: OCEAN TALKS