Home > Diving Mexico > Mexico Dive Tours
Great White Shark Cage Diving, Boarding Solmar V
Isla de Guadalupe, Mexico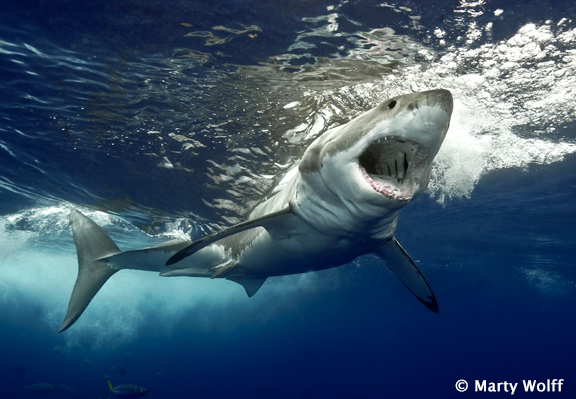 From Cindi:
The current situation for visitors to Guadalupe Mexico, for Great White Sharks: "The parks board have sadly closed the park stating they are evaluating the shark's behavior with tourist boats. They are only allowing scientists entry. This is being fiercely fought in the courts by all the liveaboard dive boats that operate there. The benefit of the boats in the park from July through October is to keep away illegal fishing, the sharks need our help to stay safe. We are monitoring this closely and will update as the story progresses".
Solmar V sample itinerary is as follows:
DAY 1:
A luxury motor coach will pick you up at the "host" hotel, San Diego, California at 10 AM and transfer you to Ensenada, Mexico. It is recommended you arrive the day before and stay one night at this "host" hotel. (Note: our pre-trip information sheet you will receive specifies address and contact information for the "host" hotel). You will arrive at the Solmar V by 12 noon with immediate departure to Guadalupe Island.
DAY 2:
Arrive early morning to Guadalupe Island and after setting up the cages, we start rotating teams into the cages as soon as the first shark appears. This does not usually take very long and, for the most part, when one shows up others are not far behind. All the photos on our website of the great white sharks were taken by individuals who have actually traveled to Guadalupe with us. Therefore, you can see that they come quite close to the boat and the cages.
DAY 3 & 4:
Cage diving all day with plenty of great photo opportunities. Remember we are one of the only liveaboards to offer a three man cage that is lowered 30 ft. for a different perspective. Must be certified for this cage and our guests are accompanied by one of our shark experts. Start back to Ensenada at the end of day 4.
DAY 5:
Arrive to port mid-day where the luxury motor coach will be waiting to take you back to San Diego. Return time to San Diego is between 4 - 6 PM depending on border traffic. We recommend arranging your departure flight after 8 PM or the next day.
The above includes all meals (gourmet dining daily and wine/beer with dinner), snacks, soft drinks, alcoholic beverages, beer, and cage diving while on the Solmar V plus round-trip luxury motor coach transfers from San Diego to Ensenada and back to San Diego.
COST: request for rates
For more information
Contact:
Dive Discovery
@
1 800 886-7321
(415) 444-5100
or
Request Info