Scuba Diving Cocos Island
Schooling Hammerheads, Manta Rays, and much more...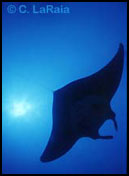 Cocos Island, Isla del Coco, lies 260 miles (550 km) off the Pacific coast of Costa Rica and is the world's largest uninhabited island with unparalleled beauty. It is the only island in the tropical eastern Pacific with a humid tropical forest. The national park, named as a UNESCO World Heritage Site in 1997, is a haven for myriad's of bird species, lush tropical gardens and over 200 cascading waterfalls. Cocos Island is an isolated ocean oasis. For decades, pirates and adventures used the island as a hideout. Some claim Robert Luis Stevens wrote about this island in his popular book titled "Treasure Island".
Scuba Diving Cocos Island: The underwater world of the national park has become famous due to the attraction it has for divers who rate it as one of the best places in the world to view large pelagic species such as hammerheads, sharks, manta rays, tuna and dolphins.
Now, as Cocos continues to concentrate marine life from hundreds of miles around, it is recognized as one of the last wild places on earth. Scuba diving Cocos Island offers some of the finest big animal diving in the entire world. Hammerheads are Cocos Islands claim to fame! Exciting moments await you when you are entranced with hundreds of schooling Hammerheads. Along with giant Manta Rays, bottlenose dolphins, whale sharks, sharks, tuna and millions of smaller fish, all are home in Cocos Island.
Be sure to contact us for any and all information in regards to this astoundingly diverse and exotic destination, including our current rates and schedules.
© Undersea Hunter Group: Argo, Sea Hunter & Undersea Hunter Liveaboards