Home > Diving Cocos Island > Cocos Island Liveaboards
Argo
Undersea Hunter Group's Liveaboard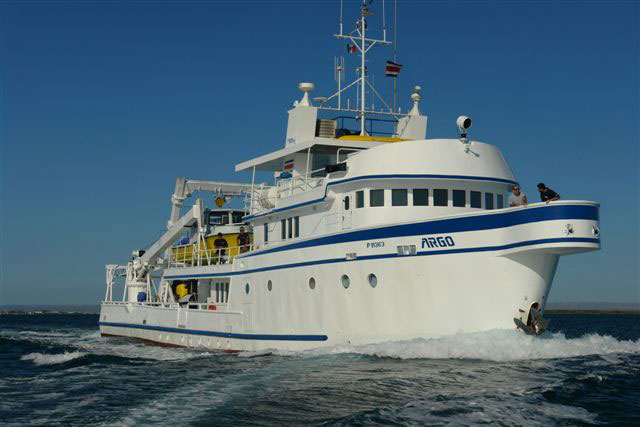 Our newest boat is the Argo. She is the physical expression of all the knowledge we have gained from operating our vessels over the years, assembled into a singular, dive expedition cruiser.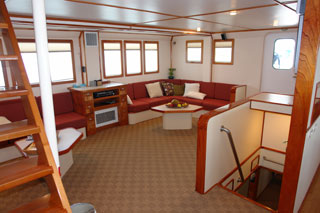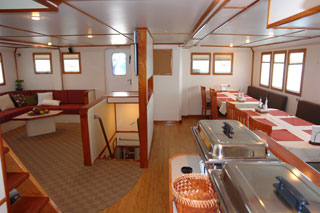 Argo is a very intentional blend of work ship and luxury yacht. She was totally redesigned and refitted in 2008, to pamper up to 16 discriminating passengers in 8 spacious, well-appointed staterooms. A 130-foot vessel (40 meters) with full global reach, the Argo was also conceived to serve as the ultimate platform for a deep-diving submersible as well as for remote operating vehicle deployment (R.O.V.). She offers heavy lift capabilities, stability and ample deck space for any chore imaginable. Extended, multi-task cruises are her specialty and of course she is mothership to our remarkable DeepSee submersible.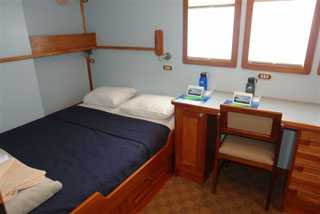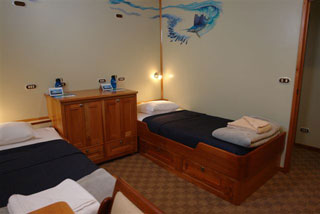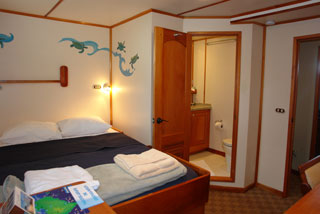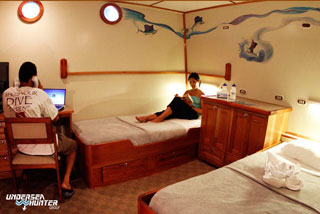 Fourteen well-seasoned crew look after the ship, the projects and the guest's every need. A comfortable and stylish lounge, dining area and sun deck comprise the social areas. The ambience is completed with original, undersea themed artwork throughout. The well-equipped galley enables the ship's chefs to prepare fresh, international level, four-star cuisine for meal times or at the "drop of a hat".
On board accessories consist of all standard diving gear including scuba, Nitrox, rebreather facilities and zero-speed stabilizers. Three, powerful, 24-foot skiffs serve as tender-boats, which perform submersible tracking duties, shepherding of divers to remote sites, ship-to-shore transfers and any other conceivable recreational or support related activities. All of our skiffs are powered by fumeless 4-cycle, 115 HP twin-outboard motors that can bring you rapidly to any dive site within an extended, safe radius of the mothership. They are further equipped with VHF radios, depth sounders and portable GPS. A T-Roof and rigid bow cover is also mounted on these vessels for your comfort.
Argo and DeepSee
The DeepSee is a custom-build one-atmosphere submarine, capable of carrying a pilot and two passengers to a depth of 1,500 feet (450 meters). She is a flexible, capable and masterfully designed vehicle that can agilely operate throughout her range in comfort and safety.