Vanuatu
Searching for Dugongs!
Vanuatu is a haven for diverse marine life and a special destination to witness dugongs. Known for their graceful presence and elusive nature, dugongs can be found in select areas worldwide, making your encounter in Vanuatu an extraordinary opportunity.
Why Vanuatu?
Our warm, calm waters and extensive seagrass beds create a perfect dugong habitat. These majestic creatures are often seen around our coastline, making Vanuatu a prime location for witnessing these remarkable animals up close.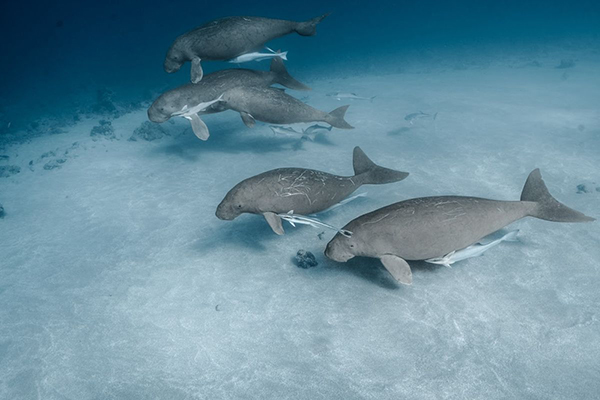 Herding dugongs in Maskelyne Islands.
Photo Credit: Adam Moore|Edges of Earth Expedition.
Where to see them:
Espiritu Santo - Explore the seagrass meadows around Aore Island and Tutuba Point for your best chance to spot dugongs. The period from June to September generally offers optimal sighting opportunities. We highly recommend contacting Island Fishing Santo for the best snorkeling tours.

Havannah Bay, Efate - Set against the backdrop of picturesque Havannah Bay, Tranquility Dive offers a unique opportunity to observe dugongs in their serene surroundings. The bay's tranquil waters and abundant seagrass beds create an ideal setting.

Paradise Cove, Efate - At Paradise Cove, Gone Diving provides an extraordinary chance to witness dugongs in their element.

Maskelynes Islands - Explore the remote Masquelynes Islands off the coast of Malekula island with Malog Bungalows or Batis Bungalows. Here, dugongs often grace the waters in large pods, adding a touch of magic to your dive experience in these pristine surroundings.

Lamen Bay, Epi Island - Combine diving with cultural immersion at Lamen Bay on Epi Island with Air Taxi. Witness the mesmerising dugongs while also experiencing the unique Nangol ceremony, adding depth to your encounter.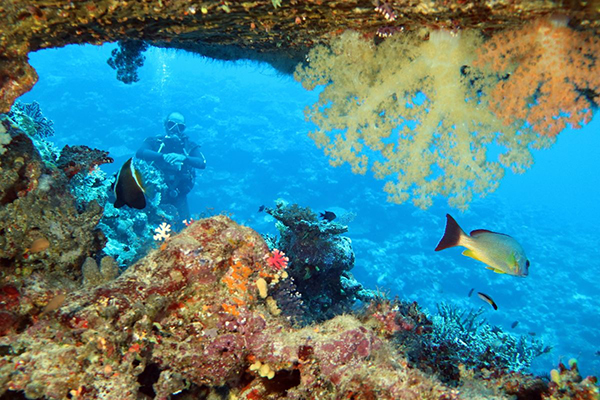 Diver with soft corals at Tutuba island.
Image by Diveplanit Diving Vanuatu.
Top Five Dive Sites in Vanuatu
SS President Coolidge: At almost 200m long, this Second World War US troop carrier is one of the world's largest and most accessible wrecks. Explore the jeeps, ammunition and barbers' chair in the cargo holds, enter the old ballroom to kiss the statue of The Lady, then descend 70m for the ultimate photo next to the ship's name.

Million Dollar Point: Dive into history at this renowned site where the US military dumped surplus equipment after World War II. Discover an underwater graveyard of vehicles and relics now covered in colourful corals.

Dugons: Dugons may be shy creatures, but many can be found in the waters off Vanuatu. The trick to meeting one? Go for lots of dives to increase your chances!

Underwater post office: At Hideaway Island, you can send a postcard back home from the world's only underwater post office. A short swim from the beach, the post office is a couple of meters underwater in the middle of a coral garden.

Awe-inspiring caverns: Perhaps the most impressive of Vanuatu's many caverns and canyons is The Cathedral. The entrance to the cavern is tall and wide, about 22m deep at the sandy bottom, and it gets narrower as you approach the "pulpit" at the apex.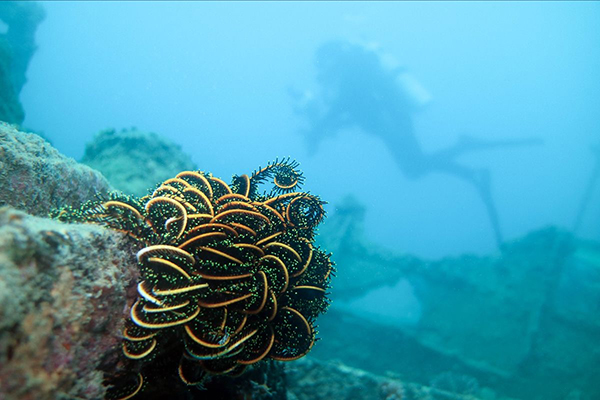 Diver above wreckage & feather stars at Million Dollar Point.