Forts, Palaces and Tigers
11 days itinerary
Request for dates and current pricing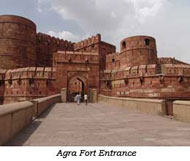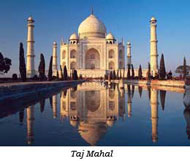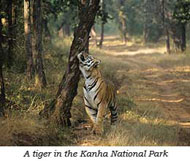 We have custom made this special offer for you to experience India's exceptional wildlife as you delve into its picturesque jungles in search of the most magnificent of all their inhabitants, the tiger. As well as discover the rich cultural heritage of India for 11 nights and get a free night at the Oberoi Amarvilas to indulge with your own private view of the greatest monument of love. The Oberoi Amarvilas, is rated amongst the leading luxury resorts of the world. Wake up to the glorious sight of the Taj Mahal, bathed by the first rays of dawn. Watch her sparkle by day as the sun shines on her architectural perfection. Allow yourself to be swept away by her romance at dusk. Let the nights be filled with the magic of the Taj by moonlight.
India still remains one of the only countries where visitors can see the king of the jungle in the wild. While tiger sightings are never guaranteed, a number of India's national parks are home to steady populations of this magnificent animal and provide good chances of an encounter. Whether from the back of a jeep or on a thrilling elephant-back safari, catching a glimpse of this magnificent predator in the depths of the jungle is a moment never to be forgotten. One of the largest and most scenic wildlife sanctuaries in India, Kanha National Park is an ideal habitat for both tigers and their prey species. The lush sal and bamboo forests, grassy meadows and ravines of Kanha shelter a significant population of rare species such as tiger, leopard, sloth bear, barasingha and wild dog.
Along with your wildlife safari experience the breathtaking mixture of architectural styles. India is home to some of the world's most spectacular palaces, forts and monuments. A fascinating blend of religious beliefs, cultural norms and historical influences. Discover the royal sights of Rajasthan, Travel to the Pink City of Jaipur and delight in the magnificent sights of elegant Udaipur, with its extraordinary island palaces. Explore the sights of the capital city of Delhi, with its vast marketplaces, ancient tombs and historical mosques.
This unbeatable offer is a well thought out itinerary to help you explore India's endless natural treasures, seeking out the ideal experiences to thrill and delight ones senses.
Itinerary
Day 1 - ARRIVAL DELHI
You arrive at Delhi's new International Airport Terminal 3 (flight details to be advised), and perhaps the new gateway to modern India. You will be warmly welcomed by your &Beyond India host and chauffeured to 'The Oberoi Hotel' which boasts a rich historical past with an awe inspiring heritage and a truly international appeal. Unpack, settle in, relax and recover.
The Oberoi, New Delhi reflects the city's spirit in a harmonious blend of tradition and contemporary sophistication. Located close to the city center near business, commercial and shopping districts, the luxury hotel overlooks Delhi Golf Club on one side and the heritage site of Humayun's Tomb on the other. Exquisite interiors, impeccable service and fine cuisine combine to make this the Capital's most graceful and elegant hotel. The award winning hotel is ideal for holiday travellers to explore the cultural wonders of Delhi.
Spend two nights at the Oberoi's New Delhi. Accommodation is in a premier room with ensuite facilities. Your stay is on bed & breakfast basis.
Day 2 - DELHI
This morning post a scrumptious breakfast take a rickshaw ride in Chandni Chowk which was once the grandest of markets in India. Even though today Chandni Chowk appears choked with congestion, it retains its historical character. In Chandni Chowk you will visit The Jama Masjid, the Friday congregational mosque, known as the largest and glorious mosque in India. It was the last architectural extravaganza of the Mughal Emperor; Shahjahan built in the year 1656 AD.
Following lunch (to be paid directly - not included in the cost) you will drive through Lutyen's Delhi, driving past Rashtrapati Bhavan, India Gate and the Old Secretariat to visit the Qutub Minar the world's tallest brick minaret & Humayun's Tomb which was the first garden-tomb in the Indian subcontinent and the complex was declared a UNESCO World Heritage Site in 1993.
Overnight Oberoi's New Delhi.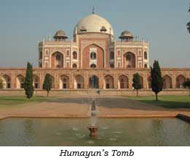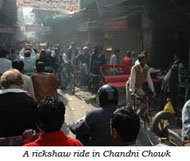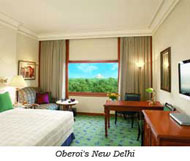 Day 3 - DELHI / AGRA
This morning, after breakfast, you will be met and driven for about 5 hours to Agra. The city of Agra flourished under the patronage of the emperors Akbar, Jahangir and Shah Jahan and attracted artisans from Persia and central Asia. Agra is where Emperor Shah Jahan engraved his immortal love for his Empress in marble, the Taj Mahal. Agra is still famous for handicrafts products such as inlay work on marble, carpets, jewellery, zari and embroidery work.
On arrival in Agra, check into your hotel "Oberoi Amarvilas" and have the most memorable experiences, located just 600 meters from the magnificent Taj Mahal considered the finest example of Mughal architecture, which you will explore late afternoon when the light is just perfect for photography.
Later you will be taken for guided sightseeing of Taj Mahal to view it by sunset. Said to be one of the most elegant and harmonious buildings in the world, Taj Mahal is the manifestation of the wealth and luxury of Mughal art as seen in its architecture, garden design, painting, and calligraphy.
Spend one night at the Oberoi Amarvilas. Accommodation is in a Premier Room with ensuite facilities. Stay is on bed and breakfast basis.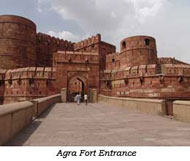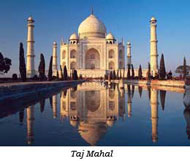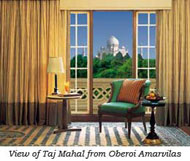 Day 4 - AGRA / JAIPUR
This morning experience a breathtaking view of the Taj Mahal by sunrise. Following which we drive (for 6 hrs) to Jaipur. Founded in 1728 by Maharaja Sawai Jai Singh, Jaipur is where modernity and tradition exist side by side. The walled city, vibrant with colours, houses the City Palace, an astronomical observatory and a bustling bazaar where artisans fashion puppets, silver jewellery, lac bangles and other handicrafts in their workshops. At a short distance is the Amber Fort Palace at Amber.
Enroute stop at Fatehpur Sikri. This historical city was constructed by Mughal emperor Akbar in the 16th century and served as the empire's capital from 1571 until 1585. Though the court took 15 years to build, it was abandoned after only 14 years because the water supply was unable to sustain the growing population. It is recognised as a UNESCO World Heritage Site.
Upon arrival check into your hotel "Oberoi Raj Vilas". Recreating the magnificence of princely Rajasthan, in a beautiful fort setting, with Jaipur as its backdrop; The Oberoi Rajvilas is set in 32 acres of landscaped gardens with pavilions and reflection pools that create the romance and grandeur of Rajasthan. All rooms have large four poster beds and sunken marble baths overlooking private walled gardens. Air-conditioned luxury tents have embroidered interior canopies, old style baths and outdoor decks.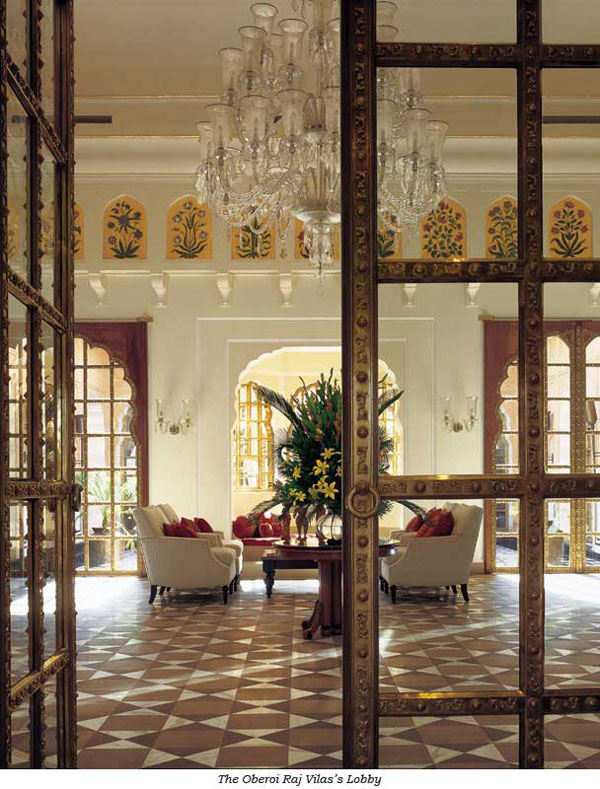 Spend two nights at the Oberoi Raj Vilas. Accommodation is in a premier room with ensuite facilities. Stay is on bed and breakfast basis.
Insider's Tip -
• Get a feel of the old movie halls at the Raj Mandir.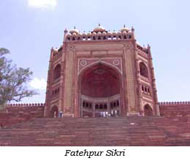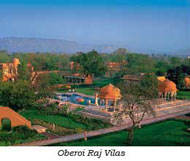 Day 5 - JAIPUR
The morning is kept for guided visit of stunning Amber Fort (without elephant ride as we do not recommend using elephants at the fort - To be paid directly if interested). Amber Fort is located 11 km from Jaipur. It was the ancient citadel of the ruling Kachhawa clan of Amber, before the capital was shifted to present day Jaipur. Amber Fort is known for its unique artistic style, blending both Hindu and Muslim (Mughal) elements, and its ornate and breathtaking artistic mastery.
In the afternoon, you will be taken for guided sightseeing of Jaipur city which includes:
City Palace - The City Palace, a wonderful combination of Mughal and Rajput forms of architecture, is now partly a museum housing miniature paintings, manuscripts, Mughal carpets, musical instruments, royal costumes and weapons, giving invaluable insight into Jaipur's royal past. Some of the instruments at the astronomical observatory are still used today to forecast the weather and the turns of nature.
Hawa Mahal - The focal point of the city of Jaipur is the Hawa Mahal or the Palace of Winds, a five storey high Baroque- like structure built to enable the veiled ladies of the harem to observe the street scenes below and remain unnoticed.
Overnight Oberoi's Rajvilas.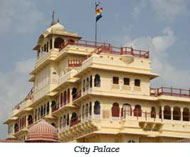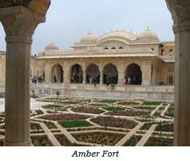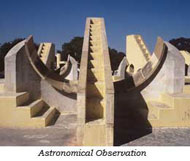 Day 6 - JAIPUR / UDAIPUR
The morning is kept at your leisure.
Later, you will be met and chauffeured to Jaipur airport to board your flight to Udaipur. Delicate, feminine and elegant, Udaipur is known by many names - City of Sunrise, Jewel of Mewar and City of Lakes. Undoubtedly one of India's most romantic cities, it nestles between the glassy waters of its famous lakes and the ancient Aravelli Hills. Although it is one of Rajasthan's largest cities, modern Udaipur manages to retain a charming small town vibe.
At the heart of Udaipur lies the serene Lake Pichola, with the old city sprawled along its east bank.
On arrival in Udaipur you will be met and chauffeured to your hotel "Oberoi Udaivilas". Adorning the banks of Lake Pichola and standing witness to the historic City Palace, the Oberoi Udaivilas captures all the romance and splendour of a royal era. Rooms with terraces that open on to semi-private swimming pools present exquisite views and are a unique feature of Udaivilas. Magnificently decorated suites with private swimming pools and outdoor dining pavilions are exclusive retreats.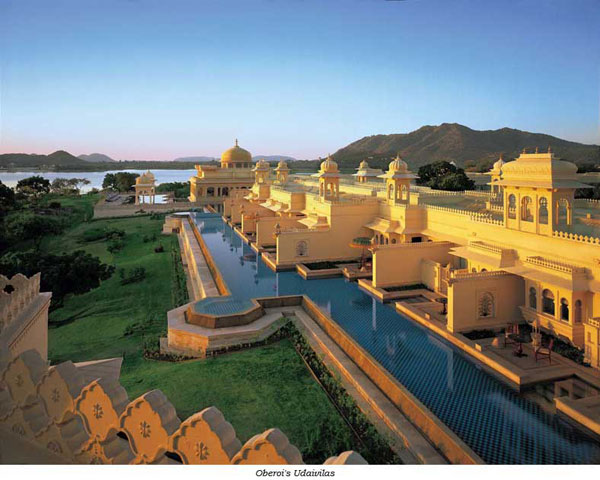 Spend two nights at Hotel Udaivilas. Accommodation is in a Premier Room with ensuite facilities. Stay is on bed and breakfast basis.
Insider's Tip -
• If you like a customized tailor made suit in India, call the royal family tailor and he can deliver a suit within 24 hours.
Day 7 - UDAIPUR
This morning after breakfast, you will be visiting City Palace in Udaipur. It was built by the Maharana Udai Singh. It is located on the east bank of the Lake Pichola and has several palaces built within its complex. Udaipur was the historic capital of the former kingdom of Mewar in the Rajputana Agency and its last capital. The Palace was built in a flamboyant style and is considered the largest of its type in Rajasthan, a fusion of the Rajasthani and Mughal architectural styles.
Afternoon is kept for visiting Ranakpur Jain Temples (approximately 2 ½ hours drive). Near the village of Sadri lies the Ranakpur temple complex - one of the biggest and most important clusters of Jain temples in India that is worth seeing. Nestled in the Aravalli Range, Ranakpur is a mere 90 kms from Udaipur. The Chaumukha temple or four faced temple is the main temple in the complex and dates back to the 15th century. Built in 1439, this huge, beautifully crafted and well-kept marble temple has 29 halls supported by 1444 pillars, no two of which are alike. Within the complex are two other Jain temples, Neminath and Parasnath - the former with a black image of Parsvanatha in the sanctuary and erotic carving outside.
Note: Ranakpur temples open at 1200 hours.
Overnight Oberoi's Udaivilas.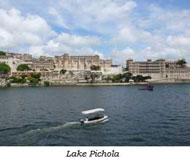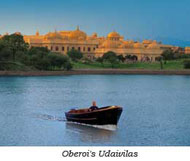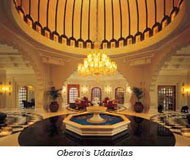 Day 8 - UDAIPUR / MUMBAI / NAGPUR / KANHA NATIONAL PARK
This morning after breakfast, you will be met and chauffeured to Udaipur airport to board your flight to Mumbai. On arrival in Mumbai, you will be met and assisted to board your onward flight to Nagpur. On arrival in Nagpur you will be met and driven 5 hours to Kanha National Park. Prime tiger wilderness, Kanha National Park was one of the first areas to be protected under Project Tiger, aimed at preserving this magnificent animal, and remains a renowned conservation area. This picturesque reserve boasts the ideal habitat for both tigers and their prey species. Lush sal and bamboo forests are interspersed with vast grassy meadows known as maidans, while the Banjaar River, which forms the park's southwestern border, provides a steady water source for the abundant wildlife. A huge population of various deer and antelope, including the extremely rare barasingha, supports a large number of tiger, leopard, jackal and wild dog.
Explore the sal and bamboo forests of Kanha National Park on early morning and afternoon game drives in an open 4x4 safari vehicle. One of our specially trained naturalists will accompany you throughout, pointing out and explaining details about the fascinating animals and plants of the jungle. Your early morning drive enters the park as the dawn is breaking over the jungle. Explore the meadows, or maidans, where scores of grazing herbivores attract tiger, leopard and wild dog to the edges of the clearings. On an afternoon drive, the wildlife is settling down for the night or having a final drink at the Banjaar River or the many perennial streams that run through the park. Watch out for the elusive leopard and listen to the calling of jackal getting ready for the hunt.
Spend four nights at &Beyond Banjaar Tola Tented Camp. Accommodation is in Air Conditioned Luxury Tent with ensuite facilities. Your stay is on full board basis including scheduled game drives by shared jeeps.
Day 9/10/11 - KANHA NATIONAL PARK
Enjoy Kanha National Park during your morning and evening game drives in our specially designed open four wheel drive vehicles.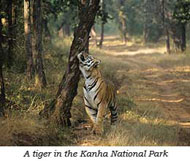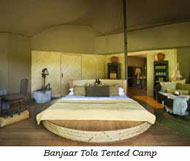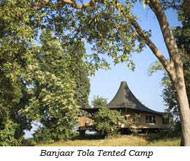 Day 12 - KANHA /NAGPUR / DELHI
Following your morning jungle safari and early lunch, a drive of approximately 5 hours will take you to Nagpur airport to board your flight for Delhi.
On arrival in Delhi, you will be met by &Beyond India host and chauffeured to the international airport to board your flight home.
Note: Incase a day use room is required, same will be charged on extra.
***** End of Services *****
For more information
Contact:
Dive Discovery
@
1 800 886-7321
(415) 444-5100
or
Request Info