Home > Dive Discovery Trip Reports
India Tigers & Temples - Maldives Diving 2009
November 16 -24 2009 - India Trip Report
November 25-30 2009 - Maldives Diving Trip Report
Tigers & Temples Safari in Luxury
November 16 - 24 2009 Trip Report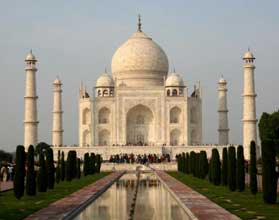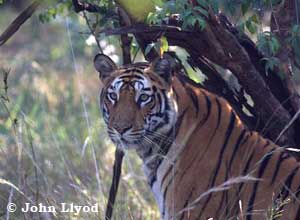 The journey to India is long from the USA, arriving in Delhi late at night, I was greeted by Dushyant Singh of India Safari & Tours, the man I had been emailing for over 2 yrs perfecting our India arrangements. He is amazing and kept on top of all the usual changes with canceled flights and time changes. Some members of my group chose to start the trip earlier visiting the Great Palace hotels of Udaipur and Jaipur, wow is all I can say of these magnificent palace suits, a truly posh experience!
Two friends chose to try a more adventurous route to Manvar and Gir where the most Asiatic Lions reside, however they must have been hibernating at that time, they did however see a Leopard!
Dushyant drove me to our lovely hotel in Delhi, The Oberoi a wonderful welcome after flying for so many hours. However up early for our flight to Jabalpur where we drove to our exotic home for the next four nights, &Beyond's Mahua Kothi, a traditional jungle house! This is a new destination for CC Africa properties (they have since changed name to &Beyond), true to form; excellent service, food and ambience. Similar to Africa mode of operandi we would have 2 scheduled game drives per day. Early am wake up at 0500hr to be at the gate of our Tiger Safari at Bandhavgarh National Park at 600am. Bandhavgarh lies in the central India state of Madhya Pradesh. This is the central heartland of India with a project tiger reserve since 1968 in Bandhavgarh. The forest is like nothing I have seen before, the habitat type is described as Tropical moist deciduous and is characterized by dominance of Sal Forest and Bamboo. An ancient fort is located at the top of the impressive Bandhavgarh hill and is about 2000 yrs old. There are 39 caves in the fort area and some carry inscriptions of the Brahmi script. The oldest cave dates back to 1st Century A.D.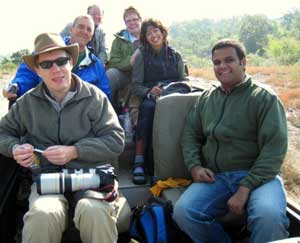 Joining us as we began in Delhi and looking after logistics (oh thank you) was are personal guide and companion named Karan, a young man full of great information and fun! We loved Karan and he made my life easy! He took great care of us and we learned heaps of new info about India, a country full of riches and lore, contrasts and soul and many many Hindu Gods! Our favorite God became Lord Ganesh (the elephant face) oh boy dear Ganesh we worked him hard!
As it turned out, the season had just opened for Tiger Safaris, not even 1 month prior to our arrival. The parks close during monsoon season. A shock of shocks, NO MORE Elephant back safari to find the Tigers……… WHAT??? As all the faces of my group look at me, Karan was as shocked as I. Apparently a new director at the park decided to make some changes and put an end to tourists getting on Elephant back to get into the forest to see the Tigers when trackers have spotted them. I think he was trying to stop some of the 'free for all' with all the many vehicles in the park. WHY ME??? WHY NOW?? Unreal. The travesty here is, safari vehicles can only stay on the roads, NO off- roading as it is a national park. Well guess what??? For 4 days before we arrived they had buckets of rain (climate change in effect) so water all over and no need for Tigers to visit a water hole,,,,, So needless to say. We had many hours (total of 8 per day, 0615hr to 10;30am then 2:00pm till 5:30pm) of game driving, we could only go in allocated zones. We kept missing the cubs, saw all the fresh spoor (tracks) and also the largest cat paw print I have ever seen, a HUGE male Tiger,,,, it looked like a tortilla!
Mama mia, the males reach 9.5ft long, they are immense.
In our zone lives 2 females with 2 different sets of cubs, and 2 male Tigers.. We were always 12 seconds too late. Now mind you, it is cold in November in this area, winter had set in and we are in open game vehicles. We froze every morning looking for our beloved illustrious shy Tiger, in the beautiful thick green Sal Forest. We did see plenty of spotted dear, Sabor antelope, cute black face (gray Langur) monkeys they are the prettiest monkeys I have ever seen; wild boar, purple head parakeets, and jackels. We did not see a sloth bear however.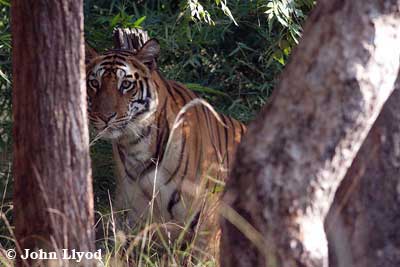 Okkkkayyyyyy so normally they say after 4 game drives you see a tiger. By the 5th game drive I suggest we all buy a small Ganesh figurine from the curio shop and keep him in our pockets for good luck (he is the god of good luck and fortune). Well after 2 more game drives, no Tiger. Then we find out JB did NOT buy a Ganesh, GEEZ….. so we made him feel bad about it, for sure it must be all his fault that we are not seeing a tiger and he promptly bought a Ganesh. The staff at our most comfortable jungle lodge would have a hot bath drawn with lit candles when we arrived back after the evening game drives. Of course the bar man at the lodge would have our Gin & Tonics ready for us as we drank them huddled around the luxuriously large fire place,,,,,,, a nice reward for no tigers.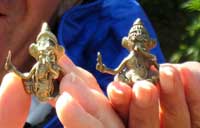 As per normal for this group we are now on our last day in Tiger country at Mohua Kothi, we only have one more morning safari before we head to our next destination. Of course the cost of this 6 star &Beyond Tiger Safari Lodge is not exactly cheap and this is the entire reason we wanted to come to India….. TIGERS! So now the pressure is really on for me, our guide Karan and our driver Kartikae, I told everyone the night before, put your Ganesh under your pillow and visualize a TIGER, it is time for a Tiger! Well here we go, trying to be most confident we will see a tiger, the time goes on, and we have to be out of the park at 10:15am. It is now 8:30am, an excited vehicle coming our way tells us TIGER AHEAD, gooooooooo. OH my gosh, the best part was watching Karan praying and moving his hands forward like egging on a horse to go faster and faster,,,, praying we do not miss the Tiger this last chance. Well of course heaps of vehicles all stopped and looking into the forest, we could not see! They let us crawl into their vehicle and slowly we could barely make out a paw, then a tail flap, is this the tiger????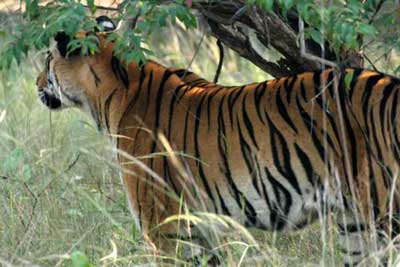 She got up and started to walk out of the forest into the early morning mist and into the sun!!!!!!!!!! OH MY GOD a real Tigress!!!!! Now emotional Italian Cindi, so damn beside myself, I must have hit something on my camera by accident, the Tigress is out of the forest and LOOKING at us, I hear JB's camera, going at it on servo and same with Jerry & Shari, heaps of shutters going off, NOT mine. I am in tears now and yelling my camera's broke!!!!! Damn I hit the timer button and no the shutter would not go!!! So I missed her looking at us, the most incredible face imaginable on a GIANT cat! Who could have designed such an incredible looking beast??? Orange glowing and gleaming in the sunlight through the trees, the incredible jet black stripes inlaid with bright white on her face, a palette of black lines and glowing white around her eyes, shimmering long white whiskers in the sunlight!!! My goodness such a gorgeous beast, words cannot describe the feeling to finally after all our days and hours spent combing this park, here she is, in all her glory, right before our eyes! But the Orange is so bright and glowing, that is what struck me, then of course the tears flowed! Finally we found our Tigress all the stress and worry and now the grandeur of her before us, was too much for me! Thank you Lord Ganesh!
I could not help thinking if this is the female and she is huge, the males are a LOT bigger, I think it would have been a little daunting! Ha I swim with sharks all over the world and want to swim open water with a great white shark, but the thought of seeing a GIANT male tiger in the wild up close and personal, I simply cannot imagine it. She was also in hunting mode as she had cubs to feed, she has to feed them for nearly 2 years as well as herself. That is a big undertaking as they say Tigers are only successful one in 10 to 15 attempts, even with their stealth and power. This is the difference with a pride of Lions, they all work together to take down prey. Tigers are solitary and have to manage this alone. She hides her cubs in a new area every day, then will bring the food to them, or sometimes will bring the cubs to the food.
I must go back of course and meet my big boy Tiger!! A cub or two would be great also! Ahhhhhhhhh so darn Gorgeous!
Now we are on our way by road, a long drive through the India country side to the Khajuraho temples famous for their exquisite art work and masterpieces in stone. The temples are stunning and described as Aryan Nagara style architecture, dedicated to Shiva, Vishnu, Brahma and Tirthankaras. The temples date back to the 9th and 10th centuries; the frescos adorn the temples with their eroticism and replication of the wide variety of activities & beliefs that existed during that time. Today it is a UNESCO world heritage site. Khajuraho boasts the largest group of medieval temples in existence, which originally numbered 80 temples, which only 25 exist now. The temples belong to 2 different religions, Hinduism and Jainism. They strike a perfect balance between architecture and sculpture; they say they represent an expression of a highly mature civilization. I think this is where the books and style of Kama Sutra became famous!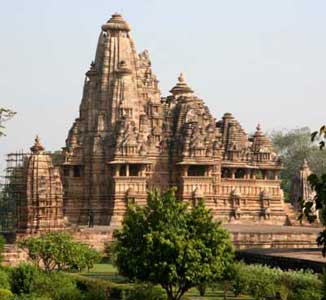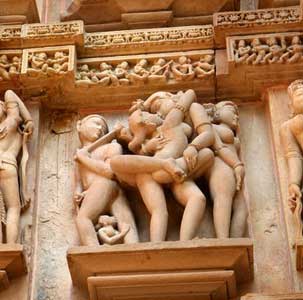 Things changed however once India was invaded by the Mughal Empire and much later by the English. They lost the freedom of the time when the Khajuraho temples were created. In other words, the Hindu people of India became shy.
We then flew to Delhi, with an overnight at the lovely Oberoi hotel, for our next morning train trip to Agra to see the most incredible site yet, the Taj Mahal, one of the Seven Wonders of the World. We first checked into the exquisite Oberoi hotel Amarvillas. This by far was my favorite of the trip, ooooh lala! This is a stunning hotel with richly appointed rooms and uninterrupted views of the Taj Mahal; it hard to believe I am looking at the Taj Mahal another UNESCO world heritage site since 1983. The "Taj" was cited as "the jewel of Muslim art in India and one of the universally admired masterpieces of the world's heritage. Agra boasts the remarkable Agra Red Fort which we visited in the morning when we arrived. Near the gardens of the Taj Mahal stands the important 16th-century Mughal monument known as the Red Fort of Agra. This powerful fortress of red sandstone encompasses, within its 2.5-km-long enclosure walls, the imperial city of the Mughal rulers. It comprises many fairy-tale palaces, such as the Jahangir Palace and the Khas Mahal, built by Shah Jahan; audience halls, such as the Diwan-i-Khas; and two very beautiful mosques. This was my favorite fort so far!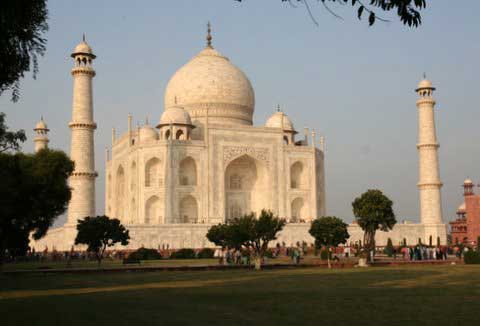 The Taj Mahal is a mausoleum, built by Mughal Emperor Shah Jahan in memory of his favorite wife, Mumtaz Mahal. The Taj Mahal is considered the finest example of Mughal architecture, a style that combines elements from Persian, Indian, and Islamic architectural style. While the white domed marble mausoleum is its most familiar component, the Taj Mahal is actually an integrated complex of structures.
Origin and inspiration
Main article: Origins and architecture of the Taj Mahal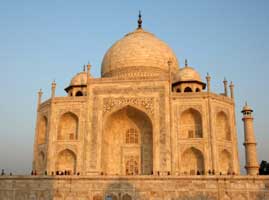 In 1631, Shah Jahan, emperor during the Mughal empire's period of greatest prosperity, was grief-stricken when his third wife, Mumtaz Mahal, died during the birth of their fourteenth child. Construction of the Taj Mahal began in 1632, one year after her death. The court chronicles of Shah Jahan's grief illustrate the love story traditionally held as an inspiration for Taj Mahal. The principal mausoleum was completed in 1648 and the surrounding buildings and garden were finished five years later. Emperor Shah Jahan himself described the Taj in these words.
Should guilty seek asylum here,
Like one pardoned, he becomes free from sin.
Should a sinner make his way to this mansion,
All his past sins are to be washed away.
The sight of this mansion creates sorrowing sighs;
And the sun and the moon shed tears from their eyes.
In this world this edifice has been made;
To display thereby the creator's glory.
Sadly we had to drive back to Delhi, traffic was very heavy, we checked into our airport hotel the Trident, a lovely property that is part of the Oberoi chain. Had our last drink to salute the amazing riches of our first visit to India, a sad farewell to our wonderful guide/companion Karan. Some of us carried on for our night flight to the Maldives for our next adventure!!!!
I am happy to announce we will be offering India as a featured destination for our 'Not Just Diving' side of the business!! I love India and all her richness; she is a country full of riches and poverty. A dichotomy of parallels; colorful and vibrant, full of life and spirit, a treasure trove of smells and fabulous flavors!
Ahhhhh I cannot wait to go back!
Cindi LaRaia