Home > Dive Discovery Trip Reports
Back to Africa August 31 - September 20 2003 Trip Report
Great White Sharks, Zambia Safari & Diving Mozambique
This African Adventure began near Cape Town in a sleepy little town named Gainsbaii, this is where the Great White Shark of South Africa visit to feed on Cape Fur Seals. Our first day presented 60 knot winds and rain. So some of us hiked and participated in the activities our 5 star Nature Reserve offered. We spotted the Southern Right Whale, who calve and mate in what they consider warm water compared to the feeding grounds of Antarctica.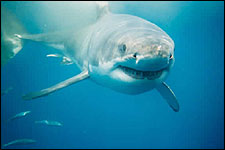 Day 2 and 3 enabled us to venture out to Geyser Rock and Dyer Island for our cage diving with Whitey. Sadly the seas were big and mighty and some divers did not feel very well. All forgotten once the sharks turned up and we were suiting up for our turn in the cage. We had 6 sharks on day 2 and lots of aggressive big ones on day 3 showing lots of teeth! The dive operator was using a new technique new to me; breath-holding, no hooka. I was a bit leery, all was fine at first, you hang out the top of the cage watching for the sharks when they get them close then the captains yells, get down, get down get down. So deep breath and down you go, you can hold your breath for the time it takes the sharks to come close for photo's. However when I had a monster shark take the bait in front of me and smashing into the cage, all I could see is a big white body shaking me loose of my hand and foot hold! Yikes, I am flying through the cage with no air and no idea where to find up or down. The worse thing is I could not get a darn photo of this big boy 1 inch from me! So I decided I did not like this new idea, give me the hooka!!!
Cape Town is the gem of South Africa, such a magical beautiful city; splendid in her beauty with Table Mountain as the backdrop. We visited nearly everything in 2 full days of touring here, home was at the lovely Victoria and Alfred Hotel on the waterfront. We took the funicular to the top of table mountain, of course the clouds appeared as we headed up into fog and then rain; beautiful views in between rain drops. Reminded me of San Francisco in summer. The penguins in Simon Town always a delight, shopping for authentic artifacts from many African Countries; Cape Point is utterly breath taking. My favorite area that I never tire of, is visiting the country side and wineries of Stellenbosch wine region, for those of us true wino's, heaven is seeing the rolling hills loaded with vineyards and Cape Dutch architecture. I think the finest lunch with the most spectacular view ever was in Franscheok wine region; at a place high up in the mountains with surrounding vineyards called LePetite Ferm (small farm). Ahhhhhhh heaven!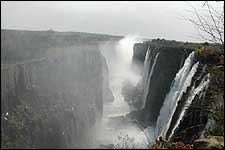 The Zambia side of Victoria Falls offers the most spectacular view of the falls, totally different than the Zimbabwe side. Splendid views offered from below the top of the falls. Venturing down a long walking path, with awesome double rainbows to light the way in the mist.
Susi and Chuma was our magnificent home here, wooden chalets in the tree tops at the edge of the mighty Zambezi river. Hippo's in a constant cacophony of snorts and grunts all through the day and night. Sundowner cruises on our own boat was a thrill; viewing fish eagles, hippo's water buck and yellow billed kites. Sunsets were utterly spectacular due to the fires burning in the bush. Lots of laughter and fun drinking Gin & Tonics with friends old and new on our sundowner cruises.
We had an amazing wedding here for Cheryl and Marshall, the staff at Susi & Chuma worked as though Royalty were to be wed. It went off without a hitch and even the Elephants I invited behaved remarkably well, in spite of all the photo's taken with the bride and groom and all of us! They were great until we wanted to ride them back to their home, they were teenagers and the girl had had enough and ran away…….
The African minister was in true form, as he made them repeat such words as 'obey' …..choke, cough….. come on Cheryl you can say that ;-).
It was an awesome day indeed! The staff and a fabulous band sang and played for us as we drank champagne and ate cake. More time spent on the river for our sundowners on a sand island with chairs set up and snacks before our wonderful dinner! Ah only in Africa!
Off to South Luangwa National Park in Zambia we arrived at our awesome new luxury tented camp with a waterfall pool! The views from our verandah were magic as we were at the top rim of a crater filled with a plethora of animals. Waking at 0530hr to incredible sunrises with the animals in front of us. Leopard on our first day as we were on the way to a lion kill with 4 lionesses and a big male lion. Late to dinner (who cares) enabled us to see a disturbance of dust in the darkening skies, Beks our incredible specialist guide says 'listen'. Sure enough all we could see was this ever-increasing giant cloud of dust and ever so lightly the sounds of cows approaching. Those sounds came from the biggest herd I have ever laid eyes on of Cape Buffalo; hundreds and hundreds of them making their way to the river. Evening holds the many wonders of nature.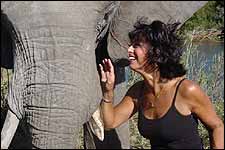 On a waking safari one day Beks heard then saw a pride of lions and a male with a kill in the trees beyond were we were walking. We came across lots of Elephant and dung, also there is no shortage of Hippo's in the Luangwa river valley! We have now seen thousands, or so it seems.
It is fun when you are off on a mission then get side tracked by many giraffe very near to you with lots of elephants trumpeting. It is amazing as we head for the Luangwa river for our afternoon-evening game drive and the always fun Sundowner time watching hundreds of Elephants meet at some predestined time to cross as one. Maybe this is to ward off the massive 20 ft crocks that lay in wait. Truly a sight to behold as we drink our Gin & Tonics and watch the never ending procession of magnificent elephants crossing and swimming the river to the other side. Ah, no place like Africa.
Then of course as we head back to our camp for dinner, what do we find but a Leopard in a tree with a fresh killed Impala. The leopard bloody and breathing heavy as it had to drag its kill up the tree so the hyenas don't get it. Again too dark for my long lens- and guess who left her big flash back in Vic Falls ;-( - ugggg.
There is a lot of excellent game to be seen in South Luangwa national park, Zambia.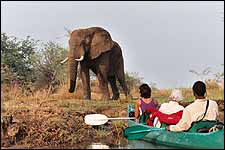 The Lower Zambezi is where we did a lot of canoeing with hippo's, crocodiles and elephant. A very exciting time for sure, especially when I am a rower in the steering position. Canoeing is nothing like rowing let me tell you. Beks saying 'Cindi I thought you knew how to canoe". While John & I doing doughnuts down the river that is flowing about 5.5 knots and MONSTER Hippo's to beat the band. Did you know they are the most dangerous animal in Africa. We canoed with I think thousands of them, and some were rather frightening as I am screaming at John to paddle HARD RIGHT, HARD RIGHT those alpha male hippo's are FAST and BIG! Mama mia.
We are the last canoe as usual and missed the 20 giant crocks on the shore feeding on a dead hippo. Hmmmmmmm we only saw 3 of them, sooooo where did they all go? Splash splash splash. Yikes. Oh and not 30 ft away from the dead hippo, John and I bottom out on a sand bar. Oh swell, I get out trying to free us and I cannot move John…… so he finally jumped out with shoes on and we made deeper water again. A magical experience is when you can quietly canoe up to a herd of male bull elephants. Here I am all excited trying to free my camera, steer the boat and whoosh, into a HUGE thorn bush we go. I am planted deep into the thorns and screaming in pain. Scraped to smithereens. Who will draw straws to be my canoeing partner next time?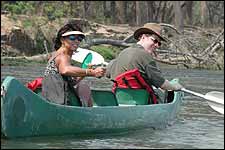 Canoeing on the Zambezi is a wonderful way to see the game as you are right there up close and personal and not protected by a land rover. You are in their world now and part of the environment; we loved this way of communing with the animals. I will do this again on the Mana Canoe Trail, on the Zimbabwe side of the Zambesi where they set up your tents before you arrive. There is nothing like being on the river with nature and her animals. The Tiger fishing is to die for also! Very sad and difficult to say good bye to this place, it was a favorite for sure. The sound of the hippos at night as your lullaby is hard to let go of. I shed a few tears knowing no matter how hard I would try to hold on to those sounds at night………………..
Mozambique is truly the last frontier! How hard the people of Africa struggle to make it all happen. They are true pioneers and I love and admire them for it. How they managed to build a dive-fishing resort in a country stripped of its natural resources for 27 yrs due to a civil war is beyond me. And yet they have an awesome chef. Ok so the cottages were hand built by the owner named Paul and his son in law Bernie. Ok so they did not know how to hide the wires and the outlets. Ok the beds were sunk in the middle and the shower a bit funky. WE had hot water and lights till 9:15pm. Plenty of beer and wine and great food, what more could you ask for? Oh the mantas are the most abundant and the largest I have seen since Socorro. This dive site is a cleaning station for Mantas and they come in like giant 747's 6 at a time doing perfect circles in a holding pattern, they are very aware of us and are perfectly happy and content. This is the first time I watched at eye level (just happens to have a gully next to where the mantas rest for us divers) it appears all the fish of the sea, jump up and clean the mantas in quick fashion. This dive site is called Manta Rock it is amazing, and has everything there. All the life in this area went to Manta Rock, how convenient for us ;-).
We had big wind and weather here also, and so the seas were big- sorry Charlie. Our last day was an Ocean Safari as we could not dive so went out on the cool boat operated by Mornay the manta man to find Whale Sharks. Of course last year at this time the weather was flat hot and glassy and heaps of whale sharks. A big group from Johannesburg came back this same time of year, of course Mother Nature would make the decisions here. All the same we had an amazing day with 3 humpback whales very close, lots of dolphins; bottlenose and Humpback dolphins (very unusual). We also saw loggerhead turtles on the surface.
Mozambique is wild and wooly and we loved it. Would love to go back in the spring when they see 15 to 20 whale sharks a day. Next time! (also October & November is a great time also).
Thank you Charles and Shari for sharing Mozambique with me after the safari. Thank you Sonja, John, Cheryl, Marshall, Charlie and Shari for all the fond memories of our trip 'Back to Africa'.
You may leave Africa, but Africa never leaves you.
Cindi LaRaia