Home > Dive Discovery Trip Reports
Damai 2 Liveaboard Diving - Komodo!
August 19-30 2013 Trip Report

So happy to be back on board Damai 2, such a lovely luxury Liveaboard! The crew are so sweet, the 2 Putu's from Bali in the Saloon taking care of our every need with gorgeous smiles, the chef's creations exquisite, and the dive boat crew incredibly accommodating! They even helped us dress and undress our wetsuits on the dive deck, they rinse them and hang them to dry. When time for the next dive they have your wetsuits, vests and skins folded at your station, cameras loaded on the tenders and all you bring is your mask!! Oh so easy, ahhhhhh!! The camera room is perfect with a large area for all the dooo dads u/w photographers need and universal charging stations!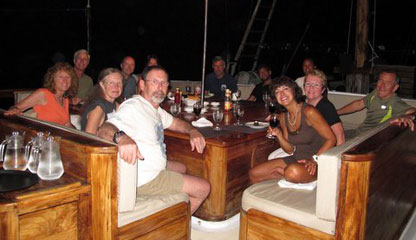 The boat is lovely in every way, the small things that make it a home away from home! On the sun deck and dive deck are retractable Bedouin cloth covers to keep the intense sun off so folks can suit up in comfort and relax on the sundeck reading or napping. Sun deck and star gazing deck offers 2 large day beds and bean bag chairs. There is a lot of space on the boat, there is also the aft deck id where I would get my massage's from Deckie! It was great to see him a year later from my last charter on Damai 2. It is good fun to see crew from past Damai charters.
We were very lucky charms with what we saw underwater and top side. For the most part the weather cooperated with us, we were able to get to South Komodo to dive with the mantas and spend 2 full days in the incredible Horseshoe bay at Cannibal rock!!!
The dragons came to visit us in a most unusual way in horseshoe bay, more on that later!
We flew into Labuan Bajo on the west side of Flores Island to begin our diving! This is a great way to dive Komodo area as you fly into the best diving area right away, we then flew out of Bima, Sumbawa. This way we can make a loop in the entire Komodo region and get to all the best dive sites.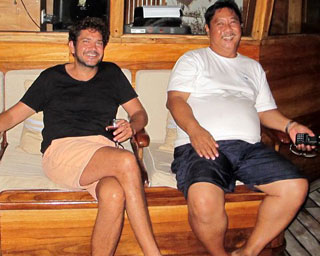 We did our check out dive once settled on board and dive equipment sorted. The water temps were a bit cool around 80F in the north area. The boat offers 3 day dives and a night dive. All of my favorite dive sites were visited, starting with Tatawa Basar,,, luckily not much current to get acclimated to Komodo diving.
As you may know, Komodo is notorious for wicked ripping currents! We had some but not the big ones until later in the trip! On this trip the owner Alberto was our cruise director, he is a great adventurer and spent many years as cruise director and dive master in Indonesia. He did a great job of preparing us for certain dives when the currents were hella crazy! The 4 dive masters did a fantastic job of making sure we followed the 'well planned' dive briefing so we were NOT taken out to sea!! Everyone felt very comfortable with this, even the newer divers! Even if we had to remain in a small protected area, there were gorgeous coral gardens with all the fish hanging with us to likewise not get swept out to sea!
Sometimes we had to wait until the current / tide lessoned a bit and it if changed we did not fight it but turned and went with the flow. The fun part was when we had to start to come shallower for our safety stop! For instance when we dove Tatawa Kacil rock, too many boats at the other site so we were carefully advised how to come up slowly with reef hook if you wanted to use that, like scaling a mountain side, staying close to the reef and grapple your way up little by little. Very slow and safe and loads of fun! The dive masters looking after all their kittens' very well, helping some to find a hand hold while we finished our safety stop flapping in the wind! I love this!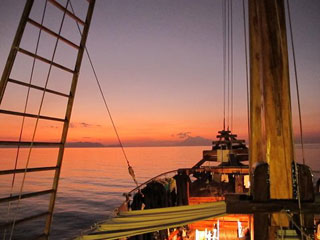 We visited most of my favorite spots like 'hard to find rock' aka Castle Rock. The problem is, Komodo is pretty busy these days with a lot of boats. They did a good job of trying to time the dives so we would not have other divers with us! Only a couple of dives did we see others but we were ready to come up anyhow! Once the wind settled, we headed south to Rinca!! Yippee!
We chose not to do the Komodo dragon walk on Komodo, but in the north of Rinca instead!! This was a very cool visit as it was mating season for the Dragons and we saw some incredible behavior I had not witnessed before. The ranger took us for a walk, this area is less visited than on Komodo Island. As soon as we reach the ranger station, there were big males laying around and some females under the building! We were very close and slowly some got up and walked around, one went into the kitchen and throughout the small group of buildings, housing the rangers! I am not sure I would want to live among the Komodo dragons, they are fearless and there have been casualties with the ranger staff!
We continued on our walk with our guides and came upon 2 females digging holes to lay their eggs, this was very interesting as they would fight over the area's to dig! Wow. They also dig 2 holes, a fake one and a real one, this is because once the baby dragon's hatch, the adult dragons will eat them! They started to fight again and one female chased the other up the small hill to where we were standing! Very interesting, I turn around and Sharlene and Debbie are hiding behind one of our guides named Rambo! It was a wonderful walk to the top of the hill overlooking the bay, stunning scenery. In total we saw 9 Komodo dragons on this visit!!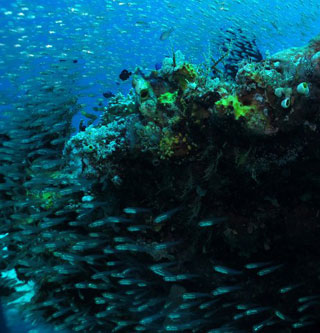 We carried on to a do a dusky dive to see mandarin fish and the lovely picturesque dragonet fish, they are soooooo beautiful!!
Dove again at Castle Rock, amazing how many fish are on this site! Still one of my favorite dives in the world! Schools of surgeon fish, many different varieties of fusiliers, GT's aka Giant Trevally, in the blue off the reef are patrolling white tip sharks, dog tooth tuna, giant Napoleon wrasse and grouper! Such a busy, fishy reef, I love it!
Crystal rock is nearby, this dive we stay in the current reach a level and hang in the rock to watch 7 patrolling white tip sharks, nice to see sharks in this area!
A dive to remember is on the island of Gili Laut, dive site called 'shotgun' love this dive! The current was not as strong as the last time I dived it but very fun, you cross the sand channel close to the bottom, then come upon a place where the big fish hide called Fish Bowl! You hang in here as the current can be pretty strong, 2 mantas spotted at the surface and loads of turtles! Once you find the courage to rise up after viewing the fish in the fishbowl, you head over the rim of the fishbowl and away you go, flying along on a magic carpet ride! So much fun, stay to the left side, or try to and then you get out of the current and play with fish and turtles!
A big surprise after this dive, Lawrence Blair had made a movie years ago when he was a young man with his brother called 'The Ring of Fire' as they set out and explored Indonesia, he is a legend and I felt so honored to have the chance to meet him in person, although briefly as we had to head south to Horseshoe bay, Rinca!!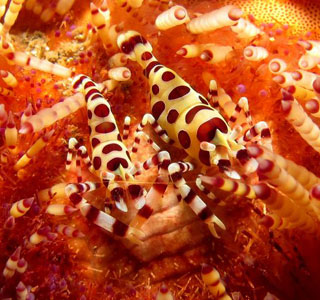 Cannibal Rock, cold water around 73 to 74F with green water and loads of life! A bit current and the beautiful red & blue sea apples in full splendor feeding! This is the only area I have seen them, they are spectacular to see as you dive along the reef. The usual suspects, fire urchins with zebra crabs and if you are lucky; 2 Coleman shrimps (although not in all of the urchins)!
A plethora of nudibranch's, frog fish, and lady bugs, colorful coral and marine life are all abundant at Cannibal Rock!
Yellow wall is spectacular when the current is running with yellow soft coral polyps feeding in the rich water. Torpedo Alley is in black sand near the beach where the Komodo Dragons hang out! This is a great dive with all these wild critters; nudi's, many species of crabs and a wonderful collection of skeleton shrimp in disguise, very weird things that hang out in black sand. Who makes these things??
Nearing sunset after the 3rd dive we take one of the tenders and our camera's to the beach to see the dragons up close! It is low tide so we cannot walk on the beach, however 7 of them all came running!! Wow, we are pretty close to them, the crew navigating among the coral. All of a sudden 3 of them start swimming toward us! Who says Komodo dragons are not good swimmers! Yikes the big male just kept coming and we are floating next to a big coral head that is out of the water, he walked right up ON to it and was level with our boat trying to get in!!! Holy crap! Several of us videoing this event and me in shock, 'OH Mama Mia'! Anton has his big dragon slayer stick and had to work to get him off this rock inches from our boat!! Well that was truly another amazing event with these dragons! I think this was at least my 7th or 8th trip to Komodo, and I have never seen this kind of behavior! Far OUT! To round out the picture, we had the most beautiful light as the sun was heading to the horizon; fish eagles and hawks over us fighting over something! Amazing!
The next day at Grandmas Bommie, Eric found the most beautiful bright Blue – Purple Rhinopias Frondosa!! It was gorgeous lying perfectly situated on white sand without a care in the world!! Showing herself proud, very lacy and frilly with translucent bits of fin! What a wonderful surprise!
After 2 magnificent days diving and moored in horseshoe bay, we head to south Komodo to see about the Mantas! We were not disappointed; we had 6 lovely mantas getting cleaned as we hovered on the bottom and watched the 'manta ballet'! They just kept circling around us very close, they are so special to us, feeling very privileged to be among them! The next dive some of us went deeper to find Mola Mola but they did not come out to play so we hung out with the mantas again!

Heading north up the west side of Komodo to do some exploratory dives.
We found some very extreme currents here and had to dodge all the wild looking standing water, eddies, twisting water and opposite currents,,, yep this is the Komodo I remember when I started my business in Indonesia some 21 years ago in 1992! Wow,,, the only boat that existed at the time did not know how to dive it then. A lot of wild rides! Alberto did a great job of putting the dive masters in the water to test the current around different big rock areas to see if we had any pretty areas that were even partially dive-able. Eureka! He grilled the DM's on HOW to dive this site, I think he put the fear of God in them. Then carefully instructed us on how to dive this and that we would have maybe 50 min before it turned and how we could NOT go beyond this area and that area and not deeper than a certain depth.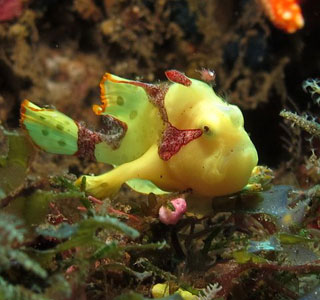 We had to watch our time carefully, the area was a bit small but very beautiful in color and fish life. We did in fact start to feel the 'push' and had to crawl our way up the rock face as instructed, doing our safety stop. A very adventurous safety stop, we all followed directions and the DM's like mother hens gathering the chicks and keeping us safe. Good fun! Now to get in the tenders,, huge current taking us into the rocks, we all holding on the ropes on the side of the boat, a couple divers got in. I turned and yelled, 'we need to get away from the rocks' we held on tight as they dragged us through the water trying to get out of THAT current so we could get back in the boat! Ahhhh back on board and feeling very adventurous for sure, what a wild blast!
Sangeon Island, a wonderful favorite for many years, North West of Komodo on the way to Bima where we will fly out back to Bali. Bubble reef, a wonderful surreal dive site first introduced to me by Larry Smith, how I miss you! He took an egg down there and put in one of the hot bubbles that permeate up from the bottom of this very volcanic area with a lot of sulfur bubbles from the sand floor. So I took down an egg to see if it would cook! Alberto said it would not, we shall see! A very beautiful site with loads of black coral bushes among the sulfur bubbles. The boys found us a gorgeous tiny yellow frog fish, lovely snow flake eels, a very beautiful place, 5 star for me! Well Alberto was right

we needed to keep the egg there for 2 dives then it would have been soft boiled, it was starting to cook some of the white, oh well.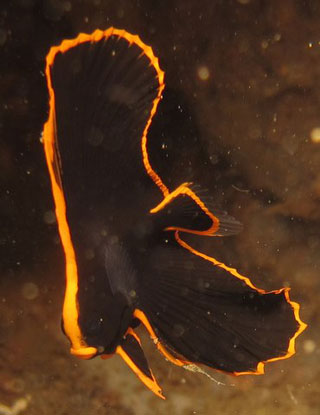 There was a big south wind so we could not dive the famous Bionic Nudi site, darn!! We went to the east side to a great black sand area that was very productive with 2 robust ghost pipe fish in short eel grass, a very tiny beautiful white frog fish, plenty of lovely nudis, cuttle fish and fluffy white black coral bushes. A wonderful magical dive like we were in a candy store!
Our last dives were at Bima Harbor and as always in these harbors, there live the wildest wackiest creatures,,, I wonder why that is? Maybe I do not really want to know ;-0! There was so much crazy stuff here! Wow we could not keep up with the DM's banging this way and that way, vis down so a bit difficult to figure out which way to go. No mater there was sooooo much to see and marvel at!
Sea moths always strange looking and gives me a moment of pause, their pointy noses like to face away just as you get ready to take a photo! One seems to always be smaller than the other, they always intrigue me. Three stunning tiny frog fish; loads of nudis as usual; 2 large imperial shrimps on something other than a sea cucumber! Ahhhhhhh bingo, Bob showed me a very small baby batfish splendidly trimmed out in bright glowing orange! Such a beautiful juvenile fish that is pretty rare to see, he was trying to hide out in a small cave, what a sight!
A coconut crab was very cute, then we swam into a lovely soft coral garden, amazing! I spotted a black ribbon eel then across my vision was a floating lime green and yellow ball that resembled a marble, as I looked closer, it had eyes and fins all flat against it's very round little body, too cute!! I wonder what it was. Then a very large school of razor fish swam by. There are the 2 wild type of octopus here but we did not see wonderpus or the mimic, we did however see the long legged octopus, very special he was to see! This is a fabulous place to end a dive trip in Komodo, flying into Labuan Bajo and out of Bima is a wonderful way to get to all the islands of this region making a big oval circle.
Many thanks to a wonderful crew on the Damai 2, nothing is too big an effort for them, Alberto for being an entertaining cruise director

, the boat is marvelous and most of all my fun guests, my friends who made this trip simply magic!!! Love YOU all!
Oh yes, I will be back, as always!!
Cindi LaRaia