Home > Dive Discovery Trip Reports
Thailand M/Y Anggun March 9-20 2004 Trip Report
Finally I made my long awaited trip to Thailand! Fifteen of us headed to Phuket,Thailand where we boarded the new luxury scuba dive live-aboard; MY Anggun. Fabulous friendly Thai staff, excellent local chef (who spoiled us with an aray of fabulous Thai meals, and a Thai cooking lesson). I personally had whale sharks on my wish list. January through May is typically the best time to see these beautiful giants if one is so lucky! Since we were in lovely Buddhist country I felt good karma was with us! We were not disappointed! More on that later. We boarded MY Anggun around 7:00pm, settled into our cabin's and were served a memorable Thai meal. Soft drinks are free and beer only 2.00 USD. They have decent wine from Australia and France for 20.00 USD per bottle (duty on alcohol is expensive).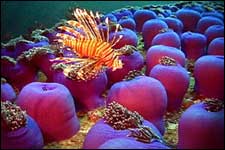 We started our diving in Thailand for the first day. Starting in the Similans then onto the Surin Islands, the islands are close enough for day boats; so unfortunately there are many boats in this area. However the diving is very good in spite of the amount of divers.
The Similan and Surin Island 's are very beautiful top side as well as underwater. The water was very warm at 84 perfect degrees. We got very close to two large Lemon sharks, and able to photograph them. At Ko Bon the sites is very colorful with a lovely pastel dripping soft coral and a Manta to top it off! I have heard great things about Richelieu Rock for the 12 years I have been selling it; all the reports, are just as beautiful as I hoped! Loaded with life, and a grand variety of marine diversity!
We headed to Burma (Myanmar) soon to find peace & tranquility; we only saw a couple of other dive boats the 7 days we spent diving there and did not have to share dive sites. We had to stop at a very Burmese port called Victoria Point to pay our 150.00 per person USD Burma Fee (or bribe as we like to think) before we could dive in these waters.
The weather great and sea's were flat and glassy, blue skies and fairly hot. Some dives were done from the main boat and some from the zodiac. We dove in three groups with three dive masters to make it faster and roomy on the dive deck. The Thai staff completely spoiled us rotten; they practically dressed and undressed us, put our feet in our fins, rinsed our wet suits and hung them up for us after each dive. They remembered who had what wet suit and had it waiting on your tank! They were very helpful for the photographers needs; camera tables and rinse tanks on the dive deck.
Cabin's are very comfortable with private ensuites, 3 different cabin types and pricing, all on the main deck. The salon is very roomy with a/c , you could also eat outside on the covered party deck. They have a lovely sun deck with lounges; kayaking around the very beautiful islands in Burma and walks on the beaches in between dives to fill up the days. Most days offered 4 dives including night dives.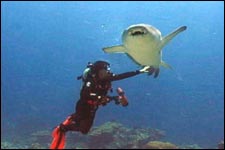 Our first dive in Burma at a site called Three Islets was awesome in spite of murky water. There was so much life! Hundreds of hinge beak shrimp covered the granite rocks, 3 gray reef sharks patrolling and thousands of glass fish swarmed the site. I will soon realize the creatures of this trip were to be Hinge beak shrimp and Glassy sweepers, they ruled! Always so fun to float in the middle of literally thousands of fish, I was one with the fish on many occasions.
The Burma banks proved to be awesome, well worth the 6hr steam to get there, we were blessed with flat seas and Max! Wow what a fun surprise, a big happy nurse shark who loves her dive master buddies who visit with yummy treats for her. We did three dives there and 2 of them were shark feeds. We did not see any of the silver tips that sometimes come in for a tasty morsel; however Max stole the show! She is huge and very photo friendly, she loves to be petted like a big puppy dog. She stays around for most of the dive and shares her love with all the divers. There is a big cod fish that tries to eat all of the fish as well an old giant scarred up barracuda. We thoroughly enjoyed the burma banks trip.
We found the visibility to be low in burma closer to the mainland, some very green water, yet very rich in marine life as well as in Thailand. The green water is not always there, we happened to be in a plankton bloom which of course feeds the water and invites diversity! We had a wonderful small critter trip as well as big animals!
Several harlequin ghost pipe fish; my personal favorite are the Harlequin Shrimp and they knew right where to find them! Loads of hinge beak shrimps by the gagillions, the beautiful Saron shrimp out for all to see in the light of day. Large flat colorful crabs, the most beautiful nudibranch's of southeast asia, abundant brightly colored cup corals with a medley of color. The topography under water is very rocky and granitic covered in soft corals, dramatic swim thru's loaded with thousands of glass fish!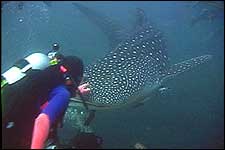 I think the most dramatic dive site in Burma is called 'Devil's in the sky'! Mobula Manta's by the hundreds! I was beside myself with wonder as we seemed to be surrounded by them at times! It is awesome to know something as grand as these manta's still exist! We ended up making 3 dives here. The third dive which was unscheduled rewarding us with a magnificent young whale shark ;-}. My friend Les and I were alone together in shallow water when I heard him scream 'CINDI'......I looked up to see this perfect silhouette of a young female Whale Shark floating 10ft over us as she passed over the top of the reef. We easily joined her as she was hardly moving! I talked continuously to her as I do with Mantas and it seems to keep then curios. I was able to swim by her side as we maintained eye contact. She let us touch her gently, I was able to keep my hand on her cheek behind her eye so we could talk! We were with her like this for about 20 minutes in shallow water, before Les saw our dive buddies and went to get them. She never cared there were several divers swimming over under and around her. Finally after 40 minutes of bliss with this gorgeous creature my air tank was finished! The morel of the story is, make every dive and keep looking up! I don't want to rub it in for someone who decided to NOT go on this dive!
The other famous site called Black Rock was another winner, loaded with a lot of fish on the reef, very large and colorful Mantis Shrimps, loads of giant scorpion fish some stone fish, I think every crinoid had a cling fish, a shrimp and sometimes a harlequin ghost pipe fish. Whip coral with 2 whip coral crabs. One of our group videoed mating Cuttle fish; there were 3 in this session, excellent video Bob! The next dive on this site was great as we nearly jumped in on a giant Manta, we saw many large Mantas on this trip. I am assuming due to the somewhat green nutrient rich water at this time, is what brought in the abundant pelagic life this time of year.
Kayaking is also a wonderful pass time in between dives the islands here in Burma are extraordinarily beautiful. We went at sunset and had a marlin jump near the boat and mating mobula's in our vision! WE went for a walk on an island that had sea snakes that come on shore to nest.
Very colorful large flat crabs were everywhere, bait fish moving quickly in a synchronized fashion, 3 harlequin ghost pipe fish in a black coral bush, many species of lion fish and sea snakes on many of the dives. The Leopard sharks always give us a thrill; we had 2 more at a pinnacle in Burma along with another manta.
Back to Victoria Point in Burma to retrieve our passports and tour the port, great shopping for Rubies, Sapphires and 18 to 24 karat gold is real and a great deal. I wished I would have paid more attention to this as the quality is good! Beautiful lacquer and gold boxes are a great deal here best anywhere. We visited Buddhist temples and monks high atop the town.
Now we head back to Thailand for 3 more great dives and we were blessed with another Whale shark on our very last dive!!! Another small one but not as friendly, I think because too many people from the start and she was not as happy to hang around as our first one, but none the less we were blessed with 2 whale sharks and like I said before the trip. I am calling in the Whale Sharks ;-)).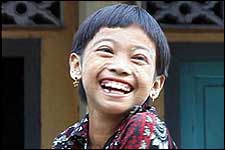 I was pleasantly surprised with our diving in Thailand! I will go back for sure as this is a place that can make almost everyone happy, plenty of small and unique critters full of diversity for the macro photog's and tons of big animals for big animal lovers! The culture of Thailand is peaceful and lovely to tour either before or after the dive trip.
We toured Bangkok for 2 days after this trip, visiting the amazing Grand Palace, long tail boat rides on the Chao Praya river and the very colorful floating market. We also took a day to visit the Bridge over the River Kwai. It was all very beautiful to behold, my heart found peace in the land of the Buddhists. Three of us took a side trip to Cambodia to visit Ankor Wat and as expected was truly one of the wonders of the world!
The MY Anggun will be offering diving to a new and exciting destination for 2005, the Andaman Islands are further west into the Andaman Sea! Stay tuned to see if we have a new and exciting dive destination! For those of you interested in seeing more countries in South East Asia after your dive trip. This is a great excuse! I will now have to visit more of Myanmar (Burma), the north of Thailand, Laos and Vietnam. I loved this trip!
Cindi LaRaia