2022
• Mexico:
Cabo Pulmo, Sea of Cortez ~ September 13 2022 Trip Report
• Guyana:
Guyana, South America! ~ March-April 2022 Trip Report
2021
• Mexico:
Sea of Cortez ~ Nautilus Gallant Lady ~ June 12-19 2021 Trip Report
• Socorro:
Socorro Islands, Mexico ~ April 22-30 2021 Trip Report
• Mexico:
San Ignacio Lagoon Gray Whales NEW LUX Glamping in Baja Mexico!! January 28-31 2021; Todos Santos & Camp Cecil de la Sierra ~ February 2021 Trip Report
2020
• Socorro:
Nautilus Explorer ~ Revillagigedo Islands (Socorro), November 26-December 4 2020 Trip Report
• French Polynesia:
Marquesas & Moorea, August 25-September 6 2020 Trip Report
• PNG:
Oceania Milne Bay, Papua Niugini, March 10 - 20 2020 Trip Report
2019
• French Polynesia:
French Polynesia, September 20 - October 6 2019 Trip Report
• Indonesia:
Raja Ampat to Triton Bay, 11nts Onboard Damai 1, May 9-20 2019 Trip Report
2018
• Indonesia:
Damai 2 Liveaboard Scuba Diving – Sorong-Sorong (all Raja Ampat), October 26 - November 6, 2018 Trip Report
• India:
Snow Leopard Expedition in Ladakh & Tigers in Ranthambore India, March 6-23 2018 Trip Report
2017
• Indonesia:
Scuba diving the Forgotten Islands to Triton Bay aboard Damai I, May 13-24, 2017 Trip Report

• Antarctic:
Expedition to Antarctica, the Antarctic Peninsula, On board the M/V Plancius, March 6-17 2017 Trip Report
2016
• Indonesia:
Forgotten Islands ~ Maumere to Saumlaki, Aboard Arenui, September 4-15 2016 Trip Report

• South Africa & Mozambique:
My 21 day run through South African and Mozambique, April 27 - May 18 2016 Trip Report


2015
• Indonesia:
Komodo, aboard Arenui, August 8-19 2015 Trip Report

• Cuba:
Jardines de la Reina (Gardens of the Queen), Liveaboard the Floating Hotel Tortuga, July 18-24 2015 Trip Report

• Africa:
Best of Zimbabwe and Chobe River~Botswana, May 9-21 2015 Trip Report

• Antarctic:
Antarctic Peninsula Basecamp, On board the M/V Plancius, March 3-14 2015 Trip Report
2014
• Indonesia:
The Forgotten Islands of Indonesia aboard Damai I, Nov 19 - Dec 3 2014 Trip Report

• Galapagos Islands:
Galapagos Islands Sept 29-Oct 5 2014 Humboldt Explorer,
Island land walks on Santa Cruz & Isabella Island Oct 5-11 2014 Trip Report

• Africa:
Best of Zimbabwe and Botswana, May 12 – 25 2014 Trip Report

• Mexico:
Baja Mexico Whales - February 25 - March 3 2014 Trip Report

• Cuba:
Dive Gardens of the Queen, Cuba - January 2014 Trip Report
2013
• Tanzania:
Tanzania - Wild Chimps & Remote Safari!
October 8-15 2013 Trip Report

• Indonesia:
Damai 2 Liveaboard Diving - Komodo!
August 19-30 2013 Trip Report

• PNG:
MV FeBrina Liveaboard Diving, South Coast from Rabaul on the Island of New Britain.
March 20-30 2013 Trip Report
2012
• Uganda:
Mountain Gorillas and Queen Elizabeth National Park!
October 20-27 2012 Trip Report

• Tanzania:
Private and Remote Tanzania,
10-20 October 2012 Trip Report

• Indonesia:
Damai Dua (2) August 3-14 2012 Trip Report.
Raja Ampat, Leatherback Sea Turtles, Manokwari Shipwrecks and Cenderawasih Whalesharks!

• Indonesia:
Dive Damai 1 liveaboard diving in Triton Bay, Misool, Halmahera, April 24 - May 8 2012 Trip Report

• Socorro:
Socorro Island revisited on the Nautilus Explorer,
29 February - 9 March 2012 Trip Report
2011
• Botswana:
Botswana ~ Abu Elephant Camp Trip Report, Oct 20-23 2011

• Madagascar:
Madagascar, October 2-19 2011 Trip Report

• PNG:
Papua New Guinea aboard Febrina
with Captain Alan Raabe, May 16-29 2011 Trip Report
2010
• Africa:
Best of Botswana, Victoria Falls & Cape Town, May 12-24 2010 Trip Report

• COCOS:
COCOS ISLAND - UnderSea Hunter, March 28-April 7 2010 Trip Report
2009
India Tigers & Temples - Maldives Diving 2009 Trip Report
• India ~ Tigers & Temples Safari, November 16 - 24 2009
• Maldives Diving, Nov 25-30 2009

• Indonesia:
Komodo Islands ~ Revisited after 10 years, on The Seven Seas, July 23-Aug 4 2009 Trip Report
2008
• Africa:
South Africa & Namibia Expedition, July 21 - Aug 5 2008 Trip Report

• Africa:
South Africa's Kruger National Park & Kwazulu Natal, May 2008

• COCOS:
COCO'S ISLAND ~ COSTA RICA, March 8 - 18 2008 Trip Report
2007
• Indonesia:
INDONESIA on the CHENG HO, Kararu. Raja Ampat to Ambon via the Banda Sea November 4-16 2007

• Africa:
Sardine Run South Africa ~ Cycle Safari Botswana
June 21-July 4 2007
Previous Years
• Febrina revisited! Papua New Guinea

• Kenya Migration and Rwanda Mountain Gorilla Trek trip report, Aug. 2005

• Raja Ampat (Sorong), Banda Sea, Pantor (Alor Region)

• Socorro

• Thailand M/Y Anggun

• Great White Sharks, Isla De Guadalupe, Mexico, Nov 15-19 2003

• Great White Sharks, Zambia Safari & Diving Mozambique, Aug. 31 2003

• Wakatobi Island Resort Indonesia

• Nai'a Humpback Whale Expedition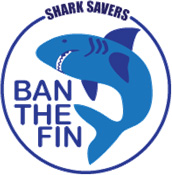 Home > Dive Discovery Trip Reports
Socorro Islands, Mexico ~ April 22-30 2021 Trip Report
Reported by: Cindi LaRaia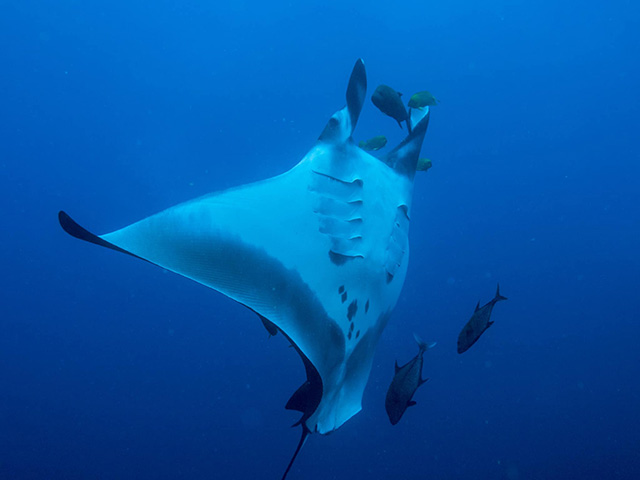 Images from my wonderful guests on Nautilus Undersea Explorer recently at Socorro Islands in Mexico!! Wonderful to have this trip happen!!! Yay! Friendly loving mantas, dolphins, sharks and more!!
Some lovely images from our guests on our Socorro Nautilus Undersea adventure!!!
Never tire of loving Mantas; playful dolphins; amazing 7 species of sharks including a beautiful visit from a whale shark !!!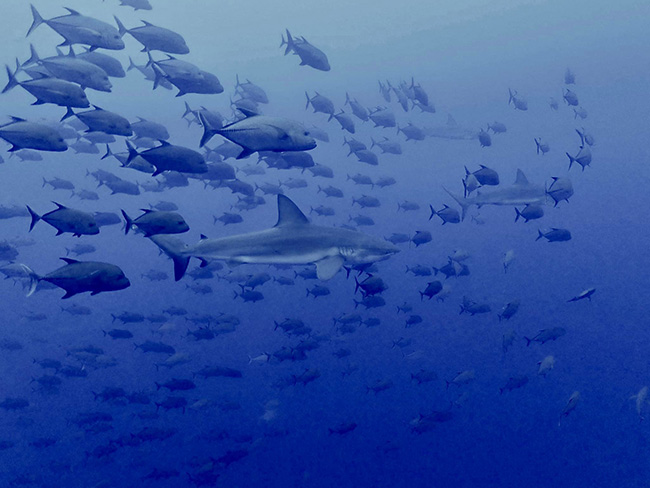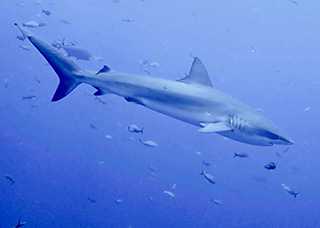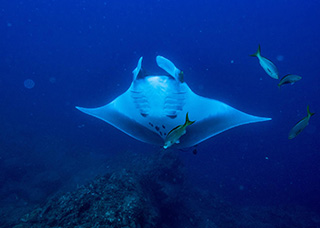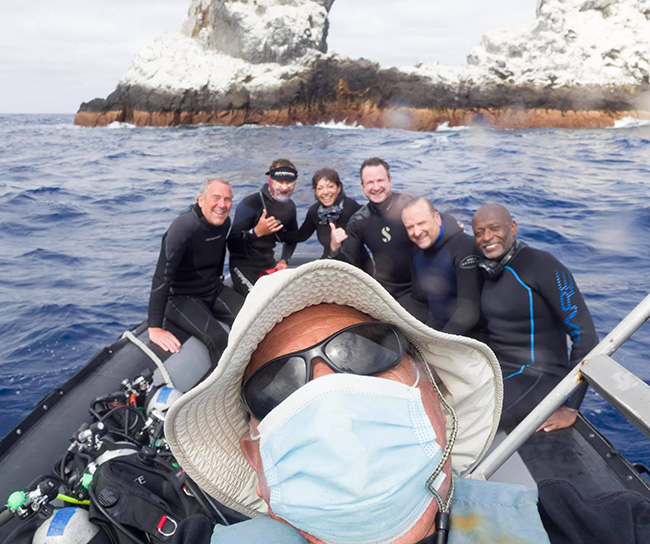 Thank you Sherry Wren & Jerry Tuttle for sharing your beautiful underwater images !!
Thank you to my group of 18 for joining me on our first group trip that actually TOOK in over 1 year!! Yahoooo!
Cindi LaRaia