Home > Dive Discovery Trip Reports
Cuba: Jardines de la Reina (Gardens of the Queen), Liveaboard the Floating Hotel Tortuga
July 18-24 2015 Trip Report - Page One
Escorted by: Cindi LaRaia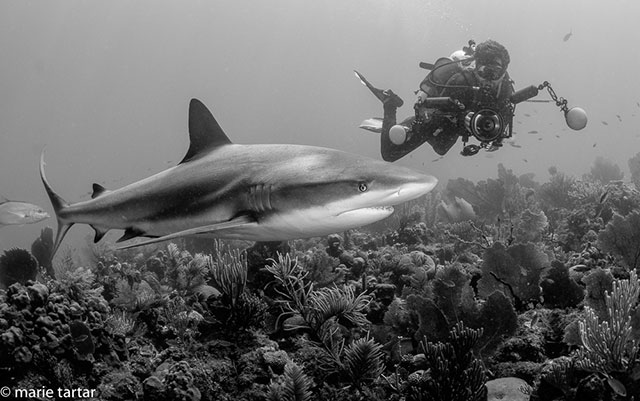 With Cuba on the cusp, the island that time forgot; we ventured in, concerned that the Cuba now, will be changed forever with the advent of Americans ready to pour in.
Very keen to go after seeing 60 minutes program 2 yrs ago with Anderson Cooper, reveling in the 'untouched reefs and marine life with loads of Caribbean Reef sharks' swimming all over him, I had to go!!
After many long months of sorting out the Treasury Department documentation on the legal way to travel to Cuba. We could participate in the Ocean Conservation 'people to people' program legally with our marine biologist on board for diving Gardens of the Queen!
Lucky for us, Fidel Castro was an avid diver, 20 yrs ago he declared Jardines de la Reina a marine sanctuary and is highly protected today!
Nothing was easy about getting to Cuba or getting to Gardens of the Queen, it was all part of the wonderful adventure ahead of us!
You have to stay one night pre and post the dive trip in Havana due to the long coach ride to get to Port Jurcaro where the boats go out of to get to the Gardens of the Queen! Then another 3 hours as the mangroves are another 45 miles south!
Our operator, Avalon Cuban Diving Center (the only dive operator allowed to operate here has been there for 19 yrs) offers 6 different Liveaboard vessels for diving and catch and release fly fishing activities. 2 Liveaboards are of US standard, Avalon 1 & II. We stayed on Tortuga, the floating hotel in the heart of the mangroves. It was not fancy but very comfortable none the less. 8 ensuite guest rooms, deck for suiting up with chairs and lounges (no real dive deck, you wing it finding a spot that works for you and hang all gear along the railings to dry. It was quite hot in July day temps, and the water temps averaged 84-85°F. The food was served in the a/c dining room, it was good since realizing how difficult some food is to get!! We had a lot of lobster as they are allowed to fish for them, oddly enough!
A very clever set up they have, like a mini city in the mangroves. Complete with a floating dive shop/for tank filling; a small marina with many boat tenders and motors, filling station, generator and rental dive equipment.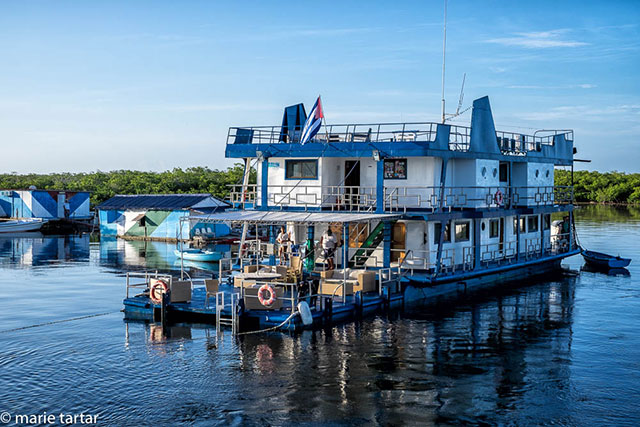 Tortuga