Home > Dive Discovery Trip Reports
Cuba: Jardines de la Reina (Gardens of the Queen), Liveaboard the Floating Hotel Tortuga
July 18-24 2015 Trip Report - Page Two
Escorted by: Cindi LaRaia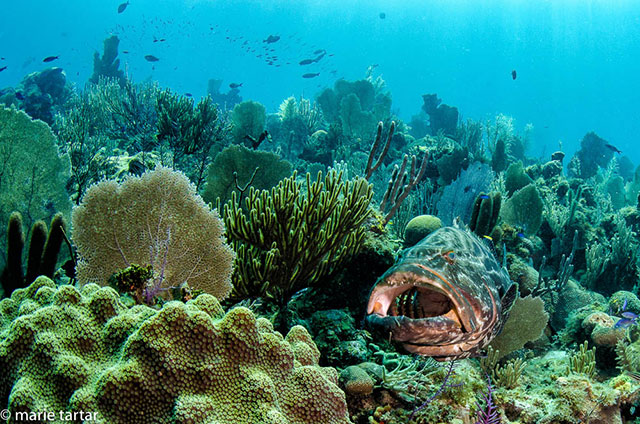 Diving in Jardines de la Reina
The "Gardens of the Queen", are a complex network of untouched marine ecosystems that have been regarded by many knowledgeable scientists and organizations as a reference of what is the original status of a coral reef as Christopher Columbus found it in the times of the discovery.
Brightly hued sponges in the contrasting blue water. The amazingly healthy mangrove system provides nursery area for young fish populations, filtering the water that goes to the reef together with the seagrass beds (Thalassia Testudinum) and in return receiving from the reef protection against the open ocean wave energy, all interconnected in a very fragile network that here keeps its variety, richness and splendor intact.
Untouched marine ecosystems have been regarded by scientists and organizations. Healthy mangrove system provides nursery area for young fish populations. The biggest populations of adult fish in the Caribbean, Sharks, Snappers and Groupers, Goliath Groupers up to 400 Pounds are an everyday experience. Sharks are one of the main attractions and can be seen everywhere. It is possible to dive with 6 different species: Silkies, Reef, Lemon, Black tip, Great Hammerhead and Nurse sharks. From July to November is easy to swim with Whale Sharks.
We had marvelous diving here. Most of us have been diving all over the world in the finest diving places such as Indonesia, all over the south pacific, eastern Pacific and South East Asia, the common thread of comment at the end of this 6 night diving adventure was 'it did not disappoint'!
The trip offers 3 dives a day, a total of 15 dives, no night diving it is prohibited. More could be requested for additional cost. The time to the dive sites averaged from 10 to 25 minutes, most of the time we came back to the mother boat. Some days we would stay out to do 2 morning dives, they would take us to an island with a beach where we could walk around and meet the local inhabitants, friendly iguanas and a local cute rodent called Hutia. It was a lovely stop with snacks and beverage.
Another time in between dives they took us to an area of mangrove and called for 'Nino' to come and play! A friendly American Crocodile that we could get in the water with and photograph! Amazing this croc would come when called, Tony and Noel, calling loudly for a few minutes, Niiiiiiino, Niiiiiiino, Niiiiiiino and here comes Nino!!! Of course he would get a chicken drumstick as a treat!!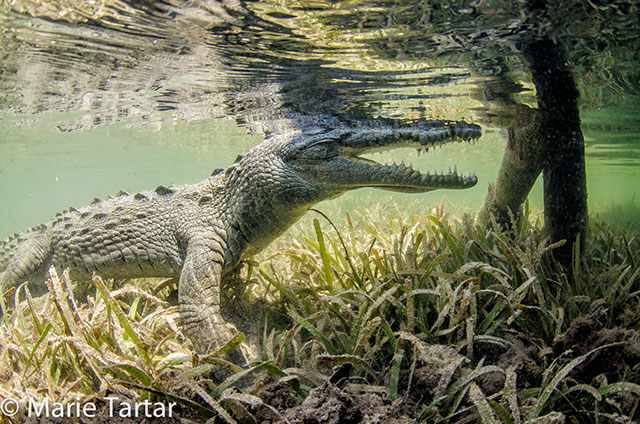 The crew of these boats have a friendly relationship with the Crocks, especially 'Tito' who lives in the mangroves next to Tortuga and the floating city of Avalon! He would appear conveniently in the afternoons after we came back from the 3rd dive. Some of us just swam to the back of Tortuga where he hung out, we could get nose to nose with this very large American Crocodile with HUGE teeth!!! What am I doing here??? I only have a little gopro between me and this crock who is 1 ft away from my face!! Mama mia,,, this was truly the wildest feeling ever!!! A little spooky since in Africa we are terrified of the Nile Crocs, but the crew seemed unconcerned, they are part of the family!! The biggest crock there named Franco never came to see us, only the crew are allowed to swim with him. I would have loved to see this big guy at the back of the boat!!
The diving was a huge pleasant surprise to me as I have not wanted to dive the Caribbean for the last 25 years. After hearing that the diving here is untouched for the last 50+ yrs,,, how would I know what that means, but sounded like something I should check out! After all this is Cuba!!
The crew and our Dive Masters Tony and Noel did an outstanding job of offering something different for us every day! They had a real plan on the way they presented the diving. Building up the intrigue and momentum, daily the dives got better and better!
The reason I was excited was to see all these friendly sharks I had heard about. Wow, NEVER have I seen such well-behaved sharks anywhere even with bait boxes filled with fish heads. They were very proper well behaved sharks!! (Tony our dive master, first asked if any of us were opposed to baiting for the sharks, none of us were). At one point we had counted 30 Caribbean reef sharks from Giant Mama's to smaller babies, then on some of the dives, we had 8 to 9 gorgeous Silkies that hang under the boat! We also saw a couple of nurse sharks sneaking in to join the party! After they would open the box and let the surprise out for the sharks, we would continue on our dives. 4 or 5 Reef sharks would escort us on our dives checking in to be sure we were enjoying the dive! They were like big puppies, Labrador retriever sharks! They would swim so close you could touch them, never in any sinister way, only happy to be with us and be our dive buddies, it was truly a hoot!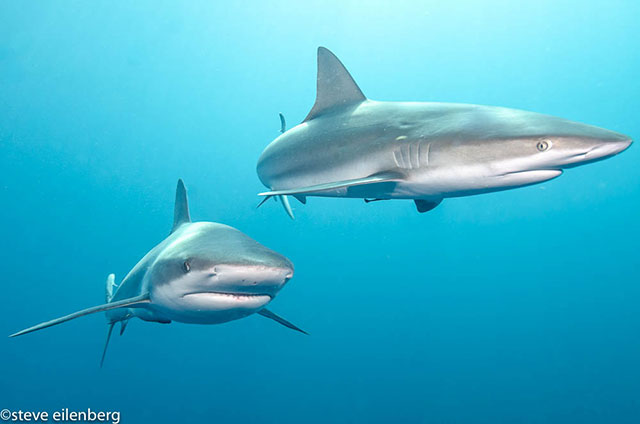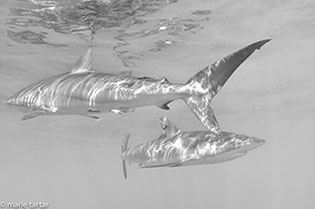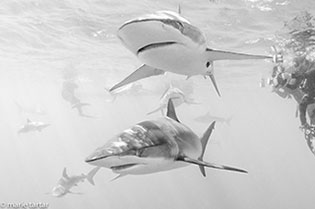 Not to be outdone were the many different species of large grouper that joined the party with the bait box. There are several species here in Cuba, and the most incredible our the Goliath Grouper, we saw one, we all agreed on was 8ft long, over 3 ft high and very ROTUND, Tony said he weighed about 400#, holy cow! I was in shock, we were swimming along and I see this big round face with the sad down turned mouth. He was resting on a ledge next to his BIG cave / under hang next to him. As several of us slowly appeared, he lifted up, turned sideways and slowly went into this cave, then bolted to the back with that LOUD smack they make! Incredible!!!
I really felt as though we had left planet earth and gone back in time somewhere else. Well actually we had!! Between see the old style American cars from 1952 -1959 (when the revolution happened) some in varying degrees of decay as you would see any given day on the roads. So many in pristine condition with gorgeous colors and spit polished shined to boot!
To the diving on Caribbean reefs I have never seen like this ever. The fish life was also abundant, many hundreds of brightly colored yellow goat fish, grunts, porkfish, schools of yellow snapper and squirrel fish. Small anemone with blue fish and barracuda. However the amount of HUGE Tarpon blew me away, I had not seen one in 25 years since last in Caribbean. Seeing soooo many of them just hanging around in areas where there are caves and caverns, they just hang motionless in the water, staring at you. Very odd, they all have a different pattern of that metallic looking fish skin. They really mesmerized me, so close they would come, and not get fussed at all. Swimming in labyrinth with 10 to 15 giant Tarpon next to you was very surreal,, yet again!
The last day and last dive then snorkel was in the gorgeous shallows where the stunning Elkhorn coral lived and thrived! Something the Caribbean has not seen in decades!!! Sparkling blue water, loads of fish living in and around and under this beautiful coral garden was breathtaking!
We said goodbye to the crew of Tortuga not after we also surprised them with bags of M&M's and different kinds of small chocolate bars! The one girl screamed aloud "they brought chocolate" never have I seen such big eyes and excitement as then!!! The crew went crazy and loved the treats, Tony just lost a lot of weight and we had to keep him saddled to not eat it all ;-)
The boat ride back and long bus ride stopping off at a few places to get food and use the toilets thru the country side of Cuba was over.
Video by Bob Pecoraro