Home > Dive Discovery Trip Reports
Snow Leopard Expedition in Ladakh & Tigers in Ranthambore India, March 6-23 2018 Trip Report
Escorted by: Cindi LaRaia
Page: One | Two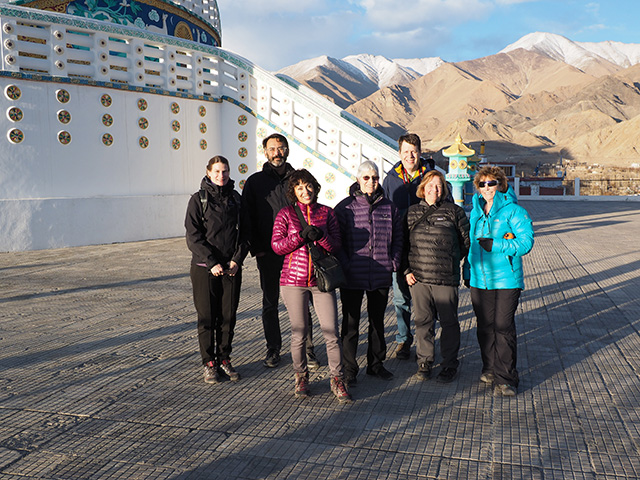 Dreaming of Snow Leopards in the Himalayas!
Tigers in Ranthambore India
March 6-23 2018
Wildlife in India! Nothing less than incredible, stark stunning beauty and contrasts!
A longtime dream of mine came true after seeing a brief documentary on these beautiful elusive animals many years ago. Not much is known about the snow leopard, only they reside in the high cold desert of the Himalayas and Mongolia.
No one knows how many there are as they are very difficult to see let alone find any accurate numbers. The Snow Leopard conservancy in Ledack, northern India has worked with the local community to help them protect live stock from the cats. They offer free fencing to go over the small family corals they have for sheep and farm animals.
They live in a harsh environment, at cold high altitudes throughout the mountain ranges.
We spent 3 nights acclimatizing in Leh, Ladack at 11,200 ft. Our guide made sure we took it easy the first day or 2 so we can get used to the cold thin air. The drug diamox works well to help the brain tissue get oxygen! A simple thing like walking up the stairs to our rooms winded us, as our group were a pretty fit bunch! So it seemed odd to feel this type of fatigue. We walked into town, got to see and visit with the local people. We visited a Buddhist monastery as most of the people here are Buddhists, even the Dalai Lama has a summer home he stays at for 40 nights. We are a mere 200 miles from the China border and Tibet. There is a big military presence in Leh.
The hotel is lovely however owned by Muslims so no drinking in the dining area. 4 of us love our wine so we found where to buy Indian wine that was relatively drinkable, from central India. We had nightly sundowners in our room overlooking the lovely mountain scenery!
We then drove over 2hrs to our simple lodge for 7 nts, some 2000 feet higher. Wondering how we will manage in the winter with no running water, only heaters and basic conveniences....
We loved it!! Now we are at higher elevation of 13,500 ++
On the way we stopped for photo op's of Blue Sheep, Urial and Ibex antelope, simply amazing how they can live on very steep, rocky mountain sides. This we learn is the food for Snow Leopard!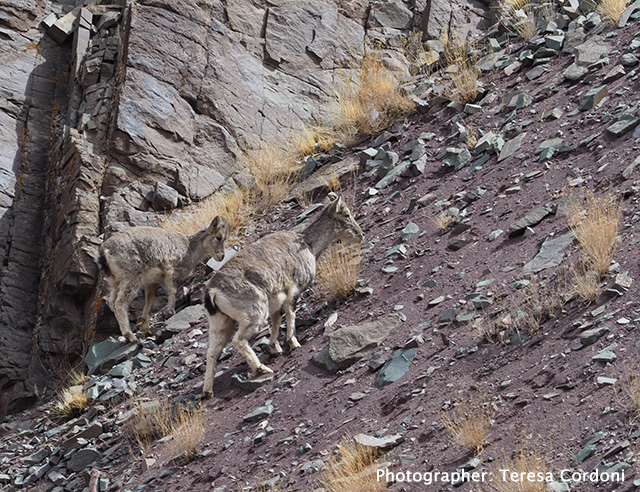 Buddhist Prayer flags adorn homes, businesses, cars and mountain peaks! The scenery is breathtaking. A contrast of unique rock formations and mountain peaks covered in snow. You can easily see how the geology of India and the Himalaya were formed as India moved north and below the Asia plate to create these majestic mountains.
Temps are cold in the 'Cold High Desert'! We are now north of the Himalayas, into the Ladecki Range. Snow levels are very low this year, another sign of climate change. This makes it a bit difficult for the spotters to find the snow leopard, however we did find prints in the road on the sand!
When hiking in the nearby valleys, the bright dry air and sun takes its toll. We get very warm so we have to try different layers, we are very close to the sun so have to take extra precautions.
As soon as the sun gets low, freezing wind and cold is very apparent!
Each day the many spotters head out at sunrise to scan the mountains with powerful scopes. They find Ibex and Urial antelope which we photograph. They are far up the mountain, hence long lens are needed.
Our first afternoon after a morning test hike which we all passed; offered the exciting news a snow leopard has made a kill, she has not yet come back down as wolves scared her off, she is 2 valleys over with mountains in between.
It is a very long walk in, and getting steeper the closer we get! My camera long lens and new doubler not yet sorted!! The spotters help us carry back packs and tripods! Thank God!
Huff and puff we go...
Through the scope we finally see her come out of her cave high up the mountain!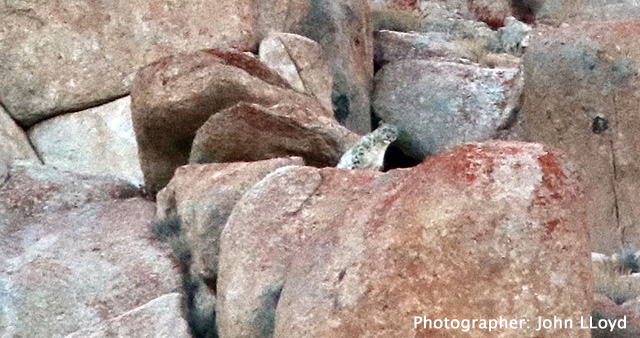 A lot of excitement! I am not able to get pics as we are too far with only a 400 MM lens... I sure need the doubler and time to learn how to put this all together with a tripod!
Now after many days of spotters finding closer Antelope, wonderful raptors and birds we still wait for another snow leopard encounter! Each day we head out to a new valley.
In one valley they showed us where the camera traps are to see if snow leopards visit the areas, oh yes! They made a documentary we watched called Gaya the female Princess! It was beautiful as they watched her with her 2 cubs.
We also found a recently dead red fox that a golden eagle had tried to kill, he had the Tallon marks on his side. Such a beautiful animal, we have no idea what made the Eagle drop it!
On another lovely long hike, some of us went to pursue snow leopard tracks found the day before. It was a stunning hike up, the scenery and mountains are breathtaking. One full day out they had set up a lovely lunch and tables and brought the chef! What fun!
We learn that March is the mating month for Snow Leopards, they also listen for the female to call and the males reply!
The staff at the lodge are fabulous, as well as our naturalist guide, and the local host Norboo who is a legend and has the best team in these parts!
They are tireless as they scan with powerful scopes from sunrise to sunset.
As our luck would have it, in the late afternoon prior to our last day, they hear the female call near to our lodge and the male reply on the opposite side of the valley mountain.
Yipeeeeeee a mating call!!! We are in hope for the following morning, our last full day in this valley to see a snow leopard..... Oye!
I go to sleep with a toy snow leopard I bought that the locals made and my Snow Leopard T-shirt my roomie Shari bought for us!!! Visualize!!!!!
Our guide yells early at 7am... Snow Leopard!!!! Ahhhhh!!!! I did not get to pee or brush my teeth yet!!!
We are all madly trying to put on all 4 layers of clothes ...... cameras and run out to see these gorgeous cats!!!
The spotters all excited, they see the 2 cats male and female!! With these very powerful scopes I can finally see them. They are pretty relaxed now as cats are in the day!
For hours we wait for something to happen.
Ok we had breakfast! They offered to take us up to the highest place to see them. We still had a climb to get up on the pass, set up and whoaaaaaaa there are now 3 snow leopards!!!
Mama Mia !!!
They said the big male is who she is mating with, the other is a sub adult male. He could be her son possibly from this mating male as he did not care this cat was there !!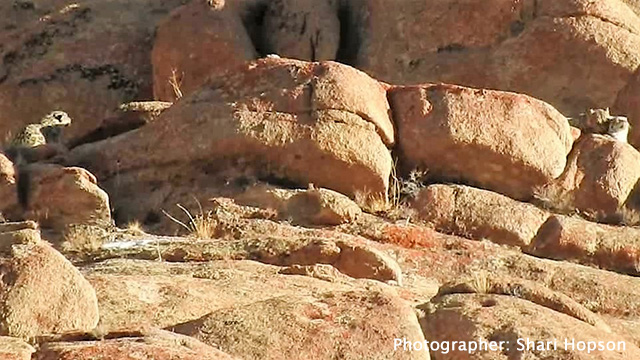 We could finally see all 3 faces!!! I got my doubler /2 x extender on to make it 800mm , they are dots!!! Need more lens!
Stanzen one of our wonderful spotters and drivers, motions to Shari to start filming!!! I missed the shots! They are mating !!! OMG!!
Happened so fast! And the other male is moving around! Damn!!!
Thank goodness we are all sharing our film and shots!!!
This is a first!!! The guides say this is the first time guests have seen mating Snow Leopards!!!
If only we had 4K video !! BBC needs new footage!!!
We were so very lucky to have them in our own valley and mating!!! Wow!!!
There are no words to describe how happy, elated and beyond thrilled to be able to see 4 snow leopards in 7days, let along mating!!
We had an amazing trip in the Ulley Valley of Ladeckh! Thank you to our guide Surya and the staff at the lodge for all the hard work to make it one of the most unique trips we have had to pleasure to be a part of!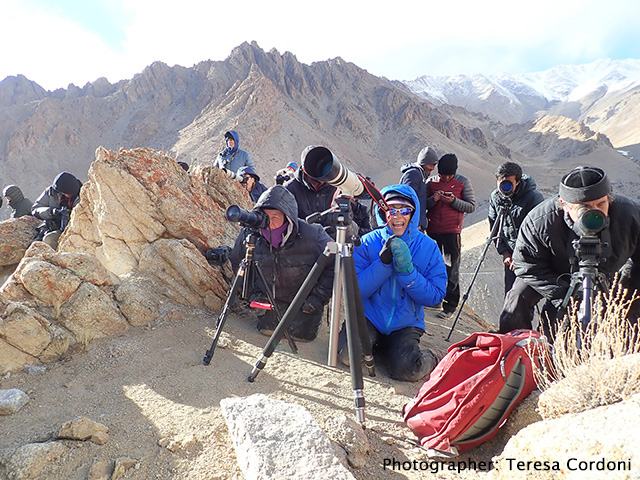 After 2 more hours with the snow leopards the day we left, on our drive back to Ley we stopped at a Buddhist temple called Alchi from the 8th century. It is now a UNESCO site. Very small and beautifully painted in reds and blue, still very well preserved somehow!
It was great to get back to our lovely hotel the Grand Dragon in Leh and take a nice hot shower, ahhhhhhh after 7nts in the cold guest house with no running water, this was a welcome relief!
Up early for our flight to Delhi, then later in the day an express train to Ranthambore for our new Tiger Adventure for the next 4nts!