Home > Dive Discovery Trip Reports
Hong Kong, WAKATOBI, Bali March 24-April 12 2003- Trip Report
I will start by saying I am so proud of my group of 12! The war in Iraq started only days before we left. The news media doing what they do best, wrapping the American public in fear. Then to top it off the mysterious new plague call SARS started in Hong Kong just as we were to depart! What next?
Some of our group arrived in Bali, to advise us the US state dept., once again warned Americans to NOT go to Indonesia! Hmmmm, here we go again. Let's see now, I have been traveling to Indonesia for over 10 years now! Every time there has been some form of state department warning! For those of us that have traveled here before, we all realize these warnings must be issued for liability purposes for Americans. The places we divers visit are so far from the Hotspots involved! Bali is as peaceful and loving as the Hindu Island has ever been. The global news media has brought Bali to it's knees. It is a crying shame. Our time in Hong Kong & diving at Wakatobi were as peaceful and glorious as we could ever hope it to be. See the testimonials from our guests after my trip report! We all had a ball!
Hong Kong March 24-27 2003
Great place! None of our group has ever been to HK before except for transiting in the airport. We started by doing a half day tour to HK island, visiting the ever famous Victoria Peak with stunning views of HK Island and Kowloon where we stayed, and surrounds. Next was Aberdeen fishing village, where we took a real Sam Pan ride in the wild harbor! Loads of fun and a great way to see this most amazing city! Next was shopping at the famous Stanley market, now this is a shop till you drop place! The greatest deals to be had here. Of course the 40 minutes we were given was not near enough time, must get back here.
Day two took us to Ocean Park, they have an excellent aquarium and shark tank, and Panda bear exhibit. We also snuck back to Stanley Market for more Hong Kong deals ;-).
Day three we took a cruise to see the beautiful pink dolphins off Lantau Island, near the airport. It was a beautiful day, and we were blessed to see several incredible PINK dolphins!
There only about an estimated 150 left in the wild here. Their mortality is at stake, there used to be thousands that lived in this bay. Now they succumb to horrifying pollution and boat traffic. It is so sad to think these intelligent beauties will become extinct in a few short years due to greed. The Hong Kong government is much more interested in 'big money' made in shipping and big business. The dumping of all sorts of waste into the surrounding harbors goes unchecked. There is no real edible fish left for human consumption. The fish the dolphins eat is extremely toxic and the cause of sick newborns, they no longer live to a ripe old age. The mortality rate is ever declining and it is atrocious!
Hong Kong is fabulous, I cannot wait to go back there is so much to see and do.
Wakatobi-March 28-April 8 2003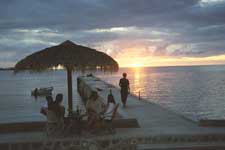 The new charter flight from Bali to Wakatobi is divine, in 2.5 hrs and you can start diving after you get checked in. Since it is a charter flight for only Wakatobi, there are NO problems with over weight excess baggage hassles, (great for all us photog's. The long house rooms are as what you would expect, basic. The walls are paper thin, and offer no privacy. It's a short walk to the shared bathroom area. I don't recommend it for couples, but perfect for singles. The grand bungalows are lovely and large with private bathroom, and veranda. A very romantic setting for couples, no a/c in the resort but they do offer over-head fans. The dive boats are covered, big and roomy with lots of space, also a spot up front for sun bathers. The Indonesian staff are very helpful with your gear and will offer individual help for those in need or requesting it. On the dive boats there is plenty of water and hot drinks, snacks in-between dives. They do not baby sit you with your depths, you are a grown up diver here, and diving deep is a favorite of many who visit as the walls are so full of life and a joy to behold as you look up! However it is very easy to eat up bottom time and get into Deco- so lots of beautiful time spent off gassing in a colorful rich setting at 20ft ;-). They are very strict however in your behavior as a diver, they do not allow the destruction of these incredible reefs! They will actually take you off to the side to advise you that you are touching the reefs with your fins if you are a photographer. I find this wonderful as in most places they do not want to offend the divers, and so the reefs become damaged over time. I love this practice! We all make boo boo's from time to time. And believe me, this is a great way to really pay attention to your buoyancy and ability to dive and take photo's without hurting the reef!!
The reefs were all they claim to be, stunning and lush beyond words. Every part and square inch of every reef, was loaded with hard and soft coral! The topography was awesome as you look up at depth and take in all the splendor. The immense fans and whip corals, gorgonians and overhangs are a wide angle photographer's dream. This is a great place to get awesome shots, as the water visibility is tremendous. It is refreshing to know that reefs like this still exist!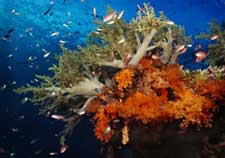 Some reefs were loaded with critters such as Soloar Nudi's at Blade; a very exciting day and with the surreal reef structure of this site a real treat! Roma seemed to be everyone's favorite; on our last dive we were rewarded with 9 leaf fish, blue and black ribbon eels, loads of colorful scorpion fish of all sizes and last but not least, my 11 day request for a painted Frog Fish! Yippeee, a Red froggy with yellow and white paint marks! On other dives the excellent dive masters found us were a robust ghost pipe fish, that look exactly like the many bits of sea grass laying about. Never found any Harlequin ghost pipe fish as they like cooler water and we had about 84 to 85 degrees, too warm. Lots of beautiful banded sea snakes, in spite of fear they provoke, they are very docile and lovely to watch hunt! Dragon wrasse (or juvenile rock mover wrasse), Hump head scorpion fish, Berthela Mertensi (giant orange and black Nudi),
I had another special encounter with a friendly octopus! I am often able to take the time (sometimes 15 to 20 min) to invoke interest and gradually get very close to the very curious Octopus and get him to unfurl and shake hands with me ;-)) John our dive master sat there very quiet and watched this encounter and yahoo-ed when my goal was achieved! Ahhhhh such a lovely feeling to gain that confidence and feel the suckers take hold of my hand! Once I had 2 arms grab hold and try to take me into it's den, must have been a male ;-).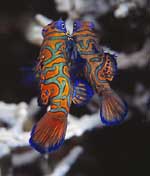 Other sites offered Mandarin fish, if you are so lucky as to get an actual photo of one! (like Fred Drury did- AWESOME). Mantis shrimp, and for those who did night dives, Joni found a bobtail squid, the cutest thing I have ever seen on video! I think we saw more crocodile fish here than anyplace on earth! The house reef is truly top notch and incredible as far as reef life and coral growth as can be found anywhere! This reef goes on for at least 2 miles and every bit of it is GORGEOUS! Lots of resting turtles here, there is a cave with a Frog fish, and a file red flame scallop with electric blue flowing through it! I finally learned from Laurenz Maeder (owner) what I have seen before but never knew this creature was a Nudibranch that lives inside a tube. It is black with white line marks and it creates a long mucus net to feed. Sometimes you can see it's rhinofors out of the tube. I just checked my books and could not find it, darn. He has the Nudi book with the name of this wonderful Nudi sorry, I cannot tell you now ;-(.
Sadly we left Wakatobi and had several days to play in Bali! It was very sad as this was my 8th visit to Indonesia and Bali, and there were hardly any tourists to be seen. They are starving, as tourism is their life force. The Bali blast stopped a lot of the tourism, even though those of us who have been many times, know that what happened was a very deliberate and intentional act. The terrorists assumed this club was frequented with young Americans, but in reality it was mostly full of young Australians. They are hurting so bad and in reality the chances of that happening again there are none. I learned the Balinese in their beautiful Hindu/Balinese culture feel that the reason the blast at the Sari club occurred because the world and the Balinese are out of touch with Nature, (not people, interesting).
We had some lovely day tours and visited northern Bali in the Bedugal area with terraced rice paddies, temples and the botanical gardens, and of course great shopping. I also did a day trip where you head to Kintamani (all of this is north of Ubud where we stayed), a gorgeous area and site to behold, probably the most beautiful spot in all of Bali. Overlooking lake Batur, and the volcanoes! You are high enough up to see that this giant lake and 3 mountain volcanoes; all within one giant crater, amazing! This was the start of our day, breakfast at a lovely Inn, we did not want to leave! A wonderful easy down hill bicycle ride from Kintamai with a guide along the back roads of the real Bali, through small villages and rice paddies with all the normal daily rituals of life happening right in front of our eyes! I highly recommend this as you really see, and feel the Balinese as they live and you are way from all the busy traffic that most tourists only see. We also visited a Balinese compound, showing the kitchen and temples and living areas, 8 people lived in this family compound.
It is also great fun to rent a motor bike (costs nothing) but please get a good map of Ubud when you are there, as finding your way around is not easy. Yet worth the time and effort to see the real Bali, it is so full of peace and beauty. Now I know why there is a large community of expats living in Bali including my web wonder Dave!
Our group truly enjoyed this trip and the feeling of peace prevailed. What a welcome relief that was after feeling all the stress of our media about the WAR and SARS and our government once again, telling us DO NOT GO TO INDONESIA. Lets see now, how many times in the last 11 yrs of selling Indonesia have I heard this? How many times have I gone in spite of these warnings and found peace and serenity? It is not like we are flying or diving in Jakarta, we are about as far from all that as San Francisco is to Florida.
We loved it and please read some of the testimonials from our wonderful group that went during this incredible time of travel.
Cheers again-
Cindi LaRaia
GROUP Testimonial's, un- edited!
Okay, here's my honest to goodness testimonial. I didn't even have to twist
my own arm.....
I would like to sum up my Wakatobi dive vacation in one word.
Unfortunately, I don't know which word to use..... Maybe it should be
'great' or 'terrific' or 'fabulous'. Or maybe it should be 'stupendous'.
I can't decide.... But let's just say that it was
'the-best-darn-vacation-I-ever-had.'
Thanks, Cindi, for putting together an absolutely WONDERFUL dive trip!!!!
You are the BEST!!!!
Gary
Wakatobi was the greatest, everyone needs to go there. By listening to our government about not traveling to Indonesia, anyone would miss out of some great experiences. The media over plays situations because they need to either sell papers or get high ratings. I loved Bali! Shelby
Wakatobi is a great place to dive. If you have never been to Indonesia, you
must realize that is a magical place. Everyone who loves diving should dive
somewhere in Indonesia at least once. This was our second trip to Indonesia
and our first to Wakatobi, which lived up to its reputation. The best thing
about it, and there were many good things, was the house reef, with its cave
and resident frog fish, and its turtles and its very friendly crocodile
fish. The house reef has one of the most beautiful walls I've ever seen.
Also, the sea grass in front of the resort offered hours of 8-10 foot diving
that was fascinating. It takes a lot to get to Wakatobi, but it is all
worth it when you get there.
We were advised against traveling to Indonesia, but we went anyway and are
very glad we did. The island of Bali is a really special place. The people
of Bali are suffering now due to a combination of world events. Much of
their economy depends on tourism and the tourists aren't coming. They were
so appreciate of our visiting their island. We stayed in Ubud, the center
of arts and crafts in Bali. We went on several day trips to visit different
parts of the island. The temples, the dances, the shopping and, best of all
the people of Bali, make a trip there a wonderful experience. We've been
their twice and each time, I start planning my next visit before I have left
Bali. There is so much to see and do and buy -- its impossible to do it all
in just once visit. Vicki Mills
WAKATOBI - Its resort and surrounding reefs. We found a little bit of paradise on earth, and incredibly
stunning underwater life and scapes, all part of God's creation.
Jan and Sonja VanBuuren
The trip to Wakatobi was great! Traveling to Indonesia was a pleasure- I especially like the lack of crowded planes. I was able to spread out and sleep during the flight and saw no signs of any problems related to SARS! I would be comfortable traveling back to Indonesia tomorrow if I could. I appreciated the wonderful service that your travel agency provided and look forward to booking another trip thru you in the near future. Please keep me advise of an "deals" to Indonesia- it was spectacular diving and I now have a real appreciation for the reputation the Balinese have for hospitality and friendliness as well as the people of Sulewesi. I am anxious to take my wife to Bali having had a truly wonderful experience there myself. The accommodations were excellent and did I mention how friendly the Balinese people were??
Thank you again for all your assistance; it was greatly appreciated by myself as well as those traveling in our group.
Charlie Baker
***************************
Here are my two cents.....
Susie and I enjoyed traveling with Cindi LaRaia. Her enthusiasm and obvious concern for important details (like did Shelby really lose her passport??????...........Nahhhhh!) is quite a comfort. She is a hugely positive person, even in the face of impressive Stupid Human Tricks. (I will keep the names of the guilty to myself for a change.) Tis a special personality who can make one feel like they are a long time friend just moments after meeting. Clear communication is big with me and Cindi excels in this area. Her message is even clear while she is brushing her teeth, something you don't find everyday. :-) I would not hesitate to travel with Cindi again. She clearly does her homework about destinations and activities.
Much thanks to you Cindi and I am looking forward to the next time.
John Fearing
My husband John and I recently traveled to Hong Kong, Bali and the Wakatobi Dive Resort (SE Sulawesi) with a group from our Dive Club escorted by Cindi and were absolutely thrilled to have done it. In spite of protest from family and friends about the possibility of terrorism, and at the last minute of the SARS epidemic, we forged ahead. Three days in Hong Hong, enroute to Wakatobi, was fun and full. We toured the city, shopped, saw the pink dolphins (yes, pink!) in Hong Kong Harbour and ate some wonderful food. Three days was really not long enough. From Hong Kong we flew to Bali where we were to meet the charter plane for Wakatobi Dive Resort, SE Sulawesi. We were met at the airport on arrival and again the next morning to get us back to the airport by the very efficient, helpful and charming Crispin of the Wakatobi staff. Our flight to Wakatobi was uneventful and on arrival were met by Lorenz, founder/creator of the vision that is Wakatobi Dive Resort. We were whisked off in small vans to the dock area where we passed through a throng of village children. It was a joyful greeting to the islands where everyone was kind and helpful. Our diving adventure began that afternoon with a "checkout" dive - just to be sure we weren't too rusty and quickly turned into an exploration of the house reef under the guidance of one of the all knowing dive guides. The abundance of the house reef was incredible! If one has never been to the South Pacific, and even if one has, there is an overwhelming amount of life to be seen. WOW! Color and abundance - fish, corals, sponges, fans, nudibranchs, tunicates, shrimp, pygmy seahorses, crustaceans of all types... you name it. We settled into the pattern of breakfast, two morning boat dives, lunch, and afternoon boat dive, dinner and bed. Of course, diving the house reef was always available and some divers did 4 or 5 dives a day some before dinner, rarely after dinner. The dive sites were interesting and different, with the dive guides knowing where to find certain critters and delighted in pointing them out to our wondering eyes. Many in our group spent hours pouring through the fish and critter id books trying to figure out what we had seen that day. The lodgings were comfortable and the food was fairly good and certainly filling. We had a escorted tour of the local village on our last day as we were outgassing and even were treated to the village girls dancing for us. A wonderful, restful adventure. But our adventure was not over yet! We returned to Bali and stayed in Ubud for 5 days. We walked through out the town, shopping, looking at art museums and galleries, visiting the monkey forest, shopping and enjoyed the local massage. Don't miss any of this if you have the chance to go! We hired a driver a couple of days and drove through the countryside, rice paddies and small villages to the botanical gardens, a village market, and several temples. We enjoyed the Kecak Dance and Fire/Trance dance one evening, performed at the Ubud Temple. We toured to a gong and gamelan factory (at the back of a family home compound) and drove to the edge of the caldera of one of the two volcanoes, Mt Batur. It was a trip I will always remember, with fondness for the kind, gentle and accepting spirit of the Balinese, the friendliness we found everywhere and the desire by all we encountered to make our visit as pleasant as possible.
The economy of all these places is hurting by the lack of the visitors as people are afraid to travel. All I can say, is don't be afraid. Continue to live life as fully as possible and don't let the terrorists in the world win by making you stay home. Then they will have won. We are as safe in these foreign countries as we might be at home. While we encountered no problems, other than canceled flights, my sister who traveled at the same time within the U.S. had someone on her plane that lost it and tried to get out of the hatch. Crazies come in all shapes, sizes and colors and can be found just next door... so travel while you can and enjoy all that the world has to offer.
Susie Baker