Home > Dive Discovery Trip Reports
COCO'S ISLAND ~ COSTA RICA, March 8 - 18 2008 Trip Report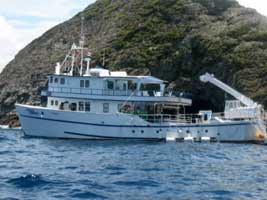 Returning after 19 years, an amazing destination with lots of life in the middle of nowhere!
WOW is all can start with for this trip!!!! Undersea Hunter is a fantastic, well thought out dive vessel that holds a max of 14 divers, the crew is some of the best around and the chef is out of this world! We were all so happy on this trip, hard to pinpoint exactly what made it so very special.
First of all great flat seas going and coming, I am a rower and I could have rowed to Coco's Island!! The last time I was here was in April and had the same great weather, so this will be my choice when I charter the boat again in March/April of 2010! I have to go back. We also had very little current and rough water which is a bit unusual for Cooc's.
Water temps were approx 82 F with thermoclines at about 75 F. I had a brand new full 5 mill suit and it was the perfect thickness I was never cold! (that is a surprise for me).
The Undersea Group has 2 boats and a 3rd called Argos plus a Deep See Sub that goes to 1500ft! Unreal, our dearest Larry Usher took a ride to 1000 ft and saw a LOT of life, the only thing he did not see was the Prickly Shark, they see it about 1 in 10 trips. An amazing experience to treat yourself with.
I learned a new word from JoJo one of the dive masters, very well known in Costa Rica, PURA VIDA!!! Means Pure Life, and this is what Cocos is all about and the country and people of Costa Rica! Lovely!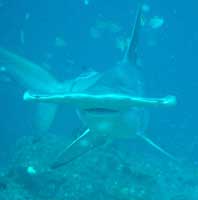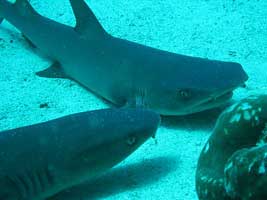 Our first dive site after we woke to the welcoming site of Chatam Bay and the green lush verdant island of Cocos was to be Manuleta. What a wonderful check out site! 3 white tips patrolling the bottom, 3 hammerheads saying hello, marble rays, a giant orange Frog fish, goat fish schools and a green moray eel, welcomed us to Cocos Island!
The next dives were the backside of Manuleta which offers 3 different cleaning stations for Hammerhead sharks! Wow we had from 30 to 60 sharks come up very close to us and already everyone snapping away in excitement at how close they were! Even my point & shoot Cannon in the small housing worked well for this trip!
Every day we had the greatest fun with the Hammerhead sharks, some days were better than others in terms of how close they would get, always a surprise and some times I am just amazing at how close they would come up to you! Yikes I did not have to zoom my camera in and actually had to back up some!
The Undersea Hunter has 2 tenders for divers and the dive masters switch boats every couple of days which is a great idea. The panga drivers are fast and efficient and everyone so very friendly and fun! Freddie the Salon Host and caregiver was such a delight to have serving us, and happy to teach me more Spanish words! We were able to do 3-day dives and 5 occasions for night dives.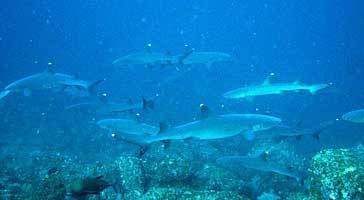 The night dives were at Manuleta and let me tell you, THESE ARE THE WILDEST NIGHT DIVES EVER!!! Mama mia! This is the only place they have documented so far where you see thousands and thousands of swarming white tip sharks of all sizes! You go in at 6:00pm when the sun is just setting, you get sorted out and start to see the fast moving white tips combing the bottom like a gang of bandits looking for trouble. The way to keep this action happening is to all shine torches in the same area. There is a black Jack fish, pretty large that uses the lights for hunting and gets a fish, if he only gets part of it, the fish will hide under rocks and BAMM the white tips start this chaotic rolling around and over and under each other trying to get the fish and all becomes a mad frenzy of hundreds of sharks trying to get at this small fish! Wow and holy crap is all I could say over and over,,, seeing this is believing it! We are told to stay 6 ft off the ground so as not to become mince meat, the sharks could care less we are there. This event alone is worth the price of the trip! It has been filmed by Howard Hall for IMAX and on the Planet Earth series! In shallower water all the baby juvenile sharks were acting like the big sharks and all scouring the bottom in the same way only pint size! Unreal!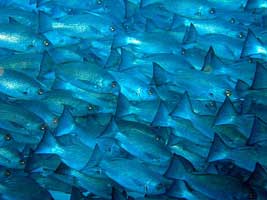 On are fist dive a Hammer head came to visit us in mid water, yikes! No thanks! We had giant spotted rays giving us a beautiful performance and also giant green sea turtles, all very surreal to see up close in the dark with thousands of swarming white tip sharks. Outstanding and for once got me into the water for night dives and I could not wait for the next one! Normally I am happy to have my shower and a beer at sunset, NOT here!!!
The dive masters have worked it out so that all the divers are together so as not to get lost, those that breath air faster are instructed to stay with the group at a shallower depth so they do not get lost and the dive masters are sure to see them get on the boat when they have to go up. Those of us left on the dive go out into the blue to do our safety stops; there is always a surprise in it for us! We ran into a GIANT wall of Jacks, I mean not a school but a GIANT wall from top to bottom of Big Eye Jacks, amazing. Other times we have had several hammer heads curious and come right up to us, also a giant school of mullet snapper, very large black tip sharks, mating green sea turtles, all in clear blue warm water!