Home > Dive Discovery Trip Reports
Raja Ampat to Triton Bay, 11nts Onboard Damai 1, May 9-20 2019 Trip Report
Escorted by: Cindi LaRaia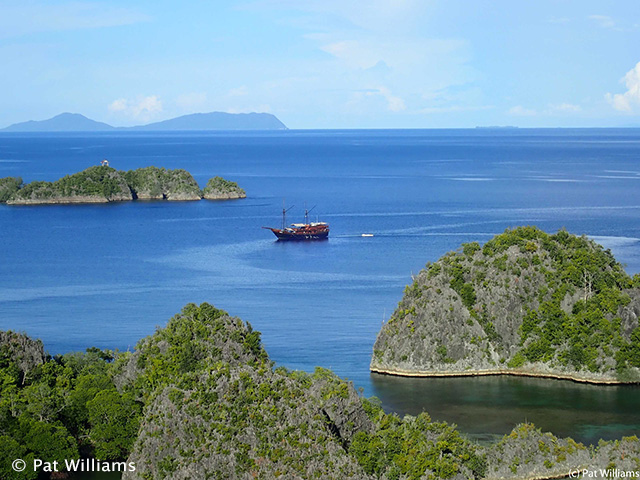 Raja Ampat to Triton Bay - Damai 1
May 9-20 2019
Another outstanding diving adventure on Damai 1 in Indonesia! Raja Ampat to Triton Bay! Fun times diving some stunning dive sites with our beautiful babies of the sea!!
Raja Ampat, always a bountiful delight of jaw dropping colour; pastel coloured sea fans, gorgonians, sea whips, soft corals surrounding layers of pristine hard coral!
The fish life abundant with thanks to the marine sanctuaries! It's wonderful to see different species of sharks slowly returning! I had one dive with 4 different species, a first for me in Indonesia. Truly a welcome sight to see bringing the reefs back into balance!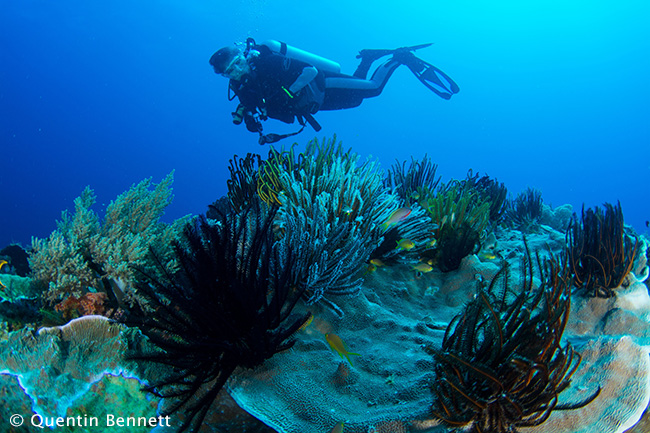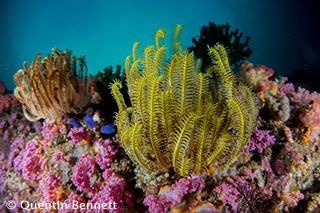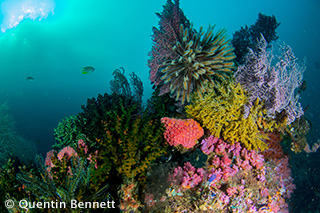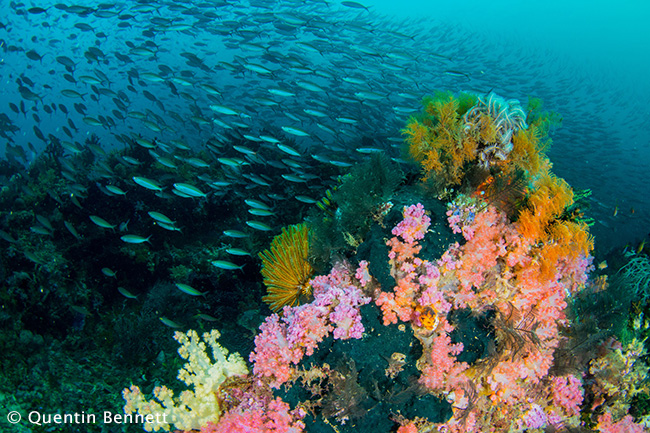 We did not have any current which I try to tell my peeps is NOT a good thing! No one likes current but a few of us who know what that means. It means ACTION!! The fish instantly congregate and ball up, the action begins with dog tooth tuna, giant trevally, rainbow runners, wahoo, sharks, you name it. The show begins! Any how we had no current, ho hum. Still all very beautiful but no real action happening.
Inspite of no current when we were there. Famous dive sites such as Melissa's Garden, 2 trees, Mayhem and Citrus Ridge are outstanding sites no matter what with large schools of fish diversity ribboning in the sunlight; Giant Trevaly on the hunt, tuna, jacks, barracuda and the occasional shark! Lots of wobbygong shark with a face only a mother could love!
On the way from Raja down through southern Raja at Misool is always a wonderful place to hang with the fish. Misool never disappoints!
Momon falls follows and offered us some spectacular diving on the Papuan coast. Cent Momon sea mount ROCKED crystal clear water, what a surprise. Such a beautiful site to be able to see the lay of the land and all the fish enjoying the beauty!
A visit to the falls is a spectacular setting, like no other. Fantasy island look alike, dripping with vegetation, opalescent colorued water, huge fast water fall, really shows how much rain the Papuan mainland gets!
Triton Bay always a surprise! Crazy small critters; different species of Pygmy seahorses no bigger than half a pinkie nail and smaller! Nudibranchs are small beautiful sea slugs, of crazy hair do's; all of varying sizes, shapes and colors!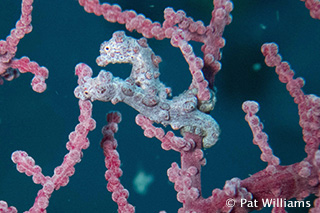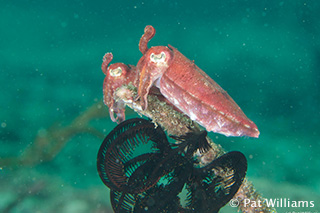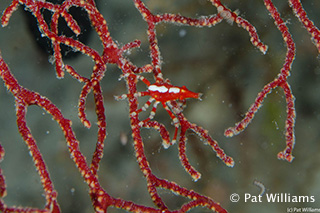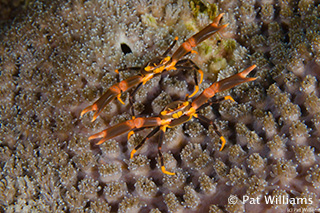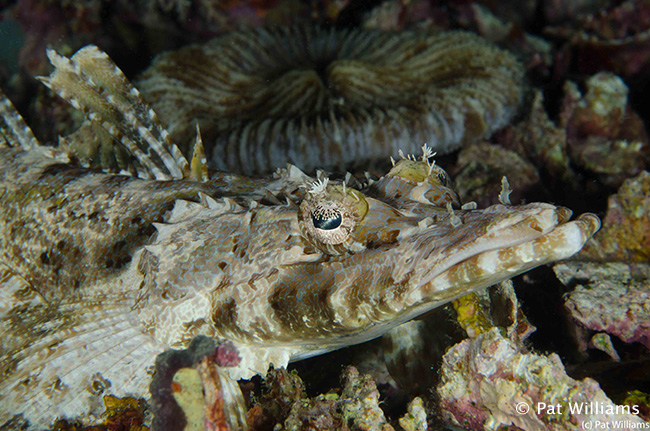 One of my favorite dives here is called Little Komodo! It looks like fairyland!! WE actually had clear water, a first and I think the last! This dive was something out of a fairy-tale book! It was so alive with color and so full of life! Everything is GIANT! The land of the giants reside in Triton Bay! A very strange and extremely unique bio-sphere; fresh water run off from the very wet rich mountains of Papua, meet the ocean water sea; it creates some crazy kind of wild!
The white 'black coral bushes' are the size of olive trees, they are everywhere and you feel as tho you have walked thru the lovely coat closet in the movie Narnia, to the snow white north!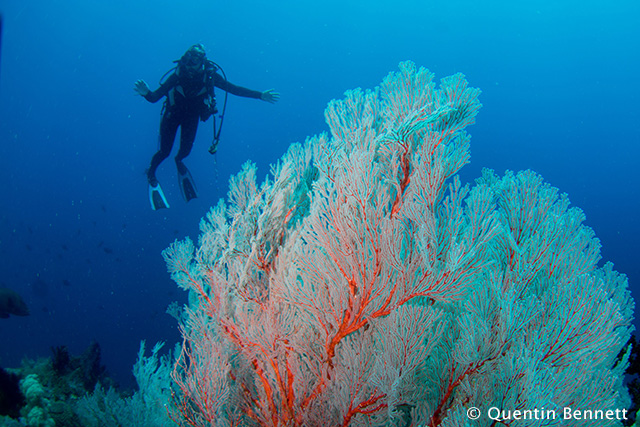 The first clue that struck me were the giant platter sized Angel Fish of may varieties; the half moon green and blue were stunning and huge always in pairs! The blue ring Angel, It is huge and the ring glows. There is an endemic black angel fish that is small and elusive, it plays hide and seek with you.
Soft coral bushes compete with the clouds of black coral bushes. The many splendid varieties of Sweetlips hang so close and get cleaned all day long. You can really be one with the fish here, they let you float right next to them as though you are one of them.
Wobby's (wobbygong sharks) are all over, they own the place! GIANT fish getting cleaned and in no particular hurry, you can simply hang out with them. It is like a 3 ring circus of GIANTS, and we are privileged to be able to spend quality time here!
The tubastrea hard coral is beautiful with different colors of the large dark green speicies to an unusual variegated green, to orange cup coral all over!
Triton bay can have very bad vis, it is often milky white like someone poured milk in the bay; sometimes it can be an eerie lime green with the white. Sometimes better like we had on our first dive at Little Komodo. You never know what you will get, but one thing is for sure. You will always be surprised and enchanted!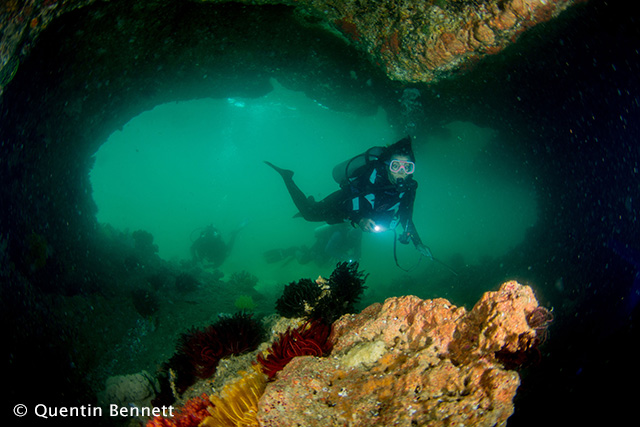 The BEST fish dive I ever had as well as a special dive on Castle Rock in Komodo August of 2015! Was at Dramai Rock, South Aiduma island. Bommies covered in life, hunting BIG snappers that go a dark mottled green, and in swarms, they are very big fish and maurade the bommies in true hunting fashion; this I have never seen before. A wonderful surprise! Huge schools of several types of surgeon fish, fusiliers, too many fish I cannot remember them all, I was in a fish bowl.
We then went thru a swim through, came out the other side and there before us in 20 ft of water were thousands of Red Fusiliers all just sitting there! You could not see a diver on the other side of them. Mixed in were so many Giant Trevally, one of my favourite fish in the sea. They are always on the hunt, they go after fish and the entire schools part with a loud POP as they all move so fast like bullets as one!
Hundreds of black and white surgeon fish, several other species of fusiliers,,,,,,, beyond anything I have ever seen in 1500 dives! This was fish nirvana,, don't want to forget this dive and this very special moment with my babies of the sea!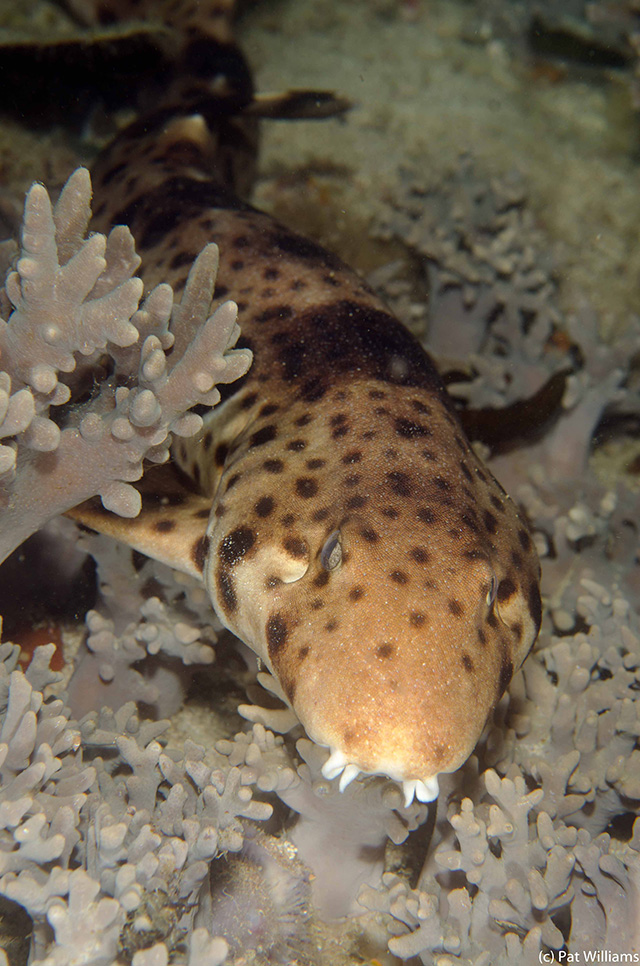 The last dive at Triton surprised us with HUGE Goliath groupers looking at us in the murk I mean HUGE, scary huge; a dining table sized stingray, walking sharks hiding under ledges, a big surprise was a beautiful zebra shark I found, wow! I have never seen this in Indonesia, what a wild crazy place!
We love Damai, the amazing crew and the spectacular diving In Indonesia!!
You know I will be back!
With love,
Cindi