Home > Dive Discovery Trip Reports
Isla De Guadalupe Nov 15-19 2003
Get ready; this is a very easy, fast and exhilarating 5 days away playing with great white sharks and fishing for Yellow fin and Albacore tuna. For those of you dying to be face to face with giant Great White Sharks and thought you'd never get to South Africa or South Australia,,,, this is the trip for you! Fly to San Diego, get on a fishing boat (a nice one) depart at 10:00am, enjoy a 22 hr steam to Isla de Guadalupe which lies in Mexican waters about 200 miles south west of San Diego. Once you arrive at this amazing looking island, the sharks start approaching the boat while the cages are being lowered into the crystal blue water. Good thing the dive teams have already been assigned as the divers are excited and jumping into their wet suits, impatient to get into the 2 HUGE roomy and well built shark cages.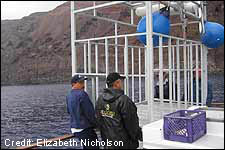 Great White Adventures has an excellent operation and work well as a team with the crew of the Searcher fishing boat. Within moments of the cages entering the water, divers were rewarded with several sharks all at once. Chum going all day and night and skip jack as bait hanging on either side of the 2, 4 man cages. The boat takes 16 divers, the cages hold 8; half of the divers are quickly in the water squealing with delight. Air banks at the back of the boat on long hoses with regulators for each diver. No tanks to get in the way, only a cleverly designed harness weight belt to allow the diver more comfort and flexibility. At times we spent up to 2 hrs in the cage at a time. The first day, each team is allowed 1 hr then the next group goes in, and back and forth all day long. Some end up not going in during their scheduled time. So those of us so inclined get to stay in the cages for extended periods of time.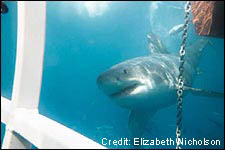 This is real excitement as Lawrence and Scott have names for the sharks they see on a regular basis. Bite Head is scary looking as some other shark tried very hard to bite his head off, 2 Scratch, the star young male Patches, Salsa, Night Rider (only appears on the night dives). Yes and how about that? Big lights set to light the cages – imagine diving with Great whites at night! They also have a wonderful u/w sound system so we could dance and sing to the sharks while in the cages, it sounds awesome!
The water is a gorgeous clear cerulean blue; the water temp averages between 68 and 72, whooooo hooooo and the sharks are playful and plentiful. Lots of fishing goes on and if you are lucky you may get a whole tuna into the boat. It is more fun to play tug of war with a Great White on the other end.
I have never seen such excitement in divers, every single person is having a ball, screaming hooting and hollering for the 3 days we are playing with Great Whites! The energy is going off and it is pure adrenaline flowing all day and night. This is such a fun fun, fun trip! Short, sweet wild and exhilarating, what more can you ask for? I had so much fun I have chartered the entire boat for another charter next November 13-17 2004. Wanna come ;-)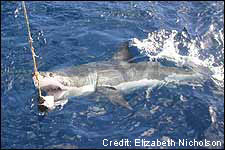 Get this, the food is awesome; Eddie and Alberto do a excellent job in the galley, who would think such gourmet food on a fishing boat? All the beer and wine you want to drink is also included- after diving of course. Lots of fun shark video being replayed and digital camera's being downloaded to laptops and saved to cd, all set to go before you get home. You are ready for a show the minute you are off the boat!
I cannot wait to go back! If you want a fast, incredibly fun, adrenaline pumping Great White Shark & fishing trip with a lot of laughter. You must try this one!
Thank you Great White Adventures, YOU'RE THE best!!!
Cindi LaRaia