Scuba Diving Africa
Diving in South Africa, Mozambique, Tanzania & East Africa Islands
Scuba Diving in South Africa and Mozambique is for the adventurous spirit. Just getting into the boat with breaking surf is a blast and readies you for a true dive adventure ahead. My first experience was so much fun, I never learned to surf as a kid growing up on a lake, riding the surf back to the beach full speed ahead in our rigid hull zodiac, your trust is fully with the skipper, landing is a scream!
Nothing can prepare you for this other than doing it.
Diving in South Africa
The diving is fantastic for those who love sharks, sharks and more sharks!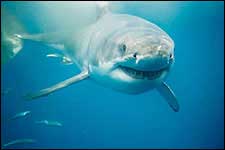 Shark Seasons:
Raggies (Ragged tooth sharks or Gray Nurse) June thru February they are mating and birthing.
Tiger sharks nearly all season high time, January thru June.
Zambezi sharks (Bull shark) November thru May.
Whalesharks September thru April.
Pelagic sharks meaning; Mako and Blue sharks December thru May.
Great white sharks in the Cape Town area best viewing is May thru September.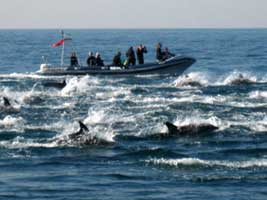 Sardine Run: The famous or infamous Sardine Run in the Transkei or Wild Coast, approx 5hr drive south of Durban, is something the true adventurer MUST do at least once! No words can describe what happens while doing an ocean safari in zodiacs for about 6 hrs each day on the open ocean. Super pods of (5000 to 8000) common and bottlenose dolphins gather for the feast, I call it the Sardine Convention, thousands of Cape Gannets arrive in wait, 7 species of shark hanging around, Bryde's whales hang out and Humpies head north to Madagascar to give birth and mate. Quite an ocean full of beasts waiting for the sardines to arrive, and the water temp to drop to the magic number 21c then the director calls ACTION!!! Amazing stuff as you see it on Discovery Channel. Just do it! This is a short time frame, the season is June to early July. It is wild!!!
Humpback Whale Season: April thru October. Several dolphins species are there year round.
Loggerhead & Leatherback Turtles Nesting: Throw in loggerhead & leatherback turtles nesting, with babies hatching and running for the sea in summer months in South Africa October thru March.
So you see, chock a block full of sharks and turtles, whales & dolphins. Not to mention the reef fish, sardines and marine life!
Diving in Mozambique
Diving in Mozambique is very unique, a true adventure just getting there. Mozambique is a large country and we talk about diving in the middle section of Mozambique which entails, Inhambane & Tofu area for the Mantas and Whalesharks, again that season is October thru May.
Further north lie the Bazzaruto and Quirimbas Archipelago's. If luxury is on your mind for a stunning getaway with amazing beachfront accommodation, white sand, azure blue water, gourmet dining and romance, then north you go, the diving is not the main focus here, but who cares!
Diving in Tanzania
Mafia Island: What better way to end your safari to Kenya or Tanzania, than fly to a gorgeous remote island called Mafia and snorkel with Whalesharks! Mafia Island lies off the mouth of the Rufiji River in Southern Tanzania. From the period between October and March the chances are extremely high to see whale sharks and the hotel gets in touch early in the morning with local guides that spot them and signal their position. Swimming with whale sharks, the largest fish on the planet, requires no special skills but even looking at these beautiful creatures from the boat is an unforgettable experience.
Zanzibar: All marine parks are popular diving and best snorkeling in Zanzibar offering underwater cliffs, wrecks, canyons, caves and spectacular reefs where visibility is normally in excess of 20m. The aquatic life within these waters is often very prolific and one usually sees moray eels, scorpion fish, lion fish, large groupers, octopus, lobsters, rays and, occasionally, and manta rays and dolphins. -- Zanzibar Commission for Tourism
Pemba Island: Pemba is a wonderful destination in its own right, with numerous smaller islands spread all the way along its coast. With excellent diving and fishing, and less tourism than Zanzibar itself, Pemba lies approximately 80 km northeast of Zanzibar Island.