Scuba Diving Red Sea, Egypt & Sudan
Above and below the water, the possibilities are endless: enjoy the amazing beauty of Eilat's coral reefs, dive with dolphins or discover the numerous ship wrecks dotting the coastline of the Mediterranean Sea. Try kite or wind surfing; Go sailing or just sunbathe on the beach.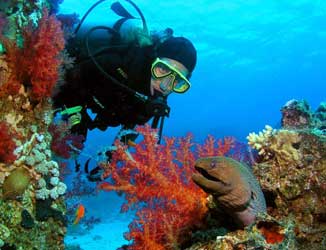 Just a short hop away, you'll find our fascinating Middle Eastern neighbors - Egypt and its amazing Sinai Peninsula - a diver's paradise, and the Hashemite Kingdom of Jordan, the land of the desert, home to Petra, one of the wonders of the world.
Last but not least, Israel is about its amazingly diverse population. The citizens of Israel are warm and welcoming, presenting guests of the country with the most incredible hospitality you'll ever experience.
Don't see what you are looking for? Just call us, we can put together any package, any hotel, any combination throughout the Mediterranean and Red Sea.