Home > Diving Red Sea > Red Sea Liveaboards
Red Sea Aggressor
Aggressor Fleet's Liveaboard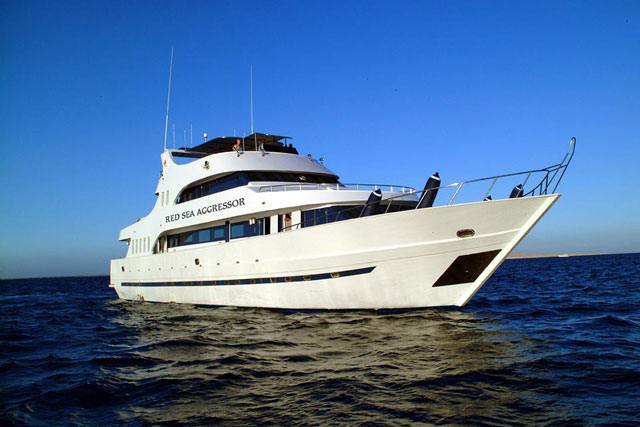 New Red Sea Aggressor
Launch Date March 1, 2014
New Introductory Offer USD $1499 per person, March 1 - May 30, 2014
With awesome visibility and breath-taking soft corals, the Red Sea is one of the most popular dive destinations in the world. There are over one thousand species of fish in the Red Sea, 20 percent of which can be found nowhere else in the world. It is hard to believe that where the Egyptian desert sands end, a marine paradise begins. Ironically, the desert climate has created an ideal setting for divers.
It is one of the sunniest places on the planet, therefore, corals and their tiny guests thrive on an overabundance of solar energy. The Red Sea is the resting place of many intriguing wrecks included several WWII ships that house countless artifacts.
What makes the Red Sea Aggressor different:
5 star yacht
5 dives a day
Free beer and wine
Aggressor Fleet service
Port Ghalib, Egypt's premier up-scale resort community, is home to the beautiful 120 ft., 20 passenger Red Sea Aggressor yacht and host hotel, the beautiful Crown Plaza Sahara Sands. This beautiful waterfront community also includes an Intercontinental Hotel, Marina Lodge and restaurants of all kinds.
Two Itineraries Offered: (alternating every week)
Brothers/Daeldalus/Elphinstone itinerary
Southern itinerary - journeys to Ras Banas sampling lush walls at reefs at Fury Shoal, Sha'ab Mansour, Sha'ab Claude and Sataya. Guests may fly into nearby Marsa Alam or Hurghada, both have direct international flights available.
Difference in Itineraries:
Brothers/Daeldalus/Elphinstone
Both island locations are in the middle of the Red Sea (9 Hours by motor yacht from the coast.)
They are pinnacle islands, meaning that below the surface, their walls plummet hundreds of feet vertically down, without any sandy beaches or shallow reefs around.
Surrounded by open ocean, chances of spotting big game, such as rays, sharks, and other pelagic predators, are very high around the islands. Grey Reef Sharks, Thresher Sharks, and Hammerhead schools are residents. Oceanic white tip at certain times of the year.
2 x Wrecks on Big Brother (Aida and Numidia)
One night dive is offered on this itinerary as night diving is not offered at the Brothers, regulated by the Egyptian Government.
Southern Route Itinerary
Dives along the South of Egypt Red Sea.
Sites like Sha'ab Claudia offer extensive reefs and coral gardens. Coral tunnels and caverns for divers to explore.
Fury Shoal's offer more exposed reefs and wall dives that attract the pelagics. Reefs such as Sha'ab Mansour and Sataya, divers go deep on the walls to see schools of barracuda and big-eye trevally and sharks.
Dolphin Reef at Sataya offers a coral lagoon where divers can spend one or two dives snorkeling with resident Spinner Dolphin pods.
Great sheltered bays for night diving.
Diving Environment :
Hammerheads, Dolphin, Soft Corals, abundant reef fish life.
All dives from 2 skiffs that carry 10 divers each for quick access.
Water temperature: 74 - 84F, 23 - 29C.
5 dives per day, night diving when available.
3mm wetsuit recommended in the summer and 5mm wetsuit in the winter.
The Yacht
The Red Sea Aggressor is a spacious 120 ft. yacht with a 26 ft. beam, built and powered for comfort, safety and stability. She is diesel powered, cruises at 10-12 knots and has 220-volt power onboard (with attached plug in).Comfortable accommodations for 20 guests include 10 spacious staterooms each independently air-conditioned, a private head and shower, picture window or porthole view, mirrored cabinet, hair dryer, fresh towels and volume controls. Each stateroom has a 22-inch flat screen TV with a DVD player offering a selection of movies.
The Red Sea Aggressor has 2 Master staterooms, each with a queen bed and 8 Deluxe staterooms, each with two twin beds. The yacht has a beautiful spacious salon, large sun deck with shading, Jacuzzi, chaise lounges and deck chairs, bar and a complete photo/video center. The onboard video format is both NTSC and PAL.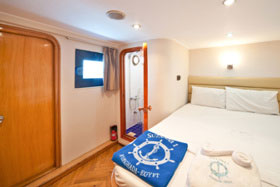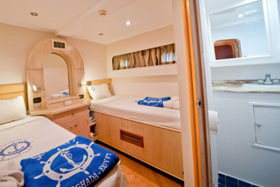 Internet/Email
Email is available onboard through the satellite system. There is a charge for incoming and outgoing email. Private calls may be made from the yacht.
Food
The menu aboard is varied and plentiful, with a variety of Egyptian feasts and local cuisine. If you have any special dietary requirements, please add this to your reservation through the GIS and speak to the yacht chef once onboard so he/she can adequately prepare to meet your needs. You will wake up to fresh fruits, hot entrees, cereals and juices. Lunches are buffet-style, featuring hot soups, homemade breads, salads and sandwiches and/or entrees. Dinners are chef prepared and served each evening and include salads, vegetables, seafood, beef or chicken with a fresh homemade dessert. Certain special dietary and beverage requests may not be available due to the remote nature of this location so we highly recommend you bring these items with you.
Diving
The crew of the Red Sea Aggressor, with their unique combination of talents, offers the ultimate in service. While onboard you may pick a buddy of your choice or dive with one of the yacht's crewmembers. There is ample storage space for your diving equipment. The Red Sea Aggressor provides 12 Liter Aluminum tanks, weight belts, and weights and has both K-valves (American type), and DIN (International) valves. All dives are made from the Red Sea Aggressor skiffs which are capable of carrying 10 guests each for quick access to even the most remote dive sites. The boarding ladders were designed for convenience to allow divers easy exits and entries. Guests will still be in close proximity to Egypt's Red Sea finest diving. Skiff diving has proven itself in this location. In between dives, you may snorkel, explore secluded beaches, or just relax with a cold drink and mid-morning snack. Guests may dive up to 4-5 dives per day including night diving when possible.
We suggest you pack the following: mask, fins, snorkel, and regulator with visible pressure gauge, depth gauge, dive computer, buoyancy compensator, and dive gloves. Strongly recommended: Spare mask, a dive watch, dive light, safety sausage, whistle, Dive Alert, mirror and/or other safety devices. Each piece of gear should be marked with waterproof paint or tape.