Home > Diving Red Sea > Red Sea Liveaboards
Royal Evolution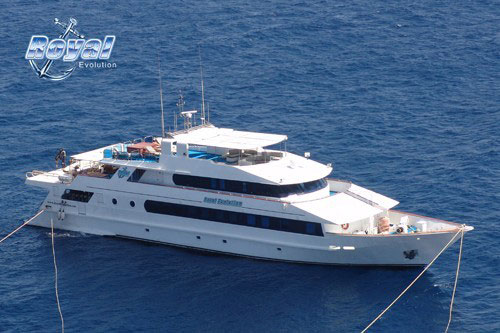 View 360° Tour
We have designed and building an outstanding vessel in Royal Evolution that creates two overwhelming first impressions. The first is the sheer stature of this four decker as it towers over the water with purposeful style. The second is the enticing comfort and class of the accommodation as passengers take their first steps aboard.
Royal Evolution has accommodation for 24 passengers in double and twin share cabins, all with ensuites. All the accommodation is air-conditioned. A secure and peaceful environment is always appreciated at sea and these cabins are a treat. Interior decoration featuring prints of tropical fish gives a unity to the accommodation that adds to this fine vessel's overall appeal.
A working ship: In any grand hotel the key to five stars rating is what goes on behind the scenes. With four comprehensively equipped decks on 39.50 meters of mono-hulled vessel, Royal Evolution is a high, wide, handsome platform for a lot of hard working crew and machinery.
Private places: The design of Royal Evolution features so many deck and lounge areas that there is always somewhere to get away from the group when passenger feel like a little solitude.
Armchair comfort: After a day's diving and an evening of wining and dining there are times when an armchair beckons. Comfortable lounge areas are amply provided in the air conditioned interior.
Dining at leisure: Royal Evolution provides clients at the top end of the world's adventure holiday market with all the facilities of a first class hotel, a spacious dining area is the place for hearty meals, relaxed conversation and the beginnings of friendship.
Recording the adventure: Underwater photography is the favoured trophy-hunting of today's dive charters and Royal Evolution gives them first class equipment to pursue this rewarding pastime, a specialist photographic viewing table and video sets are a popular facility during cruises.
Room to live: Space and grace are the hallmarks of the passenger cabins. Staterooms would be a fair description. The big beds, writing tables, picture windows, all are the generous side.
Ensuite convenience: Having given the passenger cabins roomy dimensions and classy fittings, we did not stint on the accompanying ensuite bathrooms, having room to move around in a bathroom is true luxury, the tub shower are a treat.
Chef with a view: Fine cuisine can reasonably be expected from the chef of Royal Evolution. He has the best and brightest stoves, ovens, fridges and freezers, plenty of room to swing the vessel. In his pioneer scuba diving work in the world, the late Jacques Cousteau found that divers needed high levels of nutrition. The pantry and freezer space ensures that energy levels will be sustained throughout the voyage.
Serious diving: Scuba divers have good reason to be fussy about their gear and technical facilities on board. Safety is always on their mind. Meticulous attention to detail is evident in the dive racks and back up gears. The dive deck is equipped with state of the art dive equipment and has two showers. Divers use comfortable and wide boarding steps down to the water.
Sparkling clean: The vessel has accommodation for 16 crew and 24 passengers who are at sea for extended cruises where they miss none of the comforts or services of even the best shore-side facilities.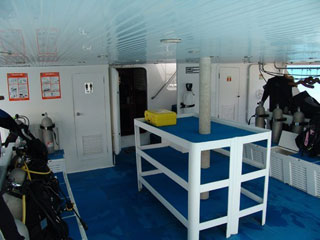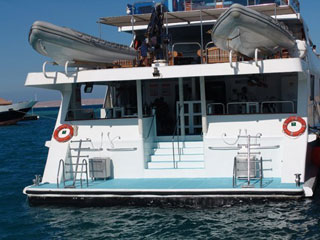 Sudan Itinerary out from Port Ghaleb - Egypt - 13 Nights
Day 1 : Port Ghaleb - Embarkation - Sailing at Night to Fury Shoel or St.John reef.
Day 2 : Check dive at Fury Shoel or St.John reef. Diving the whole day. Sailing after night dive to Shalalat reef.
Day 3 : Early morning dive at Shalalat reef. Sailing to Port Sudan.
Day 4 : Arriving early morning to Port Sudan for Visa Registration & local taxes payment (approx 2 - 3 hours), sailing to Umbria wreck for one or two day dives, one night & possible 2nd night dive after dinner.
Day 5 : Diving the whole day at Sanganeb reef (North & South plateau).
Day 6 : Early morning dive at North plateau of Sanganeb reef, then sailing to Shaab Rumi for second dive at "Cousteau Conshelf" and night dive.
Day 7 : Diving the whole day Shaab Rumi. Sailing early morning to Shab Suadi.
Day 8 : Early morning & morning dives at the Blue Belt (Toyota Wreck), third dive at the northern plateau of Shab Suadi, sailing at night to Angarosh reef.
Day 9 : Diving the whole day at Angarosh reef.
P.S : Sailing to Mesherifa for afternoon dive & overnight (only in October for the Manta season)
Day 10 : Sailing to Abington reef, diving the whole day, night dive and overnight.
Day11 : Sailing to Merlo reef, diving the whole day, night dive and overnight.
Day12 : Sailing early morning to Angarosh reef for 2 dives then Sailing to St.John reef.
Day13 : Depending on weather conditions and arrival time (one or two dives) at St.John reef , sailing to White Rock for afternoon & last dive, sailing to Port Ghaleb.
Day14 : Port Ghaleb - Dis-Embarkation & last night hotel.
P.S : The itinerary can be changed due to weather condition....