Home > Diving Australia > Australia Dive Tours
Great White Shark Cage Diving
South Australia
Filming, Diving and Research Expeditions with RODNEY and ANDREW FOX.
Since pioneering shark cage diving nearly 50-years ago, Rodney Fox and his son Andrew have been at the very forefront of human interaction with Great White Sharks. As primary advocates for these creatures, their expeditions and research have educated the public and attracted adventurers from around the world.
Our live aboard expedition vessel "Princess II" departs Port Lincoln in South Australia and visits the famous and beautiful Neptune Islands, which continues to be the very best place in the world to see and photograph great white sharks. Our expeditions run seasonally, giving you the very best chance of a successful encounter.
With a maximum of only 12 guests and 2 cages, plus our onboard research and biology talks you will leave the expedition with a real understanding of great white sharks!
All guests are encouraged to participate in our surface cage dives by simply breathing air from a surface fed air supply. Our dive masters gently, patiently encourage and guide all new divers!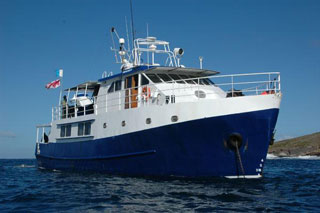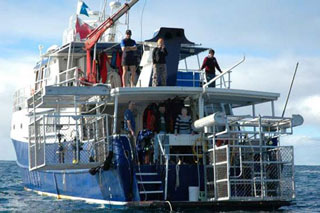 Rodney Fox Shark Expeditions is the only operation in the world to take qualified SCUBA divers all the way to the ocean floor to see great white sharks. Here on the bottom of the Southern Ocean we enjoy vastly superior shark viewing opportunities, as well as being surrounded with other local sea life, including the world's largest stingrays, southern eagle rays, giant blue wrasse, and many other fish species found nowhere else.
During the expedition, guests are encouraged to enjoy our boat tour of the scenic Neptune Islands, where a wonderful variety of wildlife, including many birds, dolphins, fur seals and the rare Australian sea lion are commonly seen.
En route to the Neptune Islands (weather depending) we also stop off to snorkel with the beautiful and photogenic Australian sea lions. These cute and playful marine mammals are a highlight in their own right!
We strive to make each and every great white shark expedition a comprehensive and ultimately satisfying adventure for every special guest. We like to show our passengers a real taste of South Australia's remote natural beauty, a taste of our local wonderful food and wine, all while staying out on location, living onboard the Princess II, our comfortable liveaboard home.
Our research program, special talks, boat tours and superb onboard facilities, accommodates every level of diver and non-diver alike with the most rewarding great white experience available in the world. This elusive and most magnificent of creatures deserves this level of attention, and this is what Rodney Fox Shark Expeditions lives and stands for!
Only Rodney Fox Expeditions can offer WORLD EXCLUSIVE ocean floor cage dives to the sea floor. This is unbeatable.
Our conscientious dive team can gently train and encourage all non divers to try a dive in our surface floating cage
All tours have immense advantages of a liveaboard agenda including limited group numbers and maximum cage time.
The Princess II is 23 metres long, steel hulled, and 170 tonnes of spacious comfort and stability. Its fun just to be aboard!
Multiple shark cages for cage-to-cage photography
6 twin/double cabins each with private bathrooms
Special talks on shark biology, research and photography
Special personal attention given to every expedition member
Custom made itineraries for private groups
Best Time of Year
There are two prime seasons for viewing great white sharks at the Neptune Islands in South Australia.
The first of these is our summer season where thousands of fur seals congregate for their annual pupping and breeding season. Spring/summer shark activity starts in November and usually lasts until the end of February.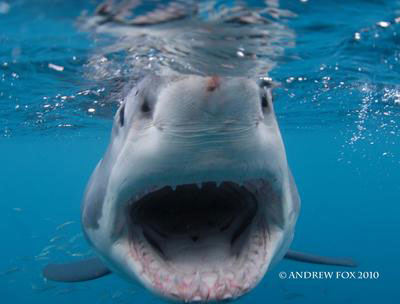 March to early May is usually the most unreliable time for shark activity, despite often having great weather. We are usually cautious about recommending this time, however some years do seem to produce great action and the last 2 years (2011/12) have had great shark action throughout.
Advantages at joining us at this time include enjoying longer "summery" days, and warmer water up to 20 C. The generally milder weather of this summer season also allows us more opportunities for island shore parties where we encourage all passengers to explore the wonder of these remote islands on our expedition tender boat.
On many summery dates bronze whaler and mako sharks also visit us in addition to the great whites.
Our main viewing season however, is from May through to October. This is a time when the growing seal pups that were born in the summer start to venture out further from the safety of the shore and hunt for themselves. This provides a natural food source for the sharks to target and as a result this time of year we witness more natural predation events.
Huge Super Females are seen more reliably in the months of May, June and July. Most shark numbers of all are often recorded in July and August. However September and October does often match July and August and can have clearer water and milder weather and longer daylight hours than earlier months in this season.
The potential downside of the "winter season" is that there is more of a chance of experiencing blustery winter weather. However with the multi-day itinerary, and from our sheltered anchorages and large stable and warm vessel, we can happily operate and view the generally bigger and more active sharks in comfort at this time. Also note that in the offshore winter waters around the Neptune Islands, a warm water current does tend to keep the temperature above 15-16 Celsius.
Summary: Although there are strong annual trends in both shark reliability, activity and weather conditions, great white sharks can actually be found at the Neptune islands in any given month, and we experience great variations and exceptions to rules every season with both the weather and sharks.
For more information
Contact:
Dive Discovery
@
1 800 886-7321
(415) 444-5100
or
Request Info