Home > Diving Australia > Australia Liveaboards
MV Spirit of Freedom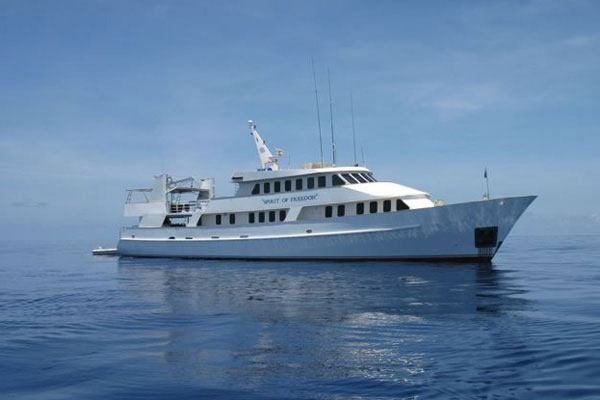 The Spirit of Freedom was custom built for long range cruising and to optimise the sea conditions of the Coral Sea region. Design features such as the specific length of the vessel, combined with electronic stabilizers ensure maximum sea keeping capability for greatest passenger comfort. Heavy duty medium rev marine diesel engines provide fuel efficiency, reliability, and low vibration and sound emission. In 2008 a state of the art air-conditioning system, specifically suited to tropical conditions was fitted, enabling fail-safe air-conditioning throughout the vessel. In addition to holding 20,000 lites of fresh water, the Spirit of Freedom carries on board fresh water makers, generating up to 9,000 litres per day, which ensure a continuous supply of fresh water in medium use situations.
The Spirit of Freedom is kept in current 1B Queensland survey to 260 miles offshore range, which includes all Coral Sea Reefs & Islands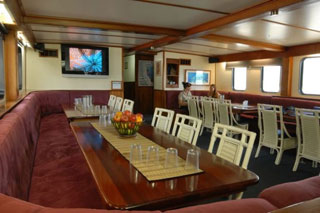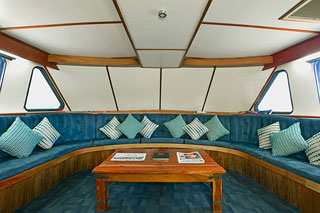 The Cabins
Spirit of Freedom contains 11 guest cabins, all with private bathroom. There are various different cabin styles and 4 price points to best suit your requirements. All cabins are air-conditioned and are serviced each day.
Storage: All cabins contain a wardrobe and under-bed storage, while some may have additional shelving. Dive bags can be stowed down the aft lazarette. If you have additional luggage that you wish to have stored whilst you are on tour with Spirit of Freedom, we have storage facilities at our office. Please label your luggage to be stored, and give to our driver when he picks you up. He will return your luggage to you on the day you return to Cairns.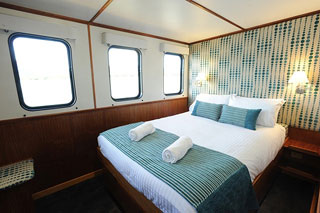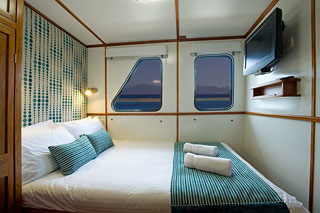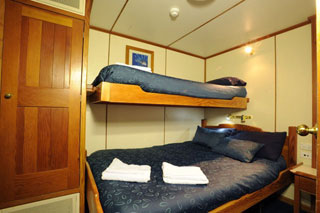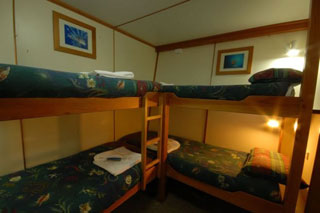 The Diving
Stretching more than 2300 km along the coast of Queensland, the Great Barrier Reef is a complex ecosystem of around 2900 individual reefs. In the remote northern sector 10 string shaped coral reefs, collectively called 'The Ribbon Reefs', provide some of the most stunning tropical reef scuba diving in the world. Lying within the protected green zones of the Great Barrier Reef Marine Park, sites such as Steve's Bommie offer rich marine biodiversity, and endless macro photography opportunities.
Hundreds of kilometers beyond the Great Barrier Reef, Australia's Coral Sea harbours the undersea remnants of ancient volcanoes. Here, the diver is presented with sheer walls laced with massive soft corals and gorgonian fans, that plummet 1000 metres to the ocean floor. These isolated reefs, including Osprey and Bougainville Reefs are home territory for huge schools of pelagic fish, manta rays and sharks, and are renown for their crystal clear.
Diving the remote regions of the Ribbon Reefs and Osprey Reef in the Coral Sea, requires you to join a live-aboard scuba diving tour. Join Spirit of Freedom and witness the massive Potato Cod being fed at the Cod Hole, experience the thrilling shark dive at North Horn, Osprey Reef, and in the winter months you may even encounter the inquisitive Minke Whale on the Ribbon Reefs. Spirit of Freedom live-aboard dive tours depart from Cairns in the tropical north of Australia and offer 3, 4 and 7 night dive expeditions.