Home > Diving Australia > Australia Liveaboards
Tusa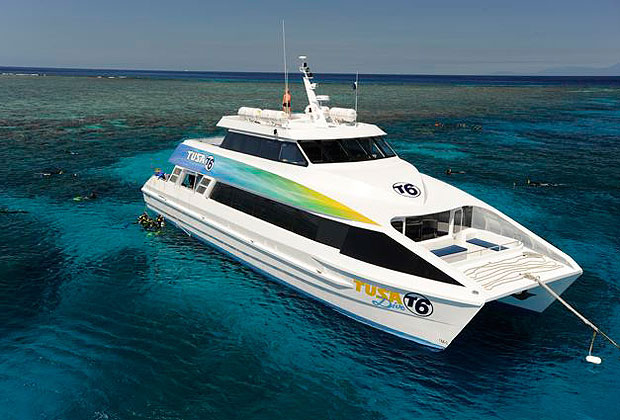 Launched in August 2011, the TUSA 6 is currently Cairns' newest reef vessel. Custom designed for diving and snorkelling on the Great Barrier Reef, the Tusa 6 is the 4th build for local owners Chris Eade and Phillip Hobbs, who used their 25 years experience in providing day tours to the Great Barrier Reef to create the perfect reef craft.
Tusa 6 incorporates the latest technology and environmental best practices, including greater fuel efficiency through improved hull design, and a full 2 stage waste treatment plant on board.
Tusa continues the tradition of smaller passenger numbers and greater service on board the 24m Tusa 6. Tusa Dive limits passenger numbers to just 60 guests, while the vessel has seating to accommodate 120 passengers. And as with past vessels, Tusa operate with an average staff to passenger ratio of 1:5 in order to offer a premium service on board and in the water.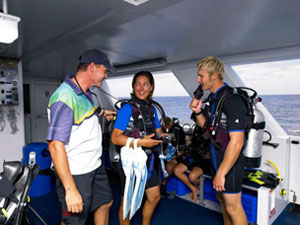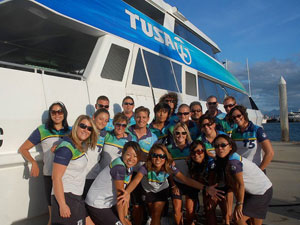 T6 Features
Lounge style seating over two decks
Air-conditioned interior over two decks
Large picture windows to allow uninterrupted views of the reef
Flat screen monitors throughout the interior
Open access to the wheelhouse and Skipper
Large partially shaded sun deck
Sunken lounge in the bow provides additional outside seating
Huge dive deck with dive gear, snorkel gear, wetsuits and lycra suits
Hydraulically lowered stairs and platform that rests just below water level
Two outdoor fresh water showers available on the back deck
Two private hot water showers on the back deck
Four toilets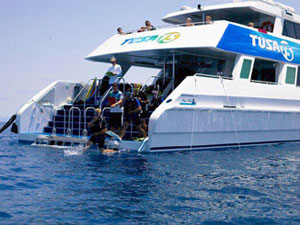 Dive Gear
1 x K180 Bauer Compressors
6 x 66L Air Banks
34 x Aluminum 65 CFM Tanks
4 x Aluminum 88 CFM Tanks
48 sets of Scuba Pro BCDs & Regulators
48 Uwatec Aladin Pro Dive Computers
60 Tusa Liberator Masks
60 pairs of Tusa Imprex fins
Assorted dive booties
Standard 1.5kg / 3.3lb lead weights and belts
5mm shortie & 3 mm full length wetsuits
Full body lycra (stinger) suits with hoods and mittens
A small selection of negative prescription masks ( - 2.5 thru - 8)
Bouyancy 'noodles' for snorkellers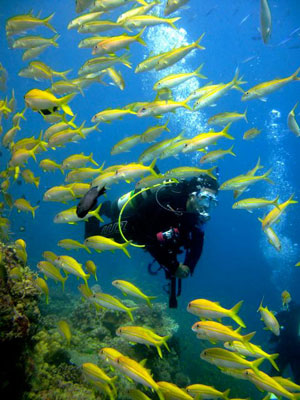 Tusa Dive Day Trips
TUSA Dive are Cairns local day dive operators with 25 years experience, and access to more than 16 unique sites on the outer Great Barrier Reef.
You will cruise to the outer reef on board Cairns' newest reef craft, the TUSA 6, custom-built for ultimate comfort and easy access to the water. Passengers numbers are limited to just 60 to ensure plenty of space, and Tusa's friendly crew will ensure your day is fun, safe, and memorable. Two new sites are selected each day as the best for the day's conditions, and provide a whole new underwater adventure daily. Activities include marine interpretation presentations, guided snorkel tours, 'introductory' diving, and certified diving with up to 3 dives in the day available.
TUSA Dive is an Advanced Ecotourism Operator, committed to providing a service that reflects our responsibility to contribute to the protection of our environment.
Day Trip Itinerary
8:00am daily departure from E Finger, Marlin Marina, Cairns
90 minute trip to outer reefs
4 to 5 hours at the reef at two unique locations
Certified divers - Choice of 2 or 3 dives
Introductory Divers - Choice of 1 or 2 dives
4.00 - 4.30pm return to Cairns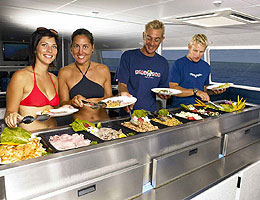 Your Day Includes:
2 outer reef sites, chosen from our selection of 16 sites
Fresh, healthy, and tasty buffet style lunch
Morning and afternoon tea
Tea, coffee, and milo (with soup in the winter)
Quality masks, fins and booties
Top quality scuba equipment and dive computers
Lycra suits for all in the warmer months (no charge)
5mm shortie wetsuits all year round (no charge)
3mm full length wetsuit in the cooler months (no charge)
Free Prescription mask hire
Free Guided snorkel tour
Reef Talk and Presentation
Professional Photographer onboard
Hot Fresh Water showers onboard