Scuba Diving Micronesia
Chuuk(Truk), Guam, Palau, Kosrae, Marianas, Ponhpei and Marshall Islands
Diving Micronesia: Pacific Diving at its best, for scuba diving variety try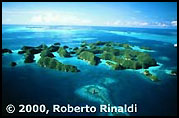 Over two thousand tiny tropical islands comprise the area called "Micronesia". Scattered over more than three million square miles of the Pacific Ocean, eight island groups each have distinct and totally unique history, culture, languages, and dive sites and attractions. The Micronesian island groups are Chuuk (Truk), Guam, the Republic of Palau, Kosrae, the Marianas, Ponhpei, the Marshall Islands
The Federated States of Micronesia (Kosrae, Ponhpei, Truk, and Yap) are a federation of four of these islands groups in the North Pacific Ocean, about ¾ of the way between Hawaii and Nothern Australia. These States are a constitutional government in free association with the US.
Palau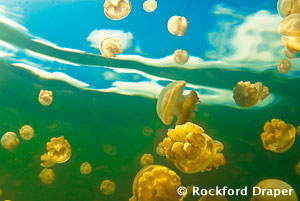 Explore the natural wonders of Palau the dazzling Rock Islands, stated by marine scientists to be #1 of the seven Underwater Wonders of the World. Palau offers much in the way of marine diversity; currents play a big role here inviting big animal action. Encounters with up to 2,000 species of fascinating sea life such as gray reef and white tip sharks, turtles, blue marlin, barracuda, manta rays, lionfish, dogtooth tuna, bumphead wrasse, crocodile fish and all the beautiful tropicals that make up a beautiful reef. Palau has a unique fresh water inland lake called Jellyfish Lake, where you can mingle with millions of stingless jellyfish.
Palau is a place divers seem to go back to, something for everyone is here, big fish and little critters with a very colorful back drop of brilliant soft corals, and large sea fans. We recommend diving on live-aboards here as you will be able to get 4 and 5 dives per day, enabling you to get to all the best dive sites. The land based diving resorts offer 2 dives a day, with a possible third dive.
Truk
Clustered in majestic silence beneath the aquamarine water of the infamous 40-mile wide Truk Lagoon lie the magnificent shipwrecks of Japan's Imperial 4th Fleet, condemned to a watery grave over 50 years ago by the US Naval air attacks in Operation Hailstone during WWII. Today these looming hulks are still referred to by name - Shinkoku Maru, Fumitsuki, Fujikawa Maru, Nippo Maru, I-169-Betty Bomber, Jill Torpedo Bomber, Yamagiri Maru, Rio de Janeiro Maru, Amagisan Maru, Sankisan Maru, San Francisco Maru. All are remarkably intact after decades laying in peace in Truk Lagoon. They comprise what few will dispute as the finest collection of wreck dives to be found anywhere in the world. A wartime bounty decorates their decks and holds, while exteriors are sheathed in an extraordinary tapestry of brilliant soft corals and colorful Pacific tropical fish. These historical structures have transformed into beautiful reefs crystallizing a moment of history that will forever be remembered.
*taken from SS Thorfinn brochure, thank you.
Yap
Yap is "World Class Diving's Best Kept Secret". Yap is most well known for its Mantas! Every day the combination of plankton, tide and current sets the stage for an undersea ballet featuring some of the ocean's largest creatures. Manta Rays, some weighing more than one ton, with wingspans of 14 feet or more, dance and glide through Yap's clear Pacific waters. Dozens of manta's can be experienced at one time offering an incredible visual explosion of the senses. Yap is perhaps the best known for its stone money, carved from the rock islands of Palau and transported over 300 miles of open ocean in sailing canoes. These disks are still in use today with their value being determined by size, shape and the difficulty of the acquisition.
Kosrae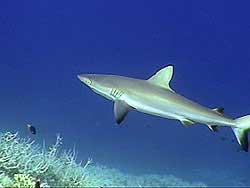 Kosrae is a mountainous island, covered with jungle and surrounded by a stunning fringing reef. It is the eastern most island in the Federated States of Micronesia, English is commonly spoken and the currency is USD. Kosrae is near the equator 5 degrees north, air and water temp. average 80 degrees. Kosrae is known for her gorgeous sandy beaches, pristine dive spots and friendly atmosphere.
Diving along the virgin reef is spectacular. Kosrae is known as the "Jewel of the Pacific" because of her beautiful dive sights. There is an abundance of marine life, which includes groupers, triggerfish, damselfish, barracuda, angelfish, parrotfish, 6 different kinds of moray eels plus all the colorful tropicals. Larger fish include turtles, sharks, dolphins, and rays. Kosrae is home to 170 species of stony corals and 10 species of soft coral.
In addition to diving, there are archeological ruins to explore, jungles to hike, mangrove channels to canoe, and WWII relics to investigate.
Marshall Islands
Bikini Atoll is the site of atomic and hydrogen test bombing in the late 1940's and 1950's. Bikinians still hope to resettle their atoll with US assistance. Bikini lagoon has many American and Japanese target ship wrecks, the final resting place of some of the most significant warships in history. The US aircraft carrier Saratoga (the only diveable carrier in the world) and the HIJMS Nagato, flagship of the Japanese Navy, are the highlights of this site along with other ships such as the battleship Arkansas and the submarine Pilotfish, depths can average 130ft for wrecks.
Nearby reefs that are alive with all types of fish and corals and have not been impacted by civilization for 40 yrs, round out this incredibly unique experience.
Kwajalein / Ebey Atoll
Kwajalein Atoll / Ebey is the largest atoll in the world. It is home to the US Satellite tracking station. Kwajalein offers approx 15 diveable wrecks, average of 80ft deep. No sandy beaches, nothing for non divers here.
Don't see what you are looking for? Just call us, we can put together any package, any hotel, any combination throughout Micronesia.