Home > Diving Micronesia > Micronesia Liveaboards
S/Y Truk Siren
Truk Lagoon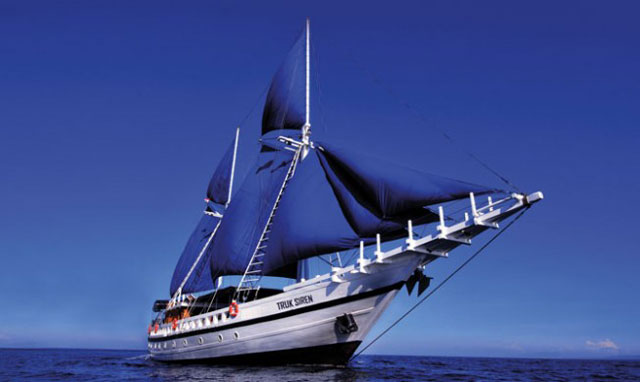 Diving the newest destination of the Siren Fleet!
Dive Truk Lagoon by luxury liveaboard and experience diving some of the world's top rated wreck dive sites in comfort and ease. She will launch in November 2014 to offer year-round diving in Truk Lagoon. Every thought for the modern diver is being taken into account and she will also provide tec-diving and rebreather diving facilities to enable our guests to get more from their diving experience. The yacht will follow a similar layout and design to our S/Y Philippine Siren liveaboard.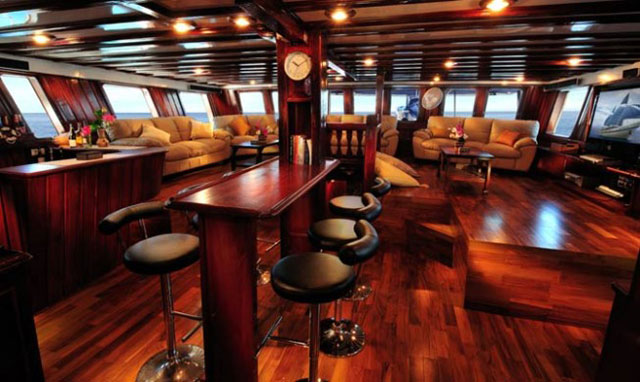 Liveaboard Description
The 40 metre S/Y Truk Siren luxury diving liveaboard built in 2009 will be refitted in 2014 to offer our guests Tec-diving facilities. She offers ample room for 16 guests in 8 cabins which are either fixed double or twin bed, however we wish to offer flexibility therefore 2 cabins have the option to be converted from twin to double. There are also 2 triple bed cabins which may be used for full charter trips to suit the needs of our guests.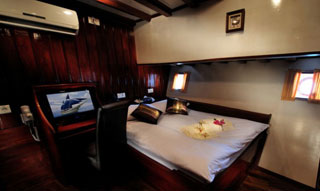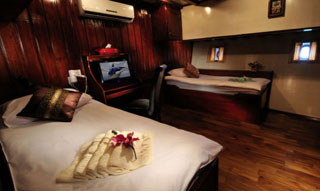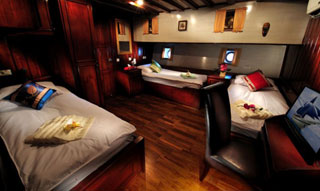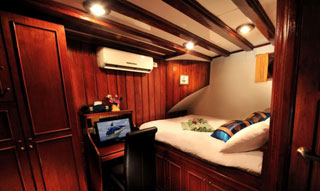 The outdoor dining area offers a superb setting for all your meals and the dive deck is spacious with individual set up stations, storage drawers for all your personal items and large rinse tanks for camera gear and torches.
Since her launch in 2009 we have also improved facilities for underwater photographers and videographers, providing both indoor and outdoor designated areas for charging and preparation of your camera and video equipment.
Built on the Indonesian Island of Sulawesi, she is a traditional "gaft-rigged Phinisi" handcrafted from ironwood and teak. Built by divers for divers the S/Y Truk Siren is a modern and spacious diving liveaboard.
Aboard the S/Y Truk Siren we shall welcome up to a maximum of 16 divers on each trip. This ensures abundant space for all guests.
Features of the S/Y Truk Siren Liveaboard include:
7 sails
An expansive shaded leisure deck and dive deck area with individual set up and personal storage
Deco Bar for stage stops
Gas blending station - for higher % O2 fills and Tri-mix blending
A spacious air-conditioned saloon with cocktail bar, 42 inch flatscreen & computer server supporting the inter-cabin network
Covered outdoor dining area - meals served buffet-style
8 large air-conditioned cabins each with their own audio-visual entertainment system and ensuite bathrooms with hot water. All rooms are lavished with luxury extra's including bathrobes, hair dryers, towels, individually controlled mood lighting and individual controls for your air-conditioning unit.
Laundry service
Massage service
Yacht boutique, a small selection of diving equipment and Worldwide Dive and Sail merchandise
Enriched Air Nitrox is FREE for all certified Nirox divers, up to 32%. If you are not a certified Nitrox diver all our instructors can certainly teach you the PADI Enriched Air Specialty
2 high-powered Zodiacs accompany the S/Y Truk Siren
Kayaks, available for guests' use FREE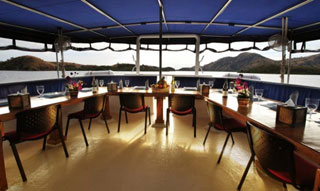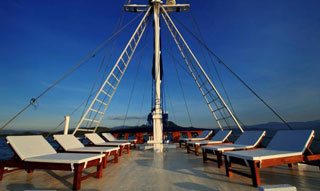 Specialised features for Underwater Photographers & Videographers include:
Each cabin is fitted with an individual computer and multiple power sources to facilitate the needs of digital photography. The computer features high end specifications and 20" high definition flatscreens, which are integrated with the yachts network server in the saloon.
Workstations for the preparation and maintenance of cameras including prep and storage areas.
Large rinse tanks with fresh water solely for cameras and videos.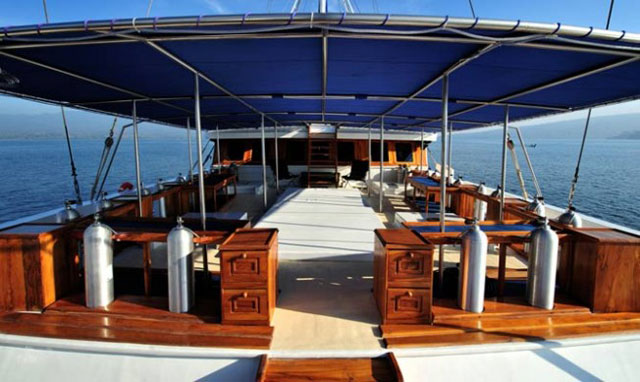 Dive Truk Lagoon, departs from Weno
Year Round 7 or 10 nights
Experience the Wreck Diving Capital of the World with your favourite liveaboard fleet and delve deeper into history!!. The majority of the 61 sunken ships and aircraft from the Japanese fleet lie well within recreational limits and experienced divers will find plenty of sites to choose from during the course of our liveaboard safari.
Our 7-night or 10-night itineraries allow divers to explore not only many of the famous wrecks but to experience some superb reef diving also. There are numerous channels that cut through the reef which serve as hunting grounds for reef sharks and schooling pelagics which all add to the wonder of diving Truk
Truk Lagoon - Liveaboard Diving Itinerary
Departing from Weno, our 7-night and 10-night liveaboard dive trips on the S/Y Truk Siren take you directly to the main concentration of wrecks lying within the bay. The S/Y Truk Siren will moor over the deeper wrecks allowing for our divers to descend easiy down the line directly to the wreckage. Tec divers will benefit from the support of the "mothership", whilst our 2 dinghies are able to shuttle less experienced divers to the shallower sites and offer reef diving as an alternative to the wrecks.
Many of the wrecks are "Maru" or merchant vessels that had been left at anchor, some had been fortified with anti-aircraft weapons and many carried important army supplies including Zero Fighter aircraft parts, tanks, torpedo shells, trucks and road supplies. Bottles, cooking utensils, items from everyday life and personal artifacts can be found in several of the wrecks, serving as a reminder to the visiting divers of those who lost their lives during the battle. The more gruesome reminders of the conflict, such as human skulls, have since been removed and may now only be seldom seen in the deeper reaches of the wreckages.