Home > Diving Micronesia > Micronesia Dive Operators
Fish 'n Fins
Palau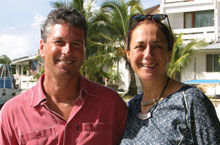 About Fish 'n Fins
Tova and Navot Bornovski, owners and operators of Fish 'n Fins, and Ocean Hunter liveaboards welcome you to Palau. It will be our pleasure to assist you broaden your knowledge of Palau, prepare your trip of a lifetime and host you here as our personal guests, for diving, exploring the islands and relaxing. Our international, professional and friendly staff will be here to assist us in hosting and looking after you whilst you are in Palau.
Dive Operations:
Boats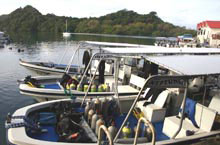 You did not travel all the way to Palau to dive just to be piled up in the same small boat with 20 other divers. At Fish 'n Fins we limit the number of divers per boat. Explore our reefs with few divers around you.
All our boats have cushioned seating, protective overhead covering, and dry storage compartments. We have dive boats measuring:
38 feet 2 X 225 HP 4-stroke engines (Triton)
35 feet 2 X 225 HP 4-stroke engines (Poseidon & Neptune)
32 feet 2 X 175 HP 4-stroke engines (Nautilus)
29 feet 2 X 150 HP engines (Kon-Tiki & Calypso)
27 feet 2 X 150 HP engines (Jaco)
Tanks and Air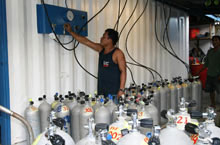 Fish 'n Fins offers the diver a wide variety of Air Tanks: 80 (our standard), 100, 70, and 63 cubic feet (12, 15, 10.5 and 9.5 litres).
Our NITROX tanks are aluminum 80's clearly identified with yellow / green NITROX markings. We have Standard and DIN valves available and we guarantee your tanks will always be filled to their maximum working capacity.
Fish 'n Fins is very proud of its Air Quality. It is analyzed at set intervals by Trace Analytics, Inc., 15768 Hamilton Pool Rd., Austin, TX 78738, Tel: (800) Air-1024. And it is in compliance with the Compressed Breathing Air Specifications CGA G-7.1-1997 Grade E(2).
Dive Guides
You will always have at least one dive guide on your boat, often an international team of two, who will lead you in the water on every dive, helping you identify fish, showing you underwater secrets, and answering all your questions about Palau. Our dive guides are all trained to at least the PADI Divemaster level and are underwater naturalists. They hail from Japan, Philippines, Israel and Austria. However, we also have made a commitment since 1972 to hire and train local Palauan dive guides, so the majority of our guides and all our boat captains are Palauan. Having grown up around the reef, they act as invaluable sources of knowledge, and ambassadors into Palauan culture as well. The Dive Guides are there to ensure you have a fun and safe trip.
Itinerary
We have a flexible dive itinerary customized according to our divers' wishes and our knowledge of the best dive sites for the day's conditions.
A morning dive trip leaves around 8:30am and returns anywhere from 3:30-5:30pm, earlier or later at your request.
In between two dives, take a one-hour surface interval in a beautiful snorkel spot where you can explore around the Rock Islands.
Lunch is usually after the two dives--we have a picnic on a Rock Island beach.
Without paying extra, you can stop and snorkel at the intact and shallow Zero plane, the giant Tridacna clams, or ask your driver about the Milky Way--you'll be in for a traditional treatment: Palauan white clay masks with a private lagoon for a spa.
We try to make sure everyone visits where they want to go.
Enjoy the scenic boat ride including WWII relics, ancient red cave paintings, and the famous Rock Island Arch.
Sit back, relax, and let us take you to the best sites Palau has to offer.