Home > Diving Micronesia > Micronesia Liveaboards
Odyssey
Truk Lagoon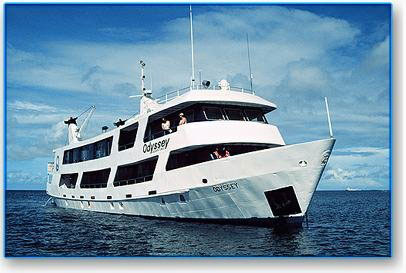 On board the Odyssey, Truk's finest liveaboard vessel, you'll find amenities consistent with the world's top liveaboards.
Six staterooms (14' x 8 ') with either king size or 2 twin beds
Two private single staterooms (11' x 6')
One stateroom (10 ' x 9 ') with a double/twin bunk
ALL staterooms have private ensuite facilities, air-conditioning controls, DVD player, and are carpeted.
Carpeted and air-conditioned throughout the vessel.
Large dining area with full commercial galley.
A separate entertainment lounge with TV, VCR (PAL & NTSC), DVD, stereo, library and bar.
Staterooms
The Odyssey boasts nine large, luxurious staterooms all fully carpeted with private air conditioning controls, windows or large portholes, and private toilet, shower and sink all in every stateroom. Six of the staterooms are equipped to easily accommodate two single travelers in twin beds or a couple in a spacious king size bed. Also available are two staterooms for single travelers only - they have all the features of the double staterooms and easily accommodate the single traveler in a twin bed. The ninth stateroom's sleeping arrangements are a bunk bed with a double bed below and twin above. All staterooms have a DVD player with 13" monitor. Staterooms are cleaned daily.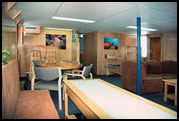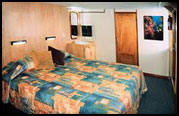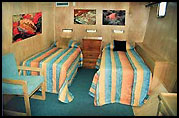 Dive Deck Facilities Include:
Personal dive lockers
Two gear rinse tanks
Large, convenient dive platform
Two dive ladders
Fixed safety/deco bar
Tanks filled at your seat
Freshwater shower
Warm deck towels
Nitrox, for certified Nitrox divers
DIN or yoke valves
Tanks (alum 80 and steel 108), weights, and belts
Certifications available
Technical Diving Facilities Include:
Double aluminum 80 tank systems
Dual valve isolation manifolds, DIN or yoke
Aluminum 30's for deco gases
Fixed deco bar
Photo Facilities Include:
Large 3-tier camera table
Two camera rinse tanks
Battery charging station
Diving Aboard Odyssey
Dive with Odyssey Adventures to see the ghost fleet of Truk Lagoon, the world's best shipwreck destination. That's only the beginning of your adventure. You'll see an abundance of incredible tropical fish, anemones, gorgonians, and eagle rays.
You'll have the option to dive at your leisure, or borrow one of our experienced local dive guides who will show you all those places you wouldn't find on your own. On a normal itinerary all sites can be dived within the recreational dive limits.
We recommend DAN insurance or equivalent. DAN Master insurance is preferred but not required.
Instructors doing training on the boat MUST provide proof of insurance.