Home > Diving Micronesia > Micronesia Dive Resorts
Manta Ray Bay Hotel
Yap

The Manta Ray Bay Resort is a full-service dive resort, designed by divers and built for divers. Each of our uniquely themed rooms offer air conditioning, refrigerators (upon request), IDD telephone, Internet Access and in-room TV and DVD player.
Our Resort has all of the services and conveniences for divers and non-divers alike. Take a dip in the infinity pool and soak up some Micronesian sun. Enjoy a relaxing massage at the Taro Leaf Spa. Savor the delicious cuisine onboard the Mnuw at the Manta Ray Bistro. Grab a pint from our on-site brewery, Stone Money Brewing Company, at the Crow's Nest Bar.
We have often been called "The Best Little Dive Hotel in the Pacific".
Built With Divers In Mind...
The hotel was built with divers in mind. All of the dive facilities and equipment storage are conveniently located within steps of the Hotel. Yap Divers, located on the premises, offers a full service dive shop, all levels of instruction, Mares & Oceanic rental equipment, morning and afternoon two tank dives to either the Manta sites or the reefs and walls. A number of specialty dives are also offered on a daily basis - Mandarin Fish, Macro, Shark Feed and night dives. NITROX is also available for all dives.
Comfort, Luxury, Service
35 ocean-themed, well appointed rooms
All rooms are now non-smoking!
Infinity Pool & Pool Deck
Private Plunge Pools
Private, Rooftop Jacuzzi
The Mnuw ship's Restaurant & Bar
The Taro Leaf Spa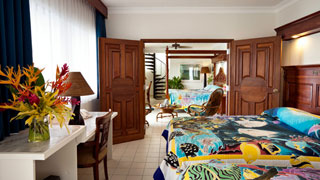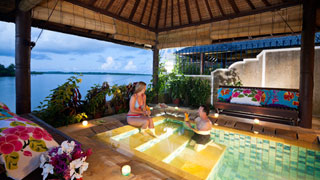 Deluxe Ocean View Rooms and Suite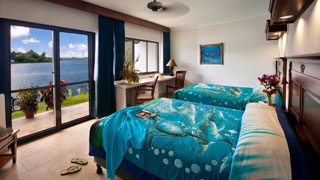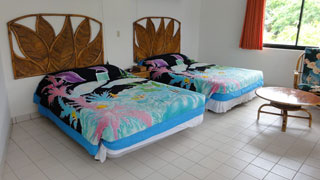 Ocean View Room & Standard Room
Dive Center - Yap Divers
Award winning Yap Divers is Yap's first PADI Golden Palm Resort and is adjacent to the Manta Ray Bay Hotel thus forming Yap's first PADI Gold Palm Resort.
With Yap Divers, you can be assured of clean, pure air, safe diving, and a full range of instruction available from Open Water through Divemaster. We also offer a number of specialty dive certifications for those who want to expand their formal dive training, and we are home to the only place in the world where you can do the PADI certified Manta Ray Awareness Course. This makes for a perfect combination to enhance the Yap Island vacation.
The dive traveler is offered all that he or she could ever ask for in terms of dive experiences with regularly scheduled drift dives, wall dives, cavern dives and night dives, as well as our specialty - Giant Manta dives.

Nitrox - More Time, More Safety And More Comfort
Yap Divers also offers NITROX on Yap as well as PADI Enriched Air Specialty or TDI Nitrox Certification Classes. For Yap, NITROX is perfect for both extending bottom time on the manta dives as well as the added safety and comfort associated with NITROX diving.