Home > Diving Micronesia > Micronesia Liveaboards
SS Thorfinn
Truk Lagoon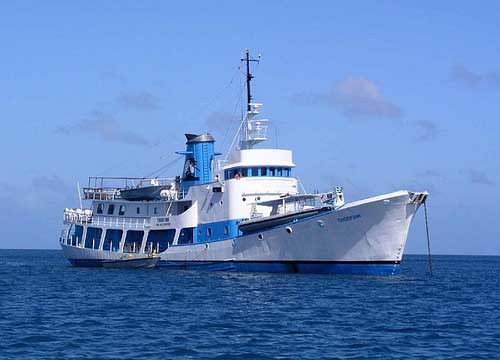 For a taste of paradise aboard the SS Thorfinn and a peek into the world of Truk Lagoon, Micronesia.
ONBOARD
Dining Lounge
Dedicated dining lounge on 'D' deck provides seating for 22 guests. Friendly dining room staff serve breakfast cooked to order and other meals a la carte. Two chefs create a variety of delicious meals and daily fresh baked goods, with attention paid to all dietary needs. An additional bookcase here houses overflows of the many books in our library - feel free to leave a finished book and take a different one for the journey home. Out of meal times this is a quiet place to work on photos, or play a lively game of cards!
Guest Lounge
A spacious comfortably furnished 'C' deck salon features a multi system Plasma TV with DVD player, a CD player with IPOD connection, and a surround sound 4 way speaker system. A well stocked DVD and paperback book library, magazine rack, reference books (fish, wrecks) are all available for guest use. Indirect lighting, large view windows and comfortable seating make this a popular guest area. The bar provides a range of beverages - from coffee, tea, hot chocolate and soft drinks, to beers, wines and spirits at reasonable cost.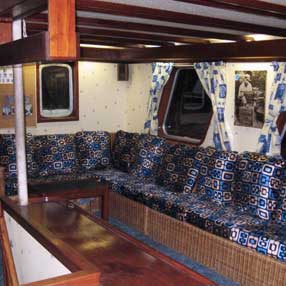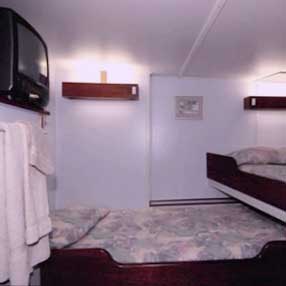 Guest Rooms
Eleven air conditioned staterooms accommodate 22 guests in double occupancy. All have in room vanities, TV's and DVD players, indirect lighting and full length closets. Eight rooms located on 'D' and 'E' decks have double or queen size beds plus adjacent single berths. Private showers and toilets are fitted in each of these rooms. Three additional rooms on 'C' deck are bright and spacious with two shared shower rooms and two shared toilets.
Spa Deck
This 'C' deck location aft of main guest lounge is favored after a dive or late at night with both south and northern constellations in clear view. With good music playing on outdoor aft speakers, a refreshment in hand and perhaps the right company ...what more to perfection..? Our big commercial sized tub seats 12 persons by design, and has actually had 26 party animals squeezed in for a New Year's initiation ball. This ocean water system is supplied by coolant water flows from auxiliary diesels in engine room. Powerful jets can help to massage away any aches or strains at the end of another busy day.
Sun Deck
A popular daytime haunt up on 'B' deck, with sun loungers for sun addicts. An overhead shade canopy provides cool shade while reading a book or enjoying a magnificent view of Paradise.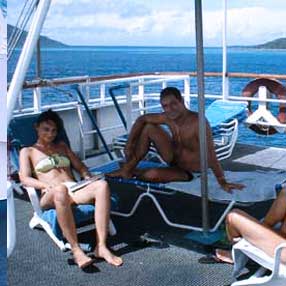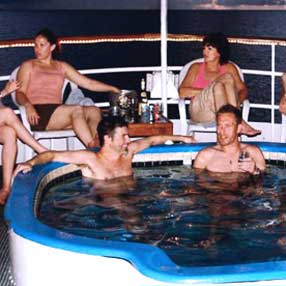 DIVING
Wreck Diving
Do not be intimidated by rumored extremes of diving in Truk Lagoon, as its warm tropical conditions, sheltering islands and reefs make it one of the most comfortably accessible dive locations in the world. This sheltered part of Micronesia has diving and wrecks suiting all divers, from shallow snorkeling, down to deeper wrecks (still within recreational limits) for more advanced divers. There are minimal currents with-in the confines of Truk Lagoon and consistent good visibility, making the diving easy and accessible for any diver. Penetrations and dive depths are nominated and customized to the comfort, needs and experience level of individual divers. We offer a range of courses onboard from open water through to Rescue.
Technical Diving
Aboard Thorfinn, you will be provided with some of the most rewarding experiences in technical diving available around the world. Onboard oxygen generators provide a steady supply of oxygen, and combined with partial pressure filling methods and a Haskel booster, various mixes of Enriched Air Nitrox can be provided to suit individual requests. Thorfinn supplies hospital grade Helium for Tri-mix blends if requested. Banded twin cylinders with isolator manifolds and various size stage/deco cylinders are available for your technical diving desires. Side-mount cylinders are easily rigged with onboard equipment supplies. Our technically trained dive team will ease any equipment strains and ensure full surface support. Four dive tenders provide possibility of alternate schedules for extended deep profiles. We offer most specialty courses aboard as well as technical dive training.
Re-breather Diving
Thorfinn's two oxygen generators produce between 95 - 97% purity, and along with imported Helium, makes Thorfinn, Truk Lagoons most favored option for both re-breather and technical diving. To meet special needs for re-breather divers we supply both Sofnalime and Sodasorb for re-breather scrubbers in a range of grades. The diluents mix provided is pure compressed air or in a combination with our hospital grade helium. A selection of re-breather cylinders are available for rental in a range of sizes suitable for most manufacturers, and all cylinders are oxygen cleaned and compatible to comply with industry standards.