Home > Diving Micronesia > Micronesia Liveaboards
Ocean Hunter I
Palau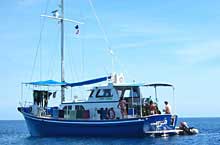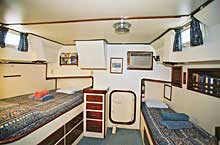 The Ocean Hunter I has been specifically designed by divers, for divers. Unlimited diving is conducted off a spacious diving platform at the stern of the boat and hardly ever off a chaseboat (so you can climb right back onto Ocean Hunter I when you're done and take a warm freshwater shower!).
Ocean Hunter I has three cabins with private bath and a/c, and accommodates up to 6 guests, which means uncrowded reefs, ease of entry into the water, personal attention and maximized bottom time. Furthermore, Ocean Hunter I is designed for professional underwater photography, with a big working area and more than 60 electrical outlets (110 and 220 volt), extra storage space, and E-6 processing available overnight. NITROX tanks and certification are available onboard. Our chef serves fresh low-fat gourmet cuisine. Built by the pioneer divers of Palau for others to explore Palau's waters, reefs, caves and wrecks for themselves in comfort and intimate luxury, Ocean Hunter I provides a high-class, unrivalled liveaboard experience for diving the true Palau.
Below is a sample schedule of a day onboard the Ocean Hunter I.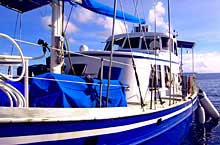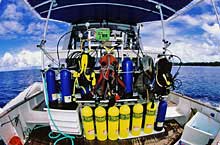 Please note that since we take only 6 divers, we are very flexible and customize the itinerary for each diver. We've had guests that have had 6 dives a day and some that were interested in 3 dives a day only.
06:30 - Gourmet coffee / tea and sweet rolls
07:00 - First morning dive
08:30 - Full Breakfast
10:00 - Second morning dive
11:30 - Snacks
11:45 - Third dive
13:00 - Lunch, 14:30 - Fourth dive
16:00 - Fruit smoothies and cake
17:00 - Dusk dive
19:00 - Night dive
20:15 - Dinner (can be served before night dive if requested)