Home > Diving Micronesia > Micronesia Liveaboards
S/Y Palau Siren
Siren Fleet's Liveaboard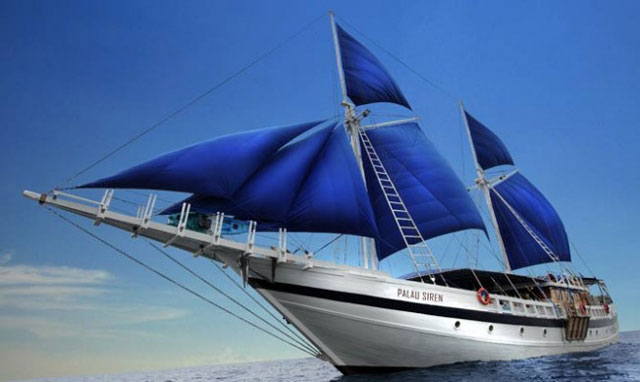 Boat Description
The 40 metre S/Y Palau Siren will be the newest member of our fleet, when she is set to launch in November 2012 with the first of her 10 night trips. She has the same specifications as her sister yachts, the S/Y Philippine Siren and the S/ Y Indo Siren. The cabins offer flexibility and can be used as twin or double bedded rooms. The dining area is very spacious offering a great setting for all your meals. The dive deck is perhaps the most spacious and comfortable you would have experienced. Designated areas for charging and preparation of your camera and video equipment, the S/Y Palau Siren, as all Siren Fleet yachts, truly sets out to be the pros choice for underwater photography and videography.
She is currently under construction on the Indonesian Island of Sulawesi, and like our other yachts, is a traditional "gaft rigged Phinisi" handcrafted from ironwood and teak. You will find no other dive liveaboard as beautiful in the waters of Micronesia, and being that she was built by divers for divers you can rest assured every need has been thought of and is being implemented.
Aboard the S/Y Palau Siren we shall welcome up to 16 guests on each trip. This ensures abundant space for all guests.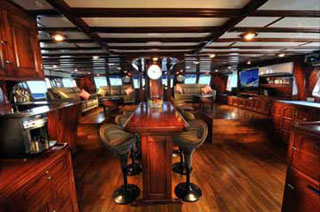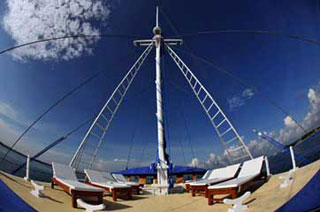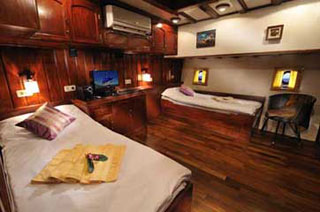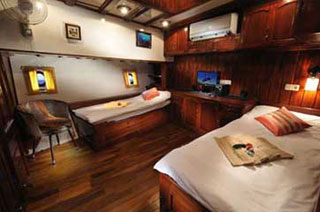 Features of the S/Y Palau Siren liveaboard include:
7 sails
An expansive leisure deck area
A spacious air-conditioned saloon with cocktail bar, 42 inch flatscreen & computer server supporting the inter-cabin network covered outdoor dining area
8 large air-conditioned cabins each with their own personal computer, audio-visual entertainment system and ensuite bathrooms with hot water. All rooms are lavished with luxury extra's including bathrobes, hair dryers, towels, individually controlled mood lighting and individual controls for your air-conditioning unit.
Laundry Service
Massage Service
Yacht Boutique, which will make available to customers Worldwide Dive and Sail merchandise, including poloshirts, hats, log books, t-shirts and reef hooks just to name a few items
Enriched Air Nitrox is free for all certified Nirox divers. If you are not a certified Nitrox diver all our instructors can certainly teach you the Enriched Air Specialty
2 high-powered Zodiacs accompany the S/Y Palau Siren
Kayaks
Specialised features for Underwater Photographers & Videographers include:
Each cabin is fitted with an individual computer and multiple power sources to facilitate the needs of digital photography. The computer features high end specifications and 20" high definition flatscreens, which are integrated with the yachts network server in the saloon.
Workstations for the preparation and maintenance of cameras including prep and storage areas
Large rinse tanks with fresh water solely for cameras and videos.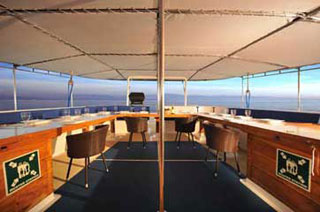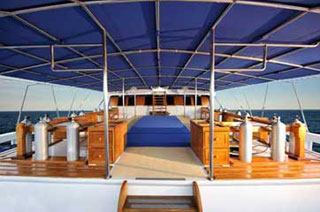 Itinerary for Liveaboard Diving in Palau
Siren fleet offers 7 & 10 night liveaboard cruises departing from and returning to Palau's capital city, Koror. Join S/Y Palau Siren as she sails from the Malakal harbour wrecks to the Ulong Channel, Ngerchong Island, German Channel & Peleliu Island before returning to Koror. During our 10 night itineraries we also visit the furthermost island of Angaur and dive sites to the north at Badeldaob Island.