Home > Diving Micronesia > Micronesia Dive Resorts
Kosrae Village Resort
Kosrae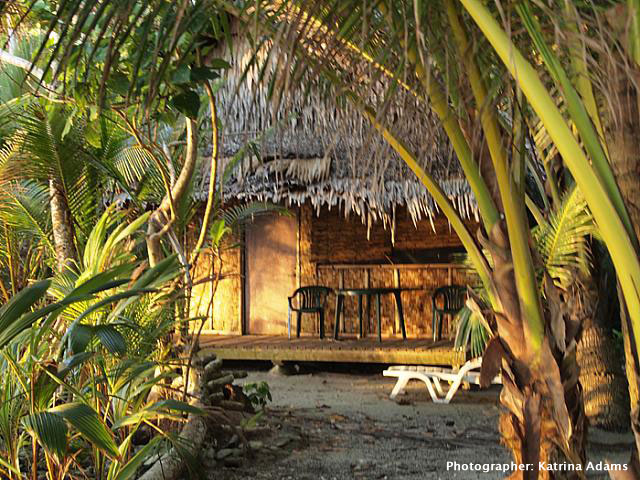 The Kosrae Village Resort, traditional thatched bungalows on the shores of Kosrae, gourmet restaurant and lounge, 5 Star Padi dive center & handicap accessible. Bungalows nestle among coconut, banana and mangrove trees, waves breaking on the reef, a pod of spinner dolphins just beyond the reef leaping joyfully out of the water!
Accommodation
Our spacious individual cottages are traditional Kosraean "lohm" hidden under the shade of enormous mangrove, pandanus, and coconut trees at the ocean's edge. They are connected by paths of naturally hard packed sand. We are experimenting with solar lighting for the pathways, but now they are often lit by candles (weather permitting :)).
Traditionally, the construction of a Kosraean lohm or house begins by burying four huge corner posts six feet or more in the ground. These posts give the house its strength. As additional framing is added the entire structure is held together by strong coconut fiber twine woven in intricate knots around the timbers. The floor is raised above the ground to allow the easy flow of cooling tropical breezes and the walls are constructed of locally woven reed siding. The peak of the steeply pitched thatch roof is 20 feet off the ground, easily shedding rain and encouraging cooling air currents.
The techniques work just as well now as they did 500 years ago!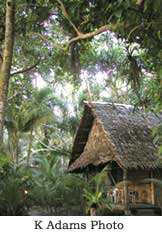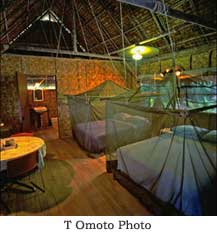 Visually rich, the cottages are also extremely comfortable from the spacious porch to the large bathroom and private garden shower. Modern amenities include:
Extremely comfortable queen beds (draped in mosquito netting)
Ceiling and floor fans
24 hours electricity and hot water
Refrigerator and coffee maker
Wireless Internet reaches some of the cottages
We are happy to exchange the queen beds for twin or single size beds, put in a large worktable (photographers and scientists - take note!) or make any other adjustments you need.
Diving
One of Kosrae's crowning jewels is her stunning fringing reef. The abundance of marine life and pristine hard corals make this a prime destination for divers throughout the world. Many of our best dive sites have mild currents and are great for photographers. Just remember, to keep our pristine corals healthy, you'll need to have good buoyancy skills. This coral reef is unique in that it offers a rich and exciting diving experience for even the most experienced divers - we never tire of it ourselves - and the safety of an easy dive for beginners. This reef proves that diving doesn't't have to be hard to be thrilling.