Home > Diving Micronesia > Micronesia Liveaboards
Palau Aggressor II
Aggressor Fleet's Liveaboard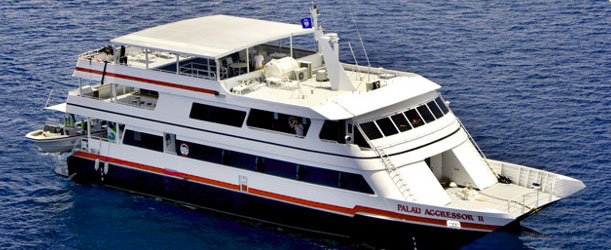 The Palau Aggressor II was built to U.S. Coast Guard standards with a full complement of safety equipment.
Length: 106 ft.
Beam: 30
Passengers: 18
Crew: 6
Saturday to Saturday trips
Boarding: Sat. 4:00 p.m.
Check out: Saturday 8 a.m.
Palau has been an Aggressor destination since 1990.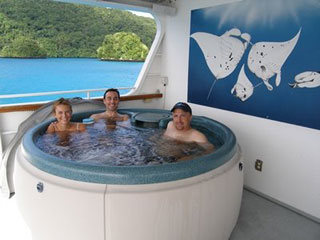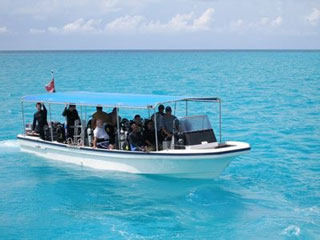 Staterooms
(8) Deluxe Staterooms
Each with a queen bed and single bed, private head and shower, closet, port window, individual climate control and hair dryer.
(1) Double Stateroom
Lower double bed and upper single bed with private head and shower, individual climate control and hair dryer. Located on the dive deck.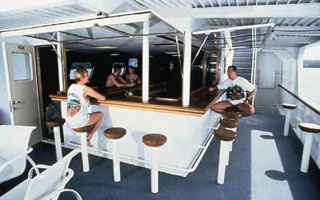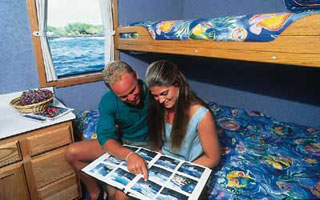 Welcome to Palau (Sunday to Sunday)
Palau's mushroom-shaped rock islands offer a variety of exciting dives: WWII wrecks, shark-infested channels, blue holes, a freshwater lake with stingless jellyfish and even a few caves. There are also sheer walls covered in lush soft corals and huge anemones. Beginner divers may find Palau's strong currents challenging.
Palau is a year round destination with something for every season. While German Channel has many resident Manta Rays, during the mating season, December through March, Aggressor guests may see as many as 20 - 30 rays! February and March offer large schools of Moorish Idols, Unicorn Fish and several species of Butterfly Fish. All year round, the Palau Aggressor crew encounters massive bait balls of scad in and around Ulong and German Channel and on the reefs of Blue Corner and Siaes Corner.
All dives are made from the 18-passenger dive skiff, which is lowered into the water by a hydraulic cradle. Seven-day charters are Sunday to Sunday with five days and one-half days of diving. Diving begins Monday morning and ends Saturday before lunch when the Aggressor returns to port. Monday through Friday there are four dives offered each day and a night dive on three evenings. Saturday a half-day of diving is offered.