Home > Diving Micronesia > Micronesia Liveaboards
Ocean Hunter III
Palau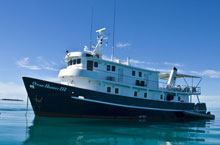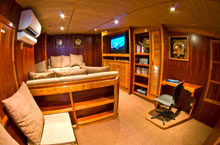 Welcome to Ocean Hunter III, the latest addition to the Ocean Hunter Fleet in Palau. The boat will represent 25 years of knowledge in the liveaboard industry and like all of our liveaboards was designed by divers, for divers. So where are we taking her? Everywhere we can! Once she's been refitted to our usual high standards (about a 5 month job) then we'll be exploring all over the Western Pacific Ocean. We're planning on taking her to all sorts of exciting and rarely-dived places - the Southwest Islands of Palau, the outer islands of Yap, Northern Papua New Guinea, the Northern Marianas and even north to the Southern islands of Japan
Ocean Hunter III has 6 standard cabins and 2 master staterooms all with private bath and a/c, and accommodates up to 16 guests with personal attention and plenty of space. There is a large dining room and a comfortable salon with sofas and an entertainment system. Furthermore, the vessel is designed for professional underwater photography, TV and Film production, with a sizeable working area, 110, 220 and 415 volt electrical outlets, , extra storage space, and E-6 processing available overnight. Ocean Hunter III offers powerful PC's for movie and video editing.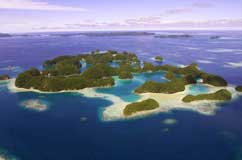 Technical diving support:
• Nitrox, TRIMIX and Rebreather support
• Nitrox certification available onboard
• Twin Bauer compressors, Nitrox membrane
Production support:
• Twin generators for high voltage equipment demand.
• 1.6 tons hydraulic crane offers lifting capacity for most ROV's, underwater cameras and Mini-subs.
• Enclosed and Air conditioned lab for scientific research and film productions.
• Underwater Scooter
• 1200 Watts HMI lights to back-light corals, UV Filters, caves and wrecks.
Ocean Hunter III offers the very latest of high quality liveaboard experiences.
Our chefs serve fresh, low-fat gourmet cuisine.
A sample schedule of a day onboard the Ocean Hunter III:
06:30 - Gourmet coffee / tea and sweet rolls
07:00 - First morning dive
08:30 - Full Breakfast
10:00 - Second morning dive
11:30 - Snacks
11:45 - Third dive
13:00 - Lunch,
14:30 - Fourth dive
16:00 - Fruit smoothies and cake
17:00 - Dusk dive
19:00 - Night dive
20:15 - Dinner