Scuba Diving Mozambique
Diving Mozambique, Bazaruto, Inhambane, Quirimbas ... with Mantas and Whale Sharks
Diving in Mozambique is very unique, a true adventure just getting there. Mozambique is a large country and we talk about diving in the middle section of Mozambique which entails, Inhambane & Tofu area for the mantas and whale sharks, again that season is October thru May.
The general rule of thumb is the more north you go the better the beaches and more remote the properties. The diving tends to be very good as well and you will enjoy a great variety of unspoilt and relatively undiscovered dive sites. The south tends to be more popular as its easier / closer to access but the north definitely is the better option to visit.
May should be fine for travel to Mozambique. It is generally after the rain season (which ends around February / March) and the weather is still very hot.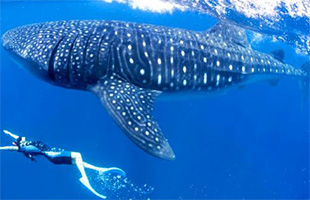 Bazzaruto and Quirimbas Archipelago
Bazaruto Archipelago: The resorts on Bazaruto and Benguerra Islands are amongst the most popular tourist areas in Mozambique.
Quirimbas Archipelago: Consisting of 32 small islands, including Ibo Island, the area boasts some of the richest coral reefs in the world. Ibo Island is a former Portuguese trading post and has been nominated for World Heritage status. The island is steeped in history and ancient culture.
Niassa Reserve: Situated in far northern Mozambique, this is one of the largest protected miombo woodland ecosystems. Niassa Reserve is surrounded by many rivers and has a good concentration of wildlife.
Inhambane
It has 2500 km of pristine coastline, with pristine beaches and virgin reefs. Having been colonized by the Portuguese, it has a rich and diverse culture, a mixture of African, Arab and European influences. Hear the Afro-lating beat of the local music. Walk on miles of deserted beach, surrounded by coconut palms leaning in the breeze, and you'll know you've truly come to paradise!
The 2500km coastline is scattered with endless coral reefs, tropical beaches and is a mecca for scuba and snorkel divers, sun worshippers and adventures explorers. The pristine coast is one of the few unexplored pleasures of the Indian Ocean and host a dazzling display of marine life. Whatever your needs to have fun in the sun in Mozambique, you have come to the right place!
October through February is whale shark season, and these peaceful giants of the ocean are often seen (but not touched) by lucky dives and snorkelers.