Home > Diving Mozambique > Mozambique Dive Resorts
Ibo Island Lodge
Quirimbas Archipelago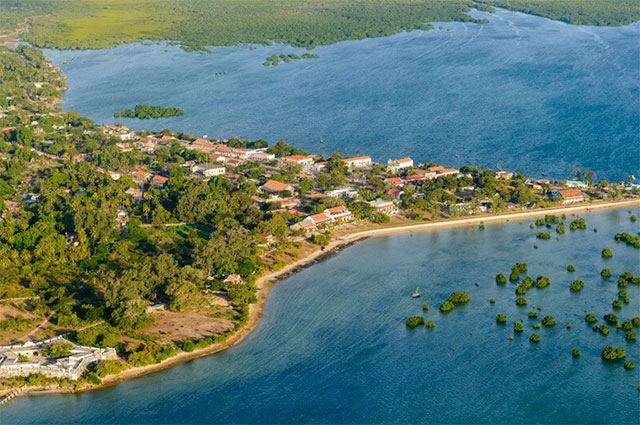 At Ibo Island Lodge we pride ourselves on offering some of the most unique, authentic and luxurious accommodation in Mozambique. We are located on the prime waterfront site on Ibo Island in the Quirimba's Archipelago. Three historic and magnificent mansions, each over one hundred and fifty years old, have been lovingly restored to their former glory and make up this Mozambique Hotel.
Our 14 rooms with their air-conditioning and ceiling fans to keep things cool in the balmy tropical weather. Each room is individually designed and features elegant pillars, meter thick coral and lime walls, lofty tall ceilings and solid teak beams. This is a great example of some of the best and most unique Mozambique Accommodation.
Ibo Island Lodge is set amongst lush gardens planted with frangipani, bougainvillea and palm trees. Three swimming pools beckon an escape from the heat of the day whilst sipping on one of Kissinger's legendary Mojito's! Our Bela Vista lounge lives up to its name with mesmerizing views over the bay at high tide, and our private dining room features an enormous solid teak banqueting table, perfect for a private romantic dinner, or a group celebrating a birthday or anniversary in Mozambique.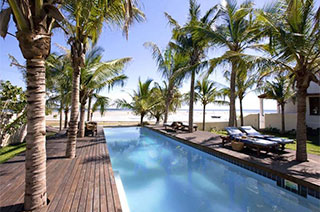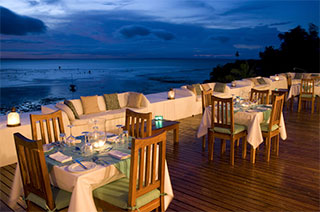 The heart of Ibo Island Lodge is upstairs on the Bela Vista roof deck restaurant where guests sip sundowners and after dinner drinks under spectacular stars. Our restaurant faces west for unbelievable sunsets and our talented chefs are renowned for their award-winning tasty menu and fresh seafood, usually accompanied by tropical orange sunsets and dreamy views over the bay.
Guest experiences at Ibo Island Lodge are some of the most varied in all of Mozambique. Booking a unique Mozambique Holiday Package to the island will reveal to visitors our secret sand bank beach and our Quirimba mobile island hopping safaris. The island is steeped in ancient architecture, history and culture, and our guided tours bring the fascinating legends alive. We also offer outstanding scuba diving and snorkeling, castaway beach picnics, guided sea kayaking, birding safaris, traditional dhow sailing, the mangrove forest experience, massage, romance and tranquility.
Ibo Island Lodge in the Quirimba's Archipelago is stylish yet simple and relaxed. We offer all the ingredients for a once in a lifetime Mozambique island holiday, and a perspective that will change your life forever. This is Mozambique accommodation at its best.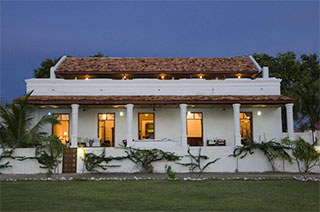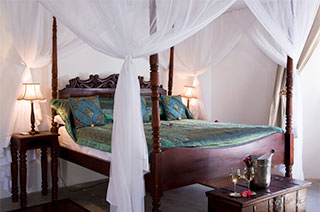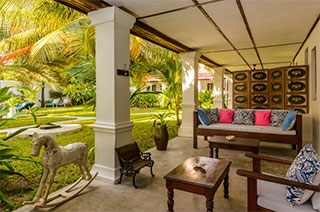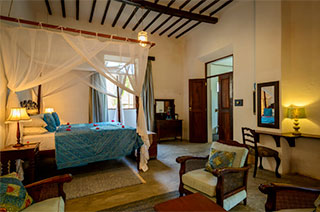 Diving
Please note: Ibo Island Lodge has a PADI Dive Resort called Dive Quirimbas with a full Dive Instructor standing by to assist both accredited or learner divers.
Ibo Island diving spots offer shallow sites for the casual diver and dramatic drops for the more serious. Wild underwater landscapes, rainbow marine fish, and gentle warm currents, all make scuba diving a world in its own right.
The best diving on Ibo is at the light house. It's a long wall that covers an area of 1 square km. Starting at 10 m of depth you have both large gardens of coral tables, soft corals, bucket corals, green tree corals and the wall side that goes down to a coral bottom at 21m were you can see a good range of tropical fish.
Other sites that can be easily accessed from Ibo are the southern tip of Matemo where dolphins, turtles, and bright neon fish sit in the oceanic traffic with you. Just off the sandbank beach is the wreck of an old coal steamer vessel. Because of the usually crystal clear waters, you can still see scattered pieces of coal, once on the ship over 100 years ago. This is also a great snorkelling site.
The Quirimbas is a combination of diverse marine life, untouched coral reefs and tropical ocean currents. We don't mind if you are a novice or accomplished, we just want to show you our sweetlips and angelfish, our dolphins and turtles, not to mention the hump backed whales which you could view in season (July to September).