Home > Diving Mozambique > Mozambique Dive Resorts
Nuarro Lodge
Memba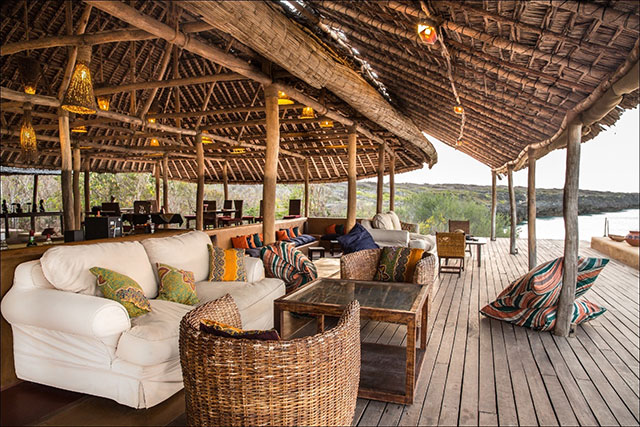 Located on the shores of the warm and azure Indian Ocean in northern Mozambique, lies the remotely, but specifically chosen Nuarro Lodge. Backed by the wild Mozambican bush, fringed with old and established baobab trees to the back; and fronted by the calm and aquamarine bay of Nanatha, the lodge is peppered along a more than 2km-long, powdery-white beach in the middle. Built from natural materials, by the local community, makes the environmentally sensitive Nuarro Lodge, the ideal venue in which to relax and unwind in these equally pristine surroundings. Nuarro Lodge is all about friendly people, top-class activities and fantastic food, showcasing a spectacular, pristine environment in the most responsible way possible!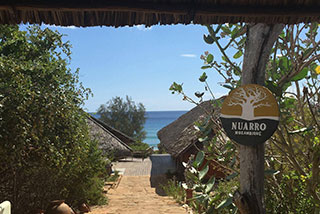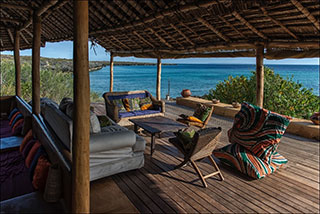 Chalets
There are twelve stunning beach-front chalets, peppered along the (more than 2km long) beachfront.
The 100m² chalets are all built from local, natural materials and were built by local people. Built on the dunes, designed to blend in with the natural environment as much as possible, all chalets have sea view and private access down to the beach. Some of the chalets are larger and can accommodate up two extra beds, making it perfect for families. The dune vegetation gives the chalets sufficient privacy. The large veranda doors and elevation ensures a lot of ventilation through the chalet, maximizing on the constant sea breeze. Each chalet has a generous mosquito-net-engulfed, king-sized bed that can also be converted into two three-quarter single beds.
The open-plan bathroom has a refreshing shower, vanity slab with a basin, separate eco-toilet and an outdoor shower (for rinsing off salt water and possible moonlit showers for the more adventurous). A large individual solar panel system has been connected to each chalet, in order to provide, the very best hot water shower with great water pressure, while still being sensitive to the environment.
Furnishings include a hand-made desk with chairs, and some comfortable day loungers inside and a large veranda with an extremely comfortable hammock. This is the perfect place to relax in the afternoon, after some fantastic diving in morning! All chalets' soft furnishings and décor have been put together with the capulana (fabric used by Mozambican women for clothing) in mind. This makes each chalet individually vibrant with the bright colours of traditional Mozambique!
There are plenty of plugs for electronics such as cameras, phones and laptops, and 24 hour solar generated power a day to recharge.
There is a footpath that runs along the rear of all the chalets to allow access and ease of walking. Alternatively access can be gained through the private pathways to each chalet from the beachfront.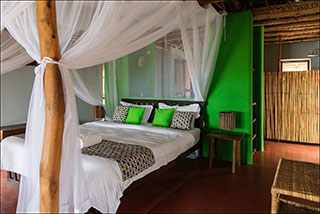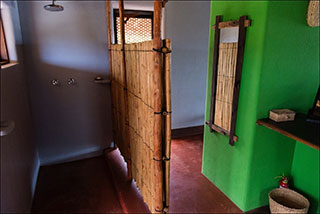 Diving
The direct access to the sea, the proximity of the continental shelf and undiscovered sites make Nuarro the perfect diving in Mozambique. Thanks to the owners' passion for diving, the Marine Activity Centre is a fully equipped PADI Centre catering for all levels of recreational divers.
Snorkeling
Nuarro Bay is a sea life paradise with beautiful coral reef just a short swim from the beach. There are two reefs that are often used for snorkelling, these are: Enupa Reef (house reef) – Shore entry: 100m swim, Maximum depth: 12m. Enupa Reef lays in front of the Activities Centre about 100m from the beach and is part of the Nuarro Marine Reserve. This is an easy and relax snorkel with a depth of 12m that can be done at most times of the day. Photographers will be delighted with the macro life where they can spot many kinds of shrimps and crabs, snake and moray eels, nudibranchs, flatworms, and other marine life like gobies, egg cowries, butterfly-fish, wrasse, damsel-fish, blue spotted stingrays, puffer-fish.
Fish Alley, Boat entry Maximum depth: 30m (in places sheer wall drops to 60m+). Fish Alley offer suitable conditions for all levels. Coral bommies offer every diver his own patch of coral with plenty of colours. Garden eels, cowries, ribbon eels, gobies, sand perches, mullets and puffers are found. This is a site where many fish come to visit cleaning stations; bi-colour and common cleaner wrasse compete to service the gills, skins and fins of all kinds of clients, sometimes not much bigger than themselves. Lyre tail and saddle back hog-fish are usually seen around as well as the Indian and African sand wrasse.
All equipment is available at the Nuarro Activity Centre.