Scuba Diving Tonga
Diving with Humpback Whales, Whale Watching, Sailing ...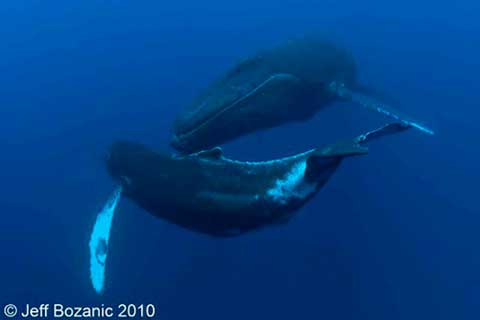 Humpback Whales. Photo courtesy of Nautilus Explorer and Photographer: Jeff Bozanic.
Diving Tonga: Swim and dive with the planet's most mysterious and magical marine giants in crystal clear water. The exotic location of the Kingdom Of Tonga will offer snorkelers and divers the most exhilarating encounters of a life time with these most curious and captivating humpback whales.
Each winter nature calls the humpback whales to return with their young to visit the pristine waters of Vava'u (part the Kindom of Tonga). You are able to encounter these behemoths who visits these waters during the height of the Humpback Whale season, July through September.
From the sight of the first breach at day break to the silhouette of whales resting at sundown you will be filled with unbridled emotion and wonder at the magic our oceans hold for us.
While the humpback diving is most exciting, the islands surrounding Vava'u are filled with dramatic scenery. You must experience Swallows' Cave and Sharkstooth Cave. Many of the dive sites in the area are filled with swim throughs, mushroom shaped rocks (boulders that have worn away near the bottom from the wave action while the tops are just above the surface), and gigantic boulders with fissures big enough for a diver. The dramatic scenery, topped with colorful soft corals is a wide angle photographer's delight.
Night divers are rewarded with sightings of frogfish, octopus, elegant squat lobster, unusual starfish and other small delights!
The Vava'u group comprises over 60 picturesque little islands, palm trees and white sand beaches. Just up the harbor a few minutes away lies a magnificent wreck dive the "Clan McWillian" with decks and that are covered in these wonderful flower like clumps of soft coral. Impressive cave dives, wonderful valleys of gorgonian fans, swim throughs, pristine hard coral reefs of all varieties, drift diving on walls and reefs, colorful soft corals, outcrops and a myriad of fish.