Home > Diving Tonga > Tonga Dive Resorts
Blue Lagoon Resort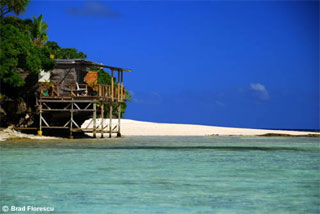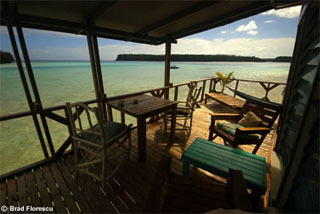 " 8 large fales on an ldyllic beach on Foe'ata, each constructed from local materials and distinct form the other.
It's part eco-lodge, part eccentric dream resort and the food is excellent."

Lonely Planet Guide - South Pacific 2003
Blue Lagoon Resort is situated on the island Foi'ata (also written as Foeata) in the Vava'u group of islands, Tonga. Surrounded by crystal turquoise water, white sandy beaches and tropical rainforest. Blue Lagoon Resort is a paradise island like no other.
Whale watching & swimming, snorkeling, kayaking, fishing, surfing and sailing are just some of the activities available. Otherwise just relax in a hammock or sun bank on one of Tonga's most beaches overlooking our famous lagoon.
Accommodation: Bungalows / Fales
In Blue Lagoon Resort we have 8 large bungalows ( in Tongan language called "Fale" ). Each Fale is unique in design and built from local materials and equipped with private bathroom with hot water showers.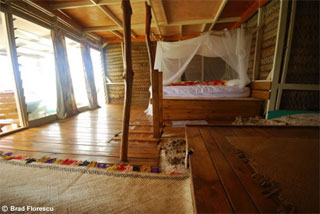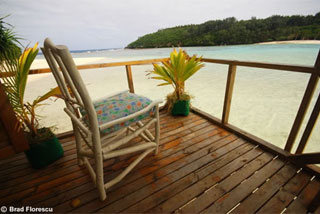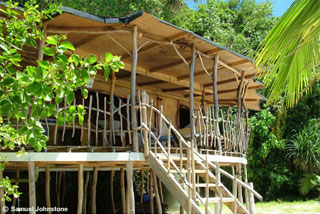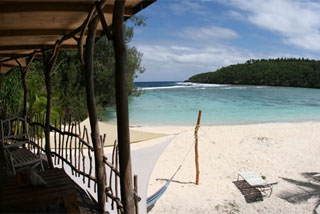 Restaurant
Let us spoil you at our restaurant, voted the "Best food in Vava'u" by the Lonely Planet Guide, with wonderful views over the lagoon and surrounding reefs. Our German Chef will serve you his famous specialties of the South Pacific - fish, lobster, pasta, beef & chicken are some of the specialties on offer. Special requirements and dishes of your choice can be arranged.The restaurant has a fully stocked bar with a variety of wines, beers or other beverages to choose from.
Activities
• Whale Watching & Swimming
From July to November Humpback whales visit our pristine waters. Vava'u is one of only a handful of places in the world where you can actually swim with these amazing animals. Blue Lagoon is situated in the heart of the whale activity in Vava'u.
Whales can be seen breaching and swimming around Blue Lagoon from all angles of the resort and on an occasion actually come into our lagoon. Whale swimming is available for guests and is normally only a 5-10 minute boat ride to see them close up and personal.

• Snorkeling & Swimming
The warm, shallow waters around Blue Lagoon are alive with coral and tropical sea life. Take a leisurely dip in the water, or swim around our pristine private beaches and uninhabited islands.
Through the resplendently clear blue water, you will see a spectacular display of ocean life, including squid, octopi, sea cucumbers, rays, crabs, and-of course- or resident turtles.
Snorkeling gear is available here for your use. But we recommend you bring your own gear for comfort and fit to will allow you to maximise your experience in the water.
• Scuba Diving
With a stunning array of reefs & caves and the clear, pristine waters of the Vava'u is ideal for divers.
Hundreds of species of fish, cephalopods, turtles, colorful reefs, plant life, a dizzying display of the spectacular sea life and of course the humpback whales are some of the best the South Pacific has to offer.
• Sea Kayaking
A selection of one- and two-person kayaks is available for your use. Explore the amazing waters and reefs of the Blue Lagoon or venture to nearby coves, inlets & private beaches.
Lots of exciting kayaking adventures await you, and we encourage you to venture off with your paddles through the blue water to some of the nearby islands.
The bay is protected from the weather, so conditions are optimal-and safe!-and the destinations couldn't be more beautiful. This is what sea kayaking was meant to be.
• Surfing
Blue Lagoon is surrounded by some of Tonga's best surfing spots. Four breaks can be easily paddled to from the resort as well as a number of reef breaks a short boat ride from the island.
Board are not supplied and we recommend that this activity is for experienced surfers only. Ask our staff for more information as well as how to hire our speed boat to get to the other breaks around Vava'u.
• Deep Sea Fishing
Vava'u is well know for its deep sea fishing and is among some of the best in the world. Professional fishing trips can be arranged with dedicated Tour operators in Vava'u. Trips can be arranged before you arrive by our staff.
Bone fishing us also possible here and becoming quite popular. You can even fish off the beach in front of you fale. We recommend you bring your own bone fishing equipment, as this is quite a recent activity in Tonga.
• Sailing
Melinda is a beautiful 44 ft (15 meter) traditional sailing ketch, extremely safe and stable, she provides a comfortable platform for sailing and photography. Heavy displacement, makes her seaworthy for sailing to some of the more remote islands. We can accommodate up to 4 adult guests or 5-6 guests for a family with small children (ask about rates for families). We have a 10 foot (3 meter) inflatable dinghy with a 25-horsepower motor which we use to go ashore to explore some of the 40 beautiful islands of Vava'u and to approach the whales. We encourage guests to participate in sailing, on a traditionally rigged boat there are plenty of lines to handle and it is fun to work as a team. There is also plenty of room on deck to spread out if you just want to relax and enjoy the ride. We visit a different anchorage each day and can go ashore to explore or swim off the boat, or take a dinghy ride to a special reef for snorkeling.